Affiliate and Referral links are used below to promote products I love and recommend. I receive a commission on any purchases made through these links. Please see my disclosure policy for more details.
iPads, tablets, and smart phones are quickly changing how children have access to educational games and practice in the home or classroom. While technology should NEVER replace the actual physical process of learning how to form letters and shapes for handwriting, it can be used as a supplement for learning. There are some great apps for letter formation practice and today I am sharing my favorites.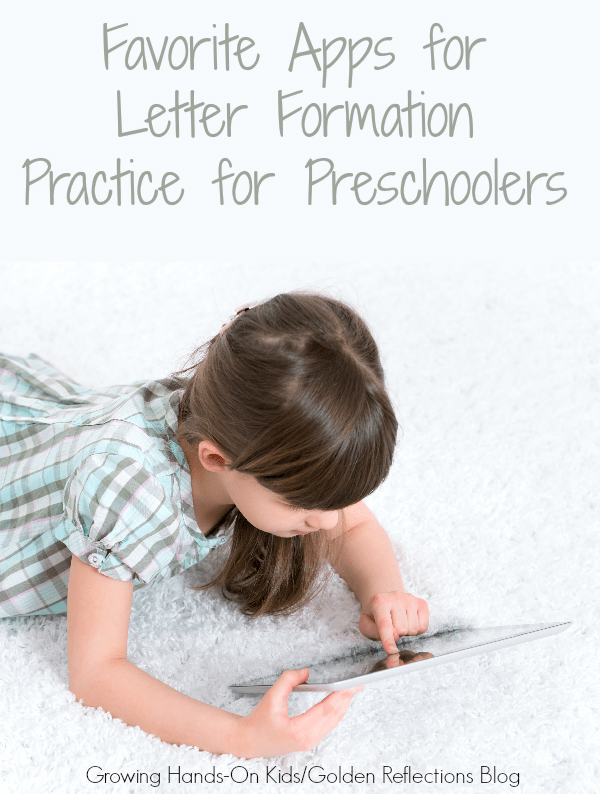 When I was working as an Occupational Therapy Assistant in the public school system, I had a few favorite apps that I used with my kiddos to help enhance their letter formation skills. We always started with hands-on sensory activities and actual physical pencil and paper practice before I let them use the apps. I used it more as a reward system with many of my kiddos, which seemed to work for some of them.
A quick note here about screen time, remember that children over the age of 2 should have no more than 2 hour of screen time a day, so please keep that in mind when planning your screen time activities with your kids. Actual sensory writing and using various writing utensils will benefit your child the most when learning letter formations for handwriting.
Letter School – Download for iPad or iPhone or Amazon – There is a lite version and a paid version of this app. This one is probably my favorite of the ones I used. And the kids love it because each letter has a different theme. You can also choose between "HWT Style (Handwriting Without Tears), D'Nealian Style, and Zaner-Bloser Style fonts to practice lower case and uppercase letters.
Wet Dry Try App from Handwriting Without Tears – Download for iPad – If you have used the wet and dry chalkboard approach from HWT, then you will like this digital version of it. Children use a virtual chalkboard and then practice letter formations with a "wet" sponge and dry them with a piece of dry cloth.
I Write Words – Download for iPad or iPhone – There is a lite version and paid version of this app. I Write Words helps your child practice handwriting while learning easy words and with fun animals along the way. You can practice Capital, Lower case, numbers, and then also words which will mix up all the letters.
ABC Cursive – Download for iPad or iPhone (Free!) – Both options of this app are free. This app will help them to learn all the alphabet in cursive. The app will speak the letter, trace it for the child to see and then the child can do it themselves as well.
ABC Keyboard – Download for iPad or iPhone – Keyboarding is an important skill to have with all this technology. This is a fun app for younger children who are learning to type. This app will help children to identify and find the letters on the keyboard.
For more handwriting or letter formation tips, you can follow my Pinterest board below.
Follow Heather | Growing Hands-On Kids's board Handwriting Skills & Activities on Pinterest.
Sharing with: Living Montessori Now, ABC Creative Learning, Hip Homeschool Moms,Homeschool Creations,The Jenny Evolution