This is a resource page on the basics of pre-writing activities and skills for kids ages 2-6. Pre-Writing skills are needed before any letter formation or other handwriting skills are mastered. Everything you need to know about pre-writing activities and skills is below.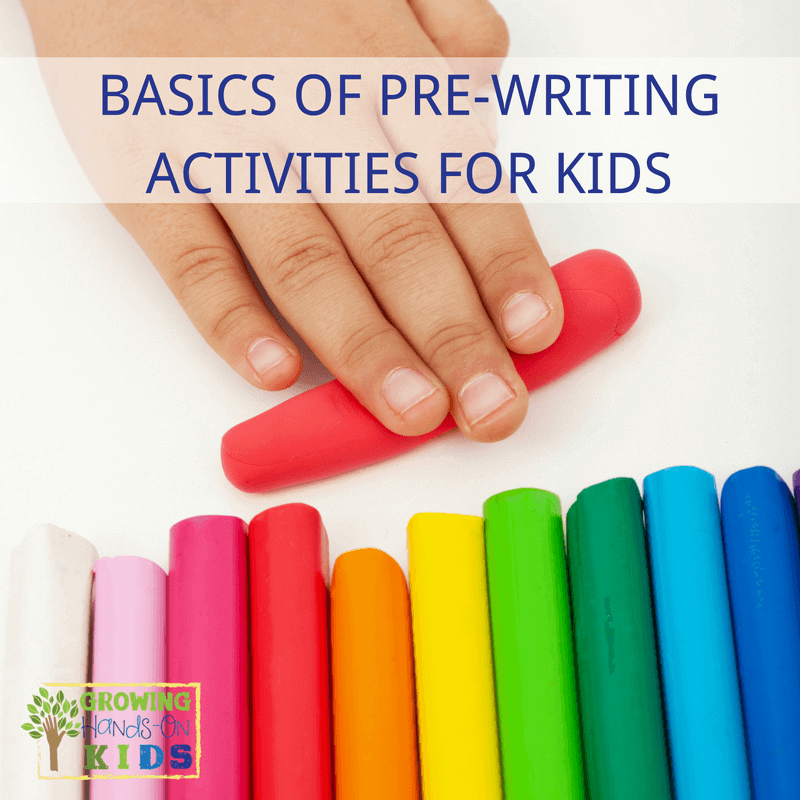 What Are Pre-Writing Skills?
In short, pre-writing skills are the lines and strokes kids need to master and know BEFORE learning how to print the alphabet. Each of these lines is developed in a sequence, based on how old the child is.
This developmental sequence is:
Vertical Line – (Age 2 imitates, age 3 copies/masters)
Horizontal Line – (Age 2 1/2 imitates, age 3 copies/masters)
Circle Shape – (Age 2 1/2 imitates, 3 copies/masters)
Cross Shape (+) – (Age 3 1/2 imitates, age 4 copies)
Square Shape – (Age 4)
Right/Left Diagonal Line – (Age 4 1/2)
X Shape – (Age 5)
Triangle (Age 5)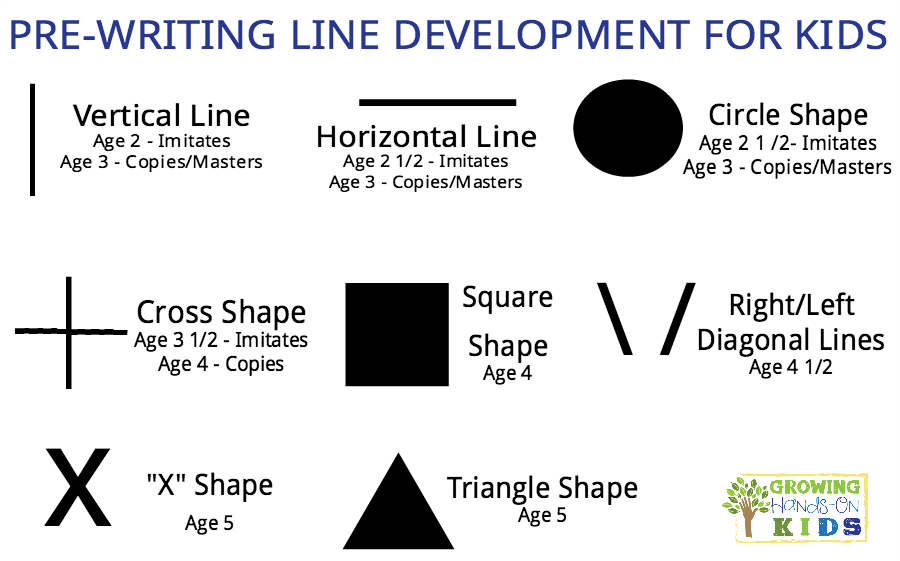 There are many skills kids need in order to complete these lines and shapes appropriately, however, so let's look at some of those now.
You can get my Pre-Writing Skills Checklist to help assess which pre-writing lines your child has mastered and which ones they need to continue to work on.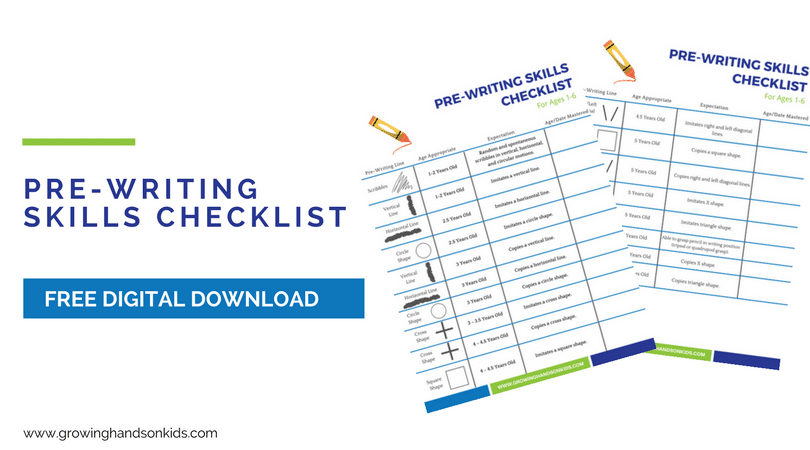 Skills Needed for Pre-Writing Lines
In order for your child to be able to successfully complete pre-writing skills, there needs to be some ground-work.
When you think about the way a baby develops, what typically tends to develop first, fine motor or gross motor skills? If you answered gross motor skills, then you are correct!
In order for the fine motor movements needed for handwriting to develop, a child needs to have a solid base of support, which means strong gross motor skills and movements.
A strong core to help them sit upright
A strong neck in order to keep the head upright
Strong shoulders in order to facilitate arm and wrist movements
Strong fingers in order to grasp objects
A great way to make sure your child has a solid core and neck is to encourage floor exploration and "tummy time" with your baby. As a baby begins to explore the world around them through rolling, crawling, and standing, they are building those strong core muscles for future fine motor tasks.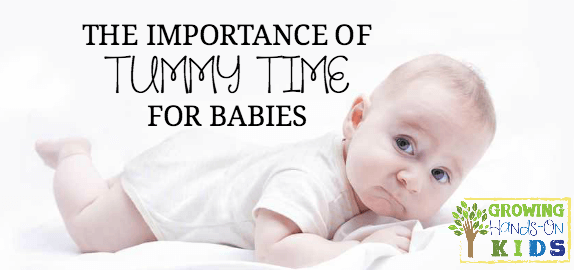 Activities to Build Strong Core Muscles for Pre-Writing Activities
There are many fun ways to encourage strong core muscles with your toddlers and preschoolers… here are some I've thought of. Feel free to add your own ideas in the comments.
– Crawling through tunnels (this is ours from IKEA)
– Jumping on a trampoline (mini trampolines are a great option for inside)
– Swimming
– Climbing a rock wall
– Playing on the playground
– Rolling down a hill
– Yoga for kids (Great Yoga ideas from a pediatric Physical Therapist).
– Peanut ball activities
– Heavy work ideas
One of my favorite resources is the Muscle Mover Cards from Fundanoodle. These cards include all 26 letters of the alphabet with an animal movement on one side with the corresponding letter for tracing or using with hands-on tools on the other side.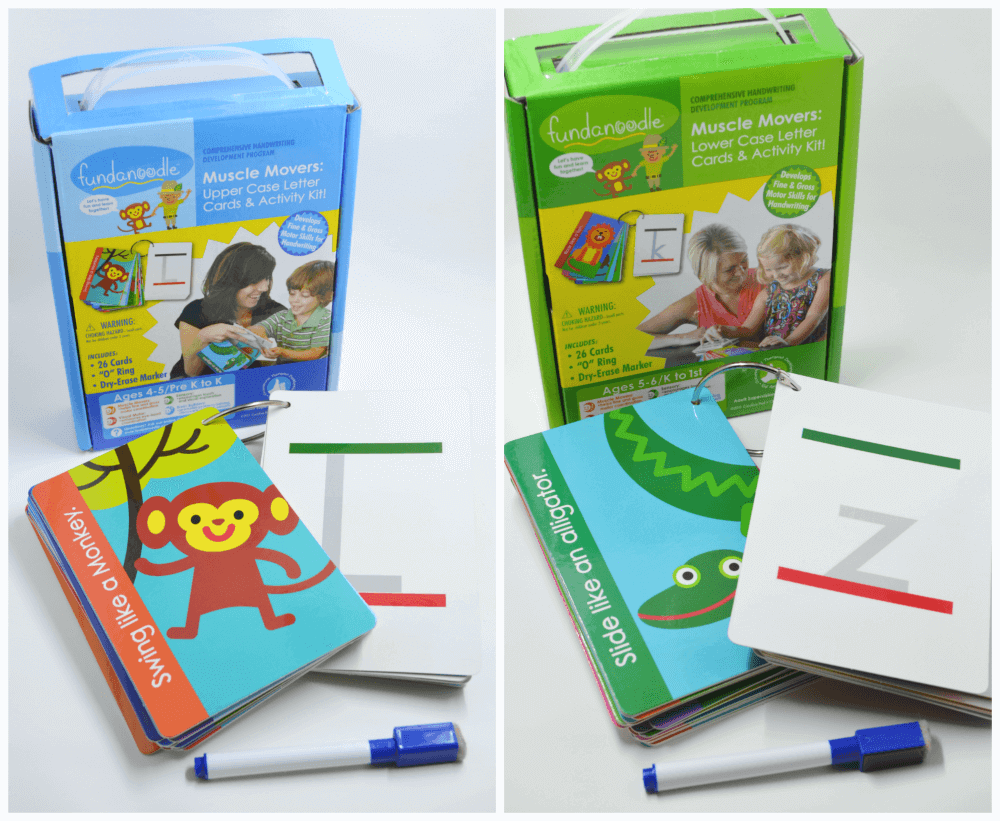 Uppercase Muscle Mover Cards| Muscle Mover Cards from Fundanoodle
 Crossing Midline Activities for Pre-Writing Skills
What is midline? If you were to draw a line down the middle of your body, starting at the head, that is your midline. Every time you cross that line with either side of your body, that is crossing midline. Crossing midline is a skill that children can learn from infancy.
So what does it look like if your child is having difficulty crossing midline?
Your child may actually "get stuck" in mid-reach and have to switch hands to continue
They may compensate by moving their whole trunk to reach toward the opposite side.
Poor mid-line crossing will affect how your child reads (tracking with the eye from left to right) and writes (using the dominant hand across the writing page).
So if your child is demonstrating poor crossing midline skills, or even if they aren't, it's important to practice these skills. Here are some ways to do that:
Bilateral Coordination Skills for Pre-Writing Activities
Bilateral coordination skills include being able to use both hands or arms together for an activity or both legs at the same time, as well as being able to coordinate legs and arms together. Crossing midline skills are part of this as well.
Many of us do this without thinking about it (i.e. typing on the computer, skipping, or holding a piece of paper down while writing).
Here are 7 Bilateral Coordination activity ideas for your kids. There's also a great resource from OT Mom with more Bilateral Coordination activities.
Visual Motor Skills And Pre-Writing Activities
Visual motor skills include the ability for the brain to understand and communicate from the eyes to the hands in order to draw, copy, and trace what you see. You can see how this is a very important skill not only for pre-writing lines, but handwriting in general.
Visual motor skills include visual perceptual skills, functional visual skills (such as eye tracking), and eye-hand coordination.
Visual motor skills need the eyes in order to visually guide the movement of the hands or legs.
Visual motor delays will make it difficult for children to copy the basic shapes and lines they need to form letters, which impacts their legibility and letter formations for handwriting later on.
Here are some additional resources on visual motor skills:
Fine Motor Benefits of Pre-Writing Activities
Working on pre-writing skills (lines and strokes) in hands-on ways will naturally develop your child's fine motor skills and provide them with the well-rounded handwriting skills they need for letter formation, line orientation, spacing, and hand grasp.
It's important to focus on all the gross motor skills I mentioned first before expecting fine motor skills to be mastered. Each skill builds on one another and you need all them for great handwriting skills.
Some benefits of working on pre-writing skills include:
Promoting proper hand grasp/pencil grasp on objects used in hands-on activities (such as tongs, paint brushes, grasping objects, etc). Particularly working on the pincer grasp will be helpful for future handwriting skills.
Hand strength needed to grasp a pencil
Hand manipulation skills needed to pick up and put down a pencil, plus moving a pencil to form letters across the paper.
Working on left to right pre-writing lines/shapes and letter formations
Finger dexterity and strength needed for handwriting assignments
Bilateral coordination in the hands to be able to hold the paper and write at the same time
Crossing midline and choosing a dominant hand for handwriting tasks
If you notice your child struggling with certain parts of their handwriting skills, first remember that most children are not ready to properly hold a pencil or form letters after age 5. It will depend on the child, some may be earlier, some later.
Go back to the core strength and gross motor skills needed to promote good pre-writing and handwriting skills.
Have your child try each pre-writing line and shape to see if any of them give them trouble. Focus on mastering those first before moving on to letter formations.
Fun Ways to Work on Pre-Writing Skills
Since the typical age for children working on pre-writing lines is ages 2-5, I like to focus on fine motor skills that promote learning these lines and shapes instead of using paper and pencils/crayons. Your child will need the fine motor strength these activities provide in order to have good pre-writing lines and later good letter formations.
Check out my brand new ebook, The Basics of Pre-Writing Skills for Kids. This ebook takes an in-depth look at the developmental sequence of pre-writing lines and why they are an important part of the foundations for handwriting skills.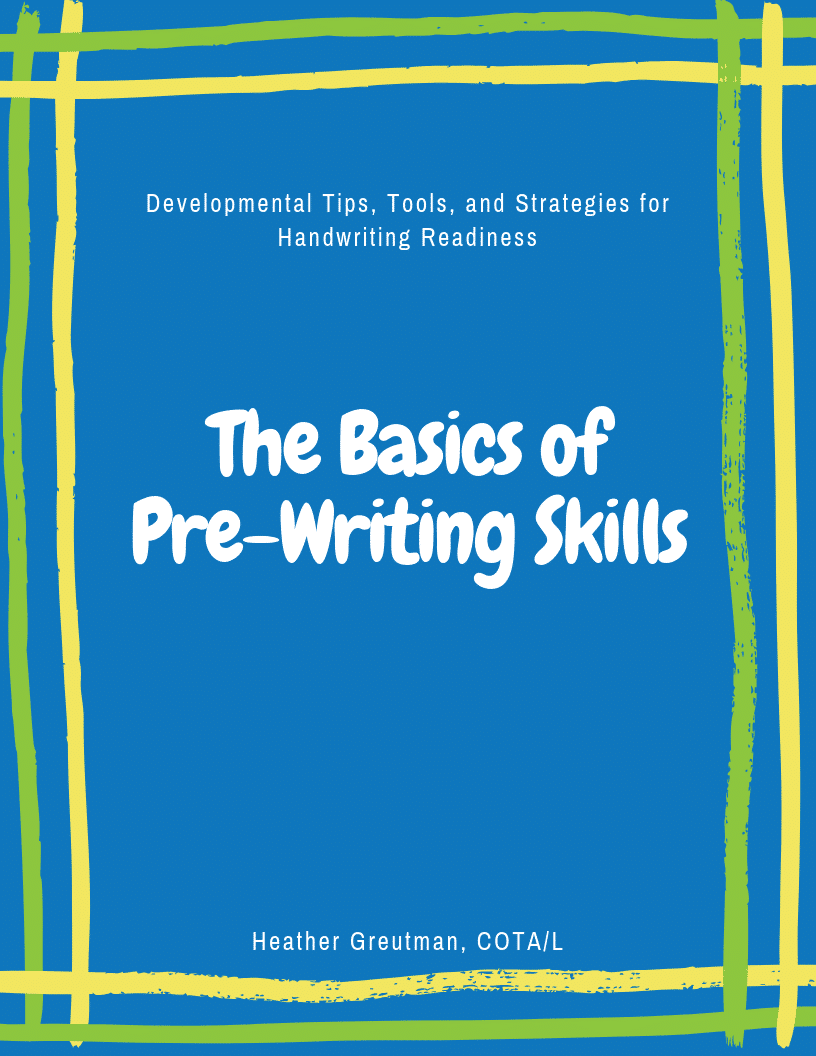 More Handwriting Resources
I know some of you probably have questions about handwriting in general, in particular, pencil grasp. Here are some resources for that.
You can also follow my Handwriting Skills and Activities Pinterest board below.
Follow Heather | Growing Hands-On Kids's board Handwriting Skills and Activities on Pinterest.