10 Hands-On Ways to Practice Pre-Writing Lines
Affiliate and Referral links are used below to promote products I love and recommend. I receive a commission on any purchases made through these links. Please see my disclosure policy for more details.
Do you have a toddler or preschool-age child and are they learning their pre-writing lines? Not even sure what pre-writing lines are? Today I wanted to share some fun and hands-on ways to practice pre-writing lines for your preschoolers.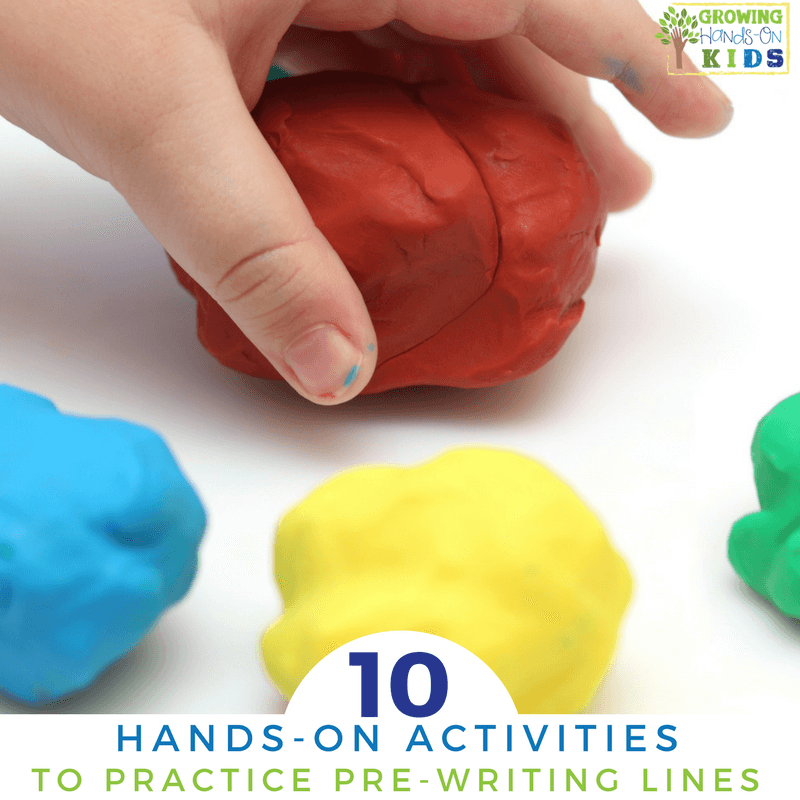 What are Pre-Writing Lines?
Pre-writing lines are lines and shapes that toddlers and preschoolers learn in a developmental sequence that help them to form letters later on for handwriting. Lines down, across, cross shapes, circles, squares, and diagonal lines are all considered pre-writing lines.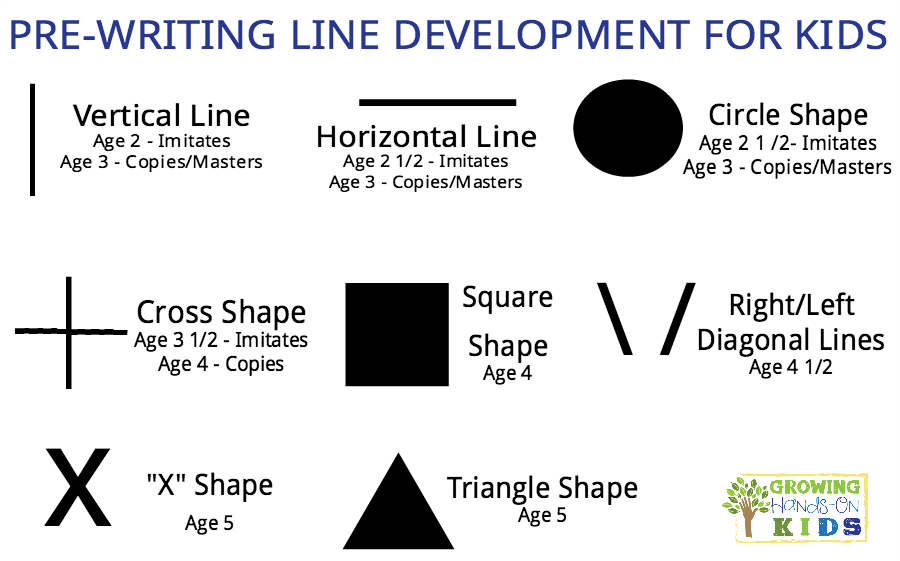 If you have been on Pinterest you have probably seen many pre-writing line pages to use with a pencil or crayon. However, using other ways to practice pre-writing shapes is important for fine motor strengthening and also double as a great sensory experience for your child. The more ways they can explore and feel the shapes and lines for pre-writing, the more it will stick with them as they learn their letters for handwriting.
10 Hands-On Ways to Practice Pre-Writing Lines
Pre-writing lines are typically copied and traced on paper, however here are some fun, non-conventional ways to practice them.
1 || USE A PAINTBRUSH IN A SANDTRAY
Use a small wood or plastic tray and pour a thin layer of fine sand on the bottom. Place a visual prompt of the pre-writing line above the tray and have your child use a paintbrush to make the pre-writing line in the sand. Using the paintbrush will also encourage proper pencil grasp.
2 || USE A FINGER IN SHAVING CREAM
Shaving cream is one of my favorite sensory mediums to use for sensory play. Spray some cheap shaving cream on a tabletop and have your child trace the pre-writing lines in it with their finger (pointer finger preferred). You can also add food coloring if you want some added visual input. Just make sure to wear some old clothes since the food coloring can stain them.
3 || PEEL STICKERS AND TRACE THE PRE-WRITING LINES
Peeling stickers is a great way to promote pincer grasp which is needed for future pencil grasp and hand strengthening. Plus, what child can't resist stickers? In the picture below I'm having my 5-year-old work on a vertical surface (the side of our refrigerator) for some added core and shoulder strengthening.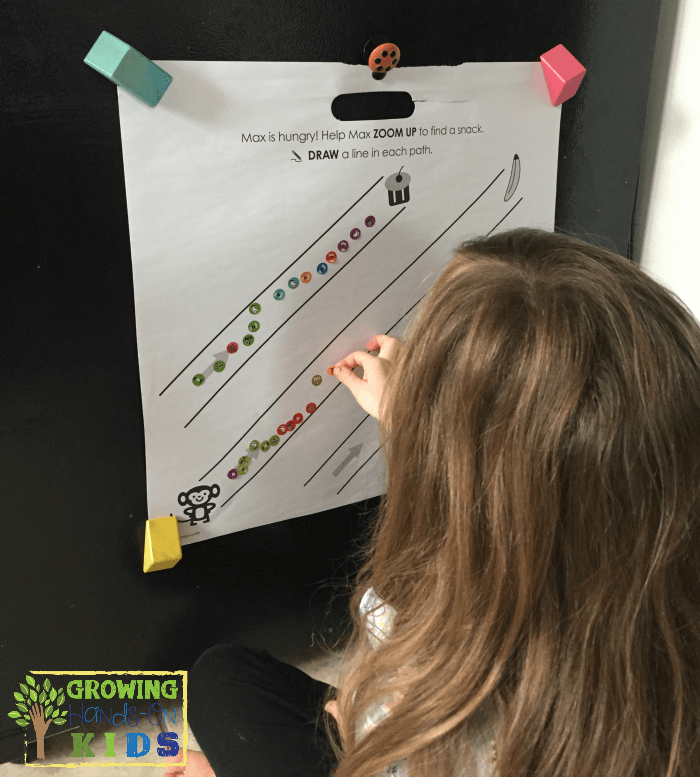 4 || USE WOOD STICKS ONTOP OF PRE-WRITING LINES
You can use large craft sticks for this and use them to trace any type of straight pre-writing line worksheets.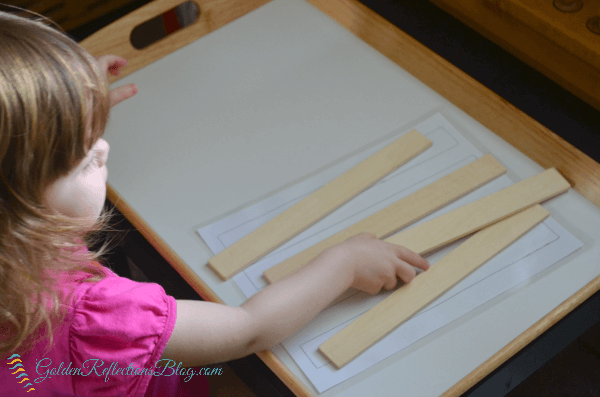 5 || USE FINE MOTOR TWEEZERS TO PLACE POM-POMS ON PRE-WRITING LINES
The fine motor tweezers are a great way to practice pencil grasp and placing objects on the pre-writing lines is a great added visual-motor component.
6 || COVER PRE-WRITING LINE WORKSHEET WITH CORNMEAL AND TRACE
You can do this with any type of pre-writing line worksheet. Cornmeal is nice because of the consistency and also if you are working with younger children who still put things in their mouths.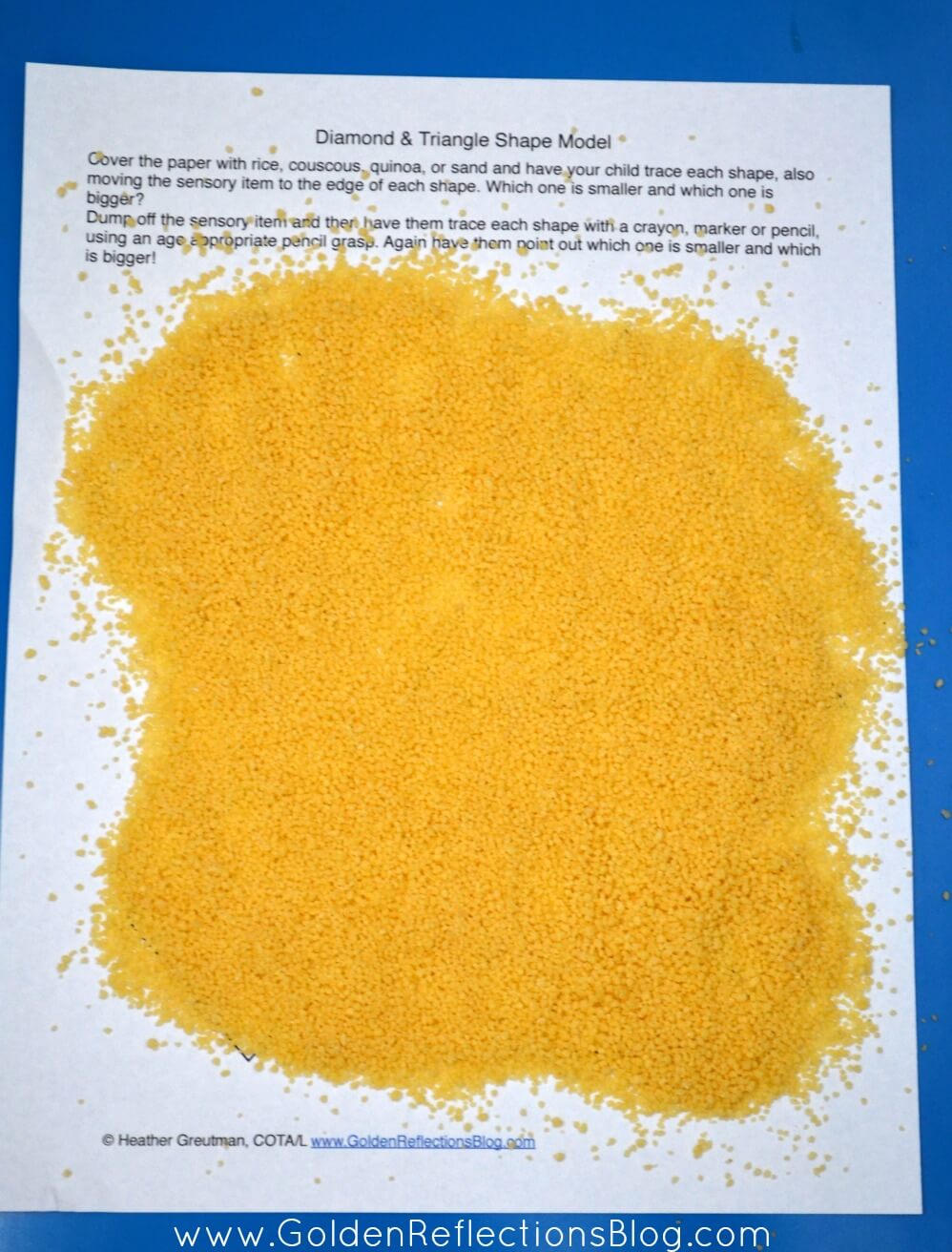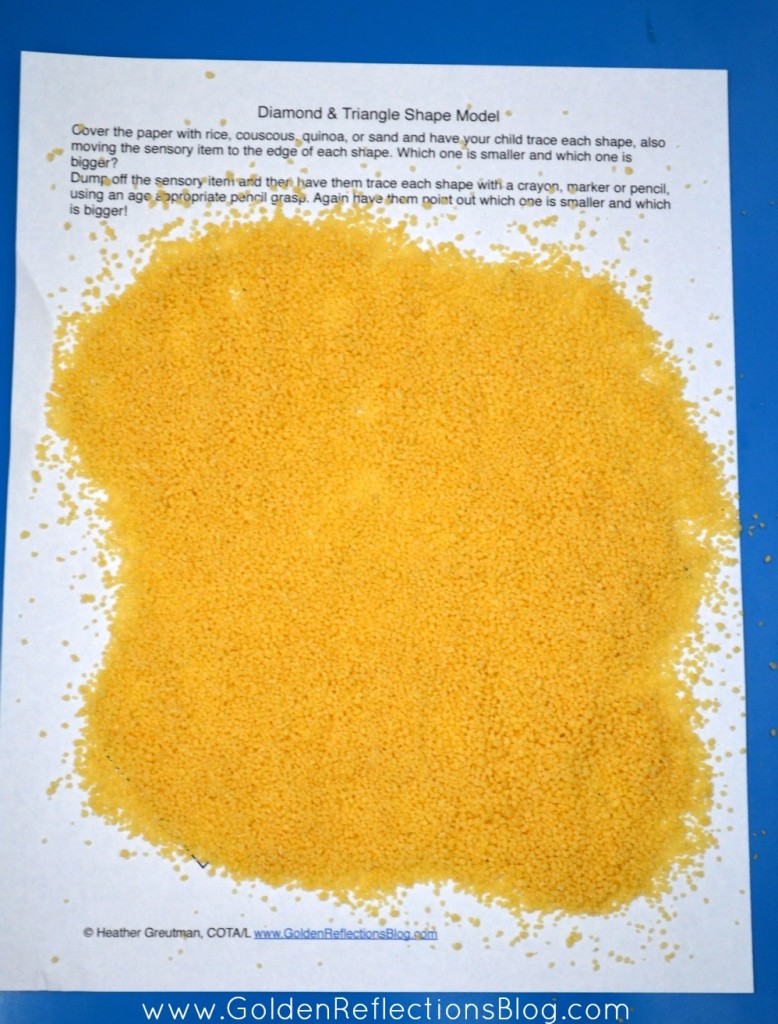 7 || USE BATH CRAYONS OR MARKERS IN THE TUB OR SHOWER
Trace pre-writing lines on the side of the tub or shower while your child is getting a bath. This is also a great chance to practice crossing midline by having them wash themselves during bathtime.
8 || USE PLAY DOUGH TO FORM PRE-WRITING LINES
We love making our own play dough for this. Roll out play dough "worms" for lines or roll them into a ball for circle shapes. You can also use play dough to form lines and place them over a pre-writing line or letter cards to practice line and letter formations.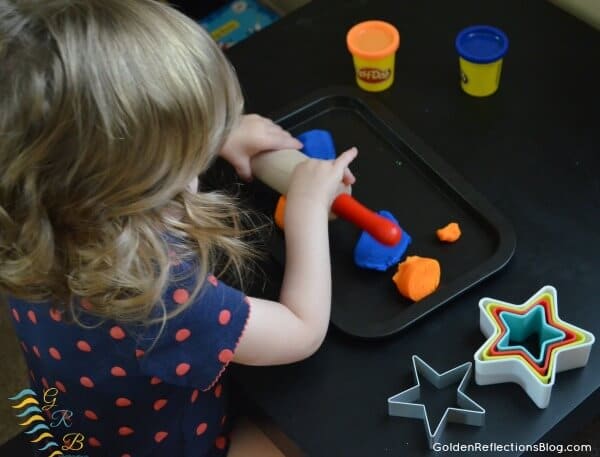 9 || SQUEEZE GLITTER GLUE ON PRE-WRITING LINES
I love glitter glue and this activity is packed full of hand strengthening. Head over to my glitter glue pre-writing line post to get a free printable to do this activity.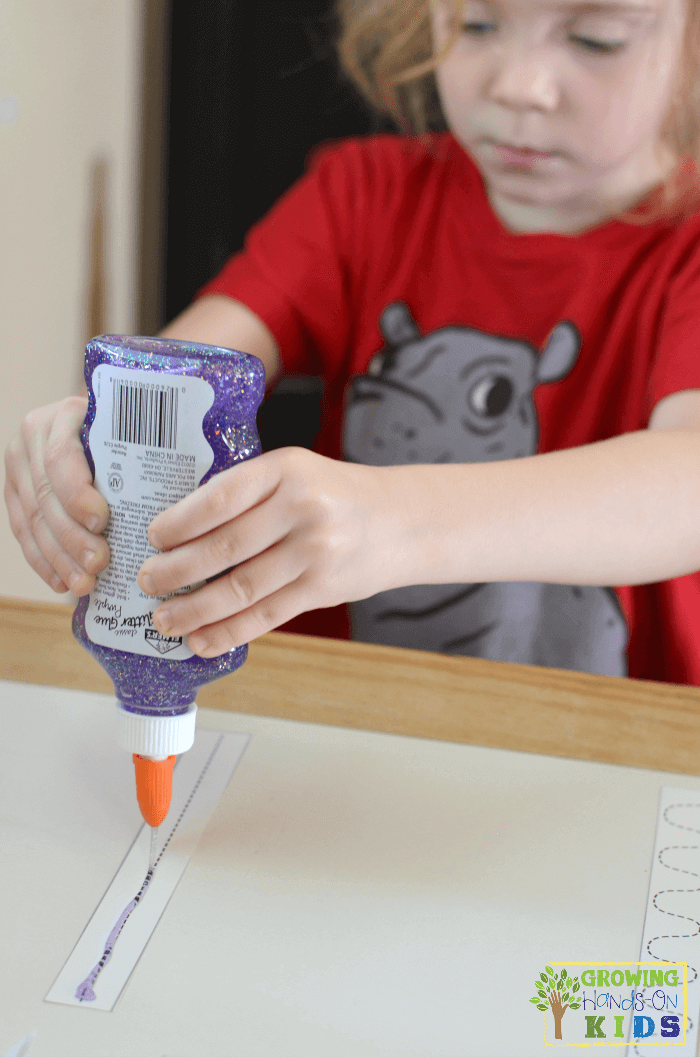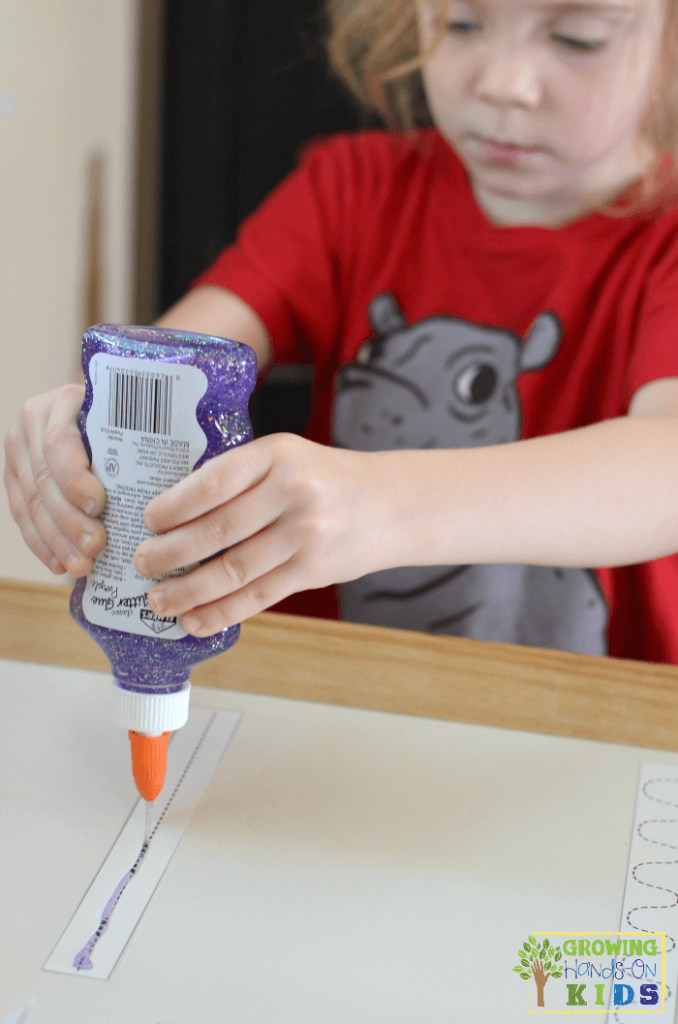 10 | USE PIPE-CLEANERS TO FORM PRE-WRITING LINES
Pipe cleaners are also awesome to use to form pre-writing lines since you can bend them to form just about anything!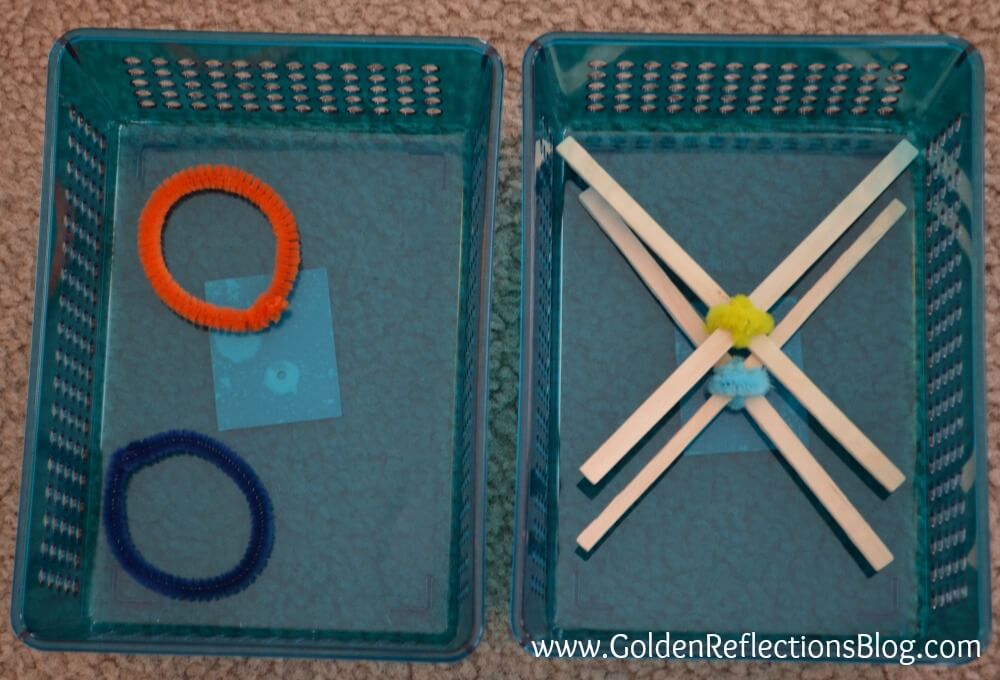 More Hands-On Resources for Pre-Writing Lines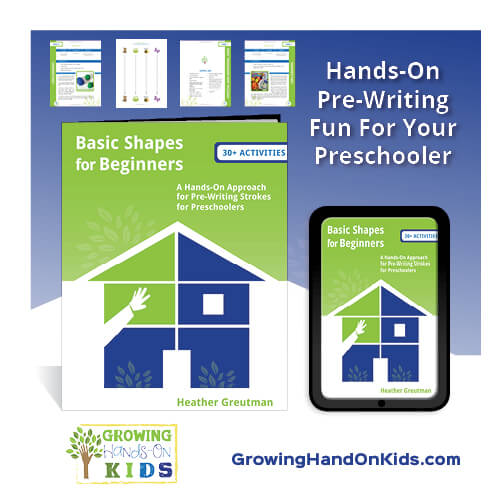 Are you looking for more hands-on pre-writing practice with your preschooler? Check out my book, Basic Shapes for Beginners, a hands-on approach to pre-writing strokes for preschoolers. It comes with 30+ hands-on activity ideas, plus a 6-week curriculum plan, shopping list, printables needed, and even more resources. It's available in paperback and ebook/Digital download format.
Elmer's Washable Glitter Glue, 6 oz Bottles – 6 colors

Barbasol Original Thick and Rich Cream Men Shaving Cream, 10 Ounce

Simply Art Wood Craft Sticks 1000 ct.

Sensory Sand 2.2lbs (1kg) – ECO friendly, Blue

Set of 5 Small Coloured Trays (Each Tray approx 5

Creativity Street Chenille Stems/Pipe Cleaners 12 Inch x 6mm 100-Piece, Assorted Colors

Learning Resources Jumbo Tweezers Set Of 12

Children's Colored Squeezer Tweezers Set of 12

Learning Resources Helping Hands Fine Motor Tool Set, 4 Pieces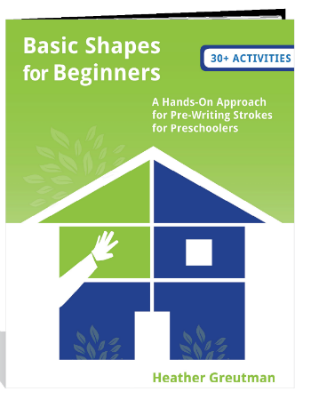 Basic Shapes for Beginners – Paperback and eBook

You May Also Like: