Affiliate and Referral links are used below to promote products I love and recommend. I receive a commission on any purchases made through these links. Please see my disclosure policy for more details.
It is Back to School time and many of us will be hitting the books, headed back to the classroom, or planning the new homeschool year. Have some fun getting back into the swing of things with this Back to School Pre-Writing Lines and Scissor Packet, a FREE printable I am offering here on the blog.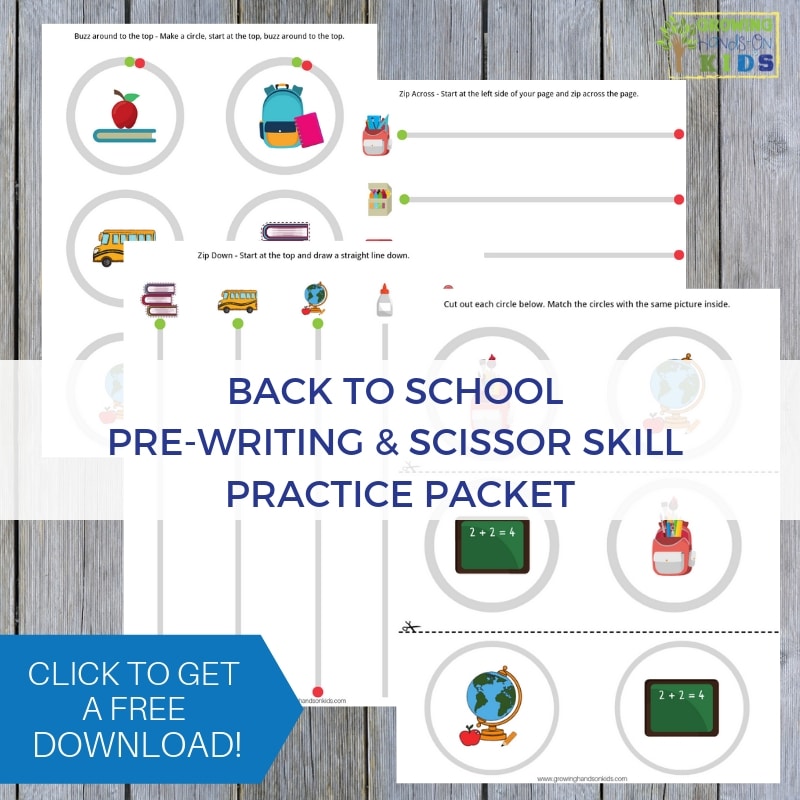 Back to School Pre-Writing Lines and Scissor Practice Packet Details
In the Back to School Prewriting Lines and Scissor Practice Packet, you will get 11 pages of printables that also double as scissor practice pages. The packet is designed for 3 year-olds and 6 year-olds or preschool age and Kindergarten.
You don't need to only use a pencil or crayon for these packets. A few great hands-on ways to use these pages include:
Cover with Wiki Stix along the lines
Squeeze glitter glue bottles along the lines
Use pipe cleaners to form the lines and shapes
Trace with a finger or paintbrush with finger paint
Get Your Free Back to School Pre-Writing Lines & Scissor Practice Packet
For those who subscribe to Growing Hands-On Kids for my weekly newsletter, I'll give you a free gift of the Back to School Pre-writing and scissor skills packet!
Enter your email address below and click the green "Subscribe & Download" button. You'll need to head to your email inbox next and look for an email from me where you can confirm your subscription and download your printable directly to your computer.
Make sure you have an updated version of Adobe Acrobat Reader downloaded on your computer so you can open and save this file to your computer.