Affiliate and Referral links are used below to promote products I love and recommend. I receive a commission on any purchases made through these links. Please see my disclosure policy for more details.
Since writing one of my recent blog posts on the possible benefits of teaching cursive handwriting before print handwriting, I realized most of the post and printables I have talked about print pre-writing lines. I figured it was high time to share some cursive pre-writing line printables for those of you who want to introduce cursive handwriting first.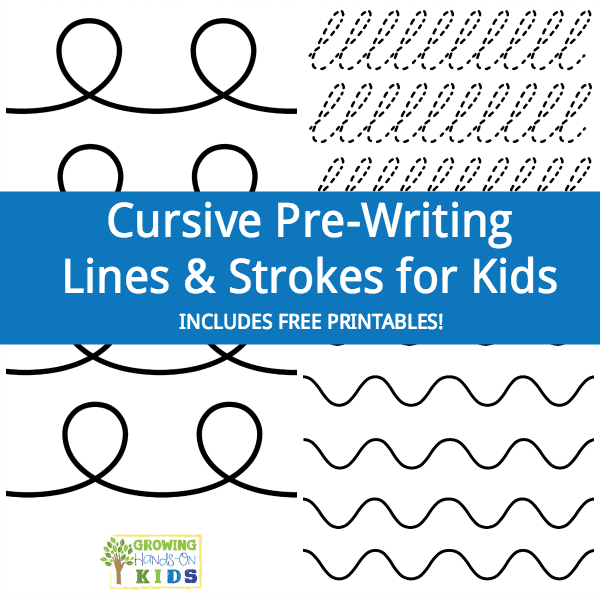 Cursive Pre-Writing Lines or Strokes
Cursive letters are more fluid and require more circular, wave, and loop strokes compared to print pre-writing lines. Print pre-writing lines follow a developmental sequence, which I wrote about in my book Basic Shapes for Beginners.
From the research I have done on cursive, there is no developmental sequence for learning cursive lines like print pre-writing lines. The benefits of learning cursive first include all the start points being at the same starting point (this is for lowercase cursive) and also less trouble with letter reversals such as "d" and "b" in print. Each letter in cursive has its own unique formation.
I took some liberty with the lines and strokes for this printable and included some lines which may not be considered cursive pre-writing lines per say, but they do encourage fluid movement and also working on shapes and lines that have more curves than straight up and down lines.
Ways to Use Cursive Pre-Writing Lines Printables
I left the design of these printables pretty straightforward and simple so that you can use various items with them, instead of just a pencil. Remember children, under the age of 6 especially, benefit from various sensory experiences when it comes to letter formations, so don't feel like you can ONLY use a pencil with these printables.
Here are some ideas to get you started:
Use a finger to trace the lines
Use Wikki Stix connected together to form the lines
Use thin lines of rolled out play dough
Pipe-cleaners connected together
Use some of the pages as scissor and cutting practice
Cut the lines into strips and include in a busy bag for quiet time
A quick note here, if your child becomes distracted by any of the lines on the page, or has a hard time controlling the paper while using them, you can use a slanted writing surface to hold the paper, OR cut the paper into strips.
Disclaimer: Heather Greutman is a Certified Occupational Therapy Assistant. The advice in these tips are not to replace medical advice from a physician or your pediatrician. Please consult their advice if you suspect any medical or developmental issues with your child. These tips do not replace the relationship between therapist and client in a one on one treatment session with a individualized treatment plan based on their professional evaluation. 
All activities are designed for complete adult supervision. Please use your own judgement with your child and do not provide objects that could pose a choking hazard to young children. Never leave a child unattended during these activities. Please be aware of and follow all age recommendations on all products used in these activities. Growing Hands-On Kids is not liable for any injury when replicating any of the activities found on this blog.