Affiliate and Referral links are used below to promote products I love and recommend. I receive a commission on any purchases made through these links. Please see my disclosure policy for more details.
August 13th is International Left-handed day. And so to celebrate, I am sharing as many resources for lefties that I can find. I never worked with lefties in the school system as an Occupational Therapy Assistant, so I need to refresh on how to work with lefties too.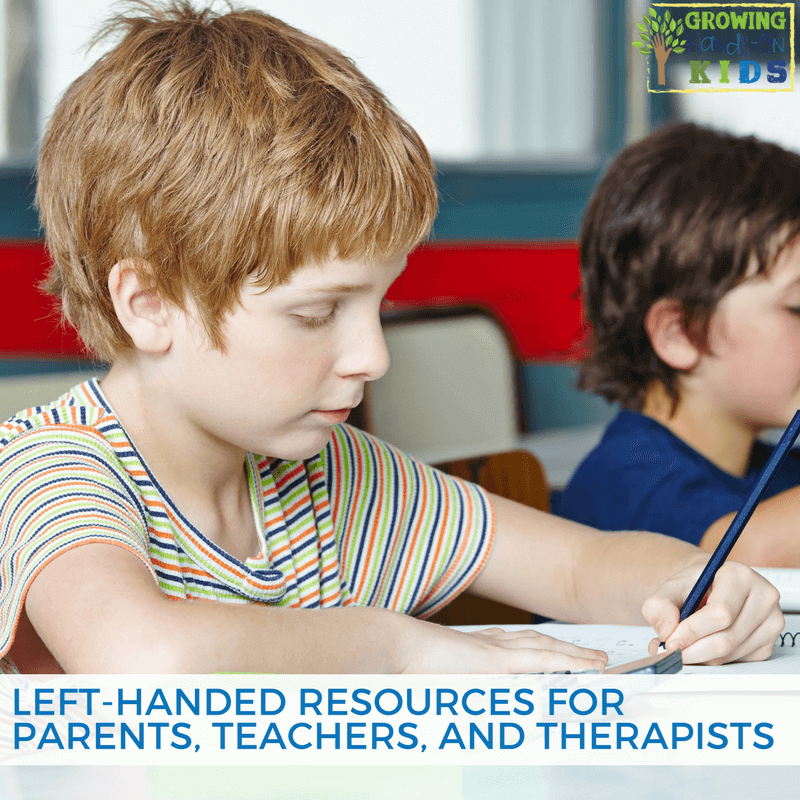 When Will I Know If My Child is a Left-Handed?
You might be wondering when you will be able to tell if your child is going to be left-handed or right handed? Developmentally, a child won't really decide which hand is dominate until age 4 1/2 to 6. That is really a huge age range. It's important for us as educators and parents to provide experiences for a child to decide which hand they want to use naturally and try not to force a certain side.
A great post to read more about this is Hand Dominance – Understanding Motor Development is Children from Pre-K Pages. It's written by an Occupational Therapist.
You may be able to tell if a child will be left or right handed earlier by looking for the signs mentioned in this post: Is My Child Right or Lefty? How To Tell by Miss Jaime OT.
Raising Left-Handed Kids
Do you have a left-handed child in your family? Here are some tips and resources for you.
Left-Handed Handwriting Resources
This area is probably one of the most common trouble areas lefties can have. If you are a right handed person, trying to teach a child who is left-handed can seem intimidating. Here are some tips for you.
Left-Handed Resources from Fundanoodle
I personally recommend the handwriting resources from Fundanoodle. Each product was designed by Occupational Therapists and early elementary school teachers. All of our activity books are top-bound spiral so that they lie flat for easy access despite which hand is dominant.
There are 3 levels of handwriting workbooks as well as a cursive book.
Do you have a child who is left-handed? Share some of your favorite tips or resources below in the comments.
Want more ideas like this? Check out my other posts below.
Follow Heather | Growing Hands-On Kids's board Handwriting Tips & Activities on Pinterest.
You May Also Like: