Affiliate and Referral links are used below to promote products I love and recommend. I receive a commission on any purchases made through these links. Please see my disclosure policy for more details.
I have been anxiously awaiting this day, the beginning of The A-Z's of Sensory Play for Kids series. You are going to LOVE this series and I cannot wait to share with you all the amazing posts and ideas from my fellow blogging friends.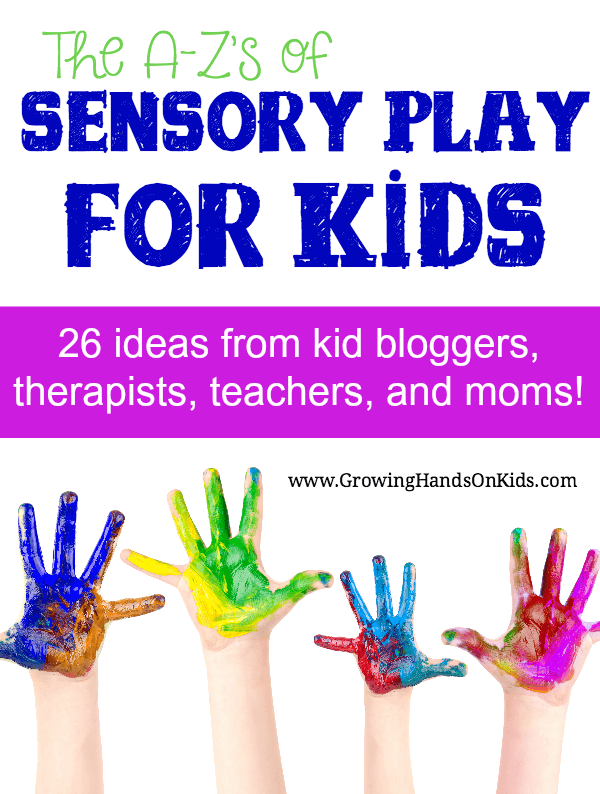 A-Z's of Sensory Play Ideas for Kids Series
Over the last 3 months, there have been some amazing sensory play ideas shared by my blogging friends. Many are therapists, teachers or homeschoolers, and of course all are mothers who love including sensory play with their kids.
Here are all the ideas in alphabetical order.
A is for the Alphabet – Heather from GHOK
B is for Bubbles – Alecia from Learning 2 Walk
C is for Cloud Dough – Nadia from Teach Me Mommy
D is for Dinosaurs – Monique from Living Life And Learning
E is for Easy Sensory Hideouts – Cara from The Pocket Occupational Therapist
F is for Feathers Sensory Play – Heather from GHOK
G is for Glow in the dark – Emma from The Adventures of Adam
H is for Heavy Work – Dayna from Lemon Lime Adventures/Project Sensory
I is for Ice – Mihaela from Best Toys 4 Toddlers
J is for Jello – Angela from Teaching Mama
K is for Kinetic Sand – Heather from GHOK
L is for Lion – Kim from Life Over C's
M is for Mud – Ellen from Cutting Tiny Bites
N is for Nails – Marie from Child Led Life 
O is for Oral – Dayna from Project Sensory
P is for Play dough – Louise from Messy Little Monster
Q is for Quiet – Anne from Left Brain Craft Brain
R is for Rainbow – Dusty from To The Moon And Back
S is for Shaving Cream – Sara from Happy Brown House
T is for Train Tot Trays – Vanessa from Mama's Happy Hive
U is for Underground – Helen from Peakle Pie
V is for Vegetable Painting – Nicola from Multi-crafting Mummy
W is for Wheels – Claire & Lauren from The Inspired Treehouse 
X is for Xylophones – Helen from Witty Hoots
Y is for Yard Work – Colleen from Raising Lifelong Learners
Z is for Ziplock Bag – Varya from The Creative World of Varya
You can also pin this post for reference or follow my blog Pinterest board below.
Follow Heather G. | Golden Reflections Blog 's board From Golden Reflections Blog on Pinterest.