G is for Glow in the Dark Sensory Play
Affiliate and Referral links are used below to promote products I love and recommend. I receive a commission on any purchases made through these links. Please see my disclosure policy for more details.
I am excited to welcome Emma from Adventures of Adam to be part of the A-Z's of Sensory Play for Kids series here on GHOK. And this is a super fun glow-in-the-dark sensory play idea she is sharing with you all today.
We are super excited to be taking part in Golden Reflections Blog A-Z's of Sensory Play Series. It is the turn of the letter G. A Glow in the dark activity immediately came to mind. It was a great opportunity to try out an activity we first saw on Fun At Home With Kids. A Glow in the Dark Sensory Bath has been on our to-do list for some time.
Fun At Home With Kids gives information on how to obtain the vitamin needed to make edible glow water and discusses the safety implications. Have a read here.
At Adventures of Adam, we love sensory play in the bathroom. The bathtub contains any messy play and the surface is easy to clean. For us, it is also a room that is easy to make pitch black. We wanted darkness for our Glow in the Dark Sensory Bath activity.
Glow in the dark sensory bin supplies:
* Bath Tub and water
* Two Vitamins
* Zip-loc bag and mallet
Setting up the activity was simple. Check out the instructions on Fun At Home With Kids. We put Adam into his Spiderman swimming costume and added a few bath toys and kitchen utensils. Once he was settled in the bath we turned the bathroom lights off and switched on our Handheld UV Torch.
The glow in the dark effect was amazing – although difficult to photograph! Adam couldn't believe that he was playing in the dark yet his feet were bright yellow in the water. He experimented with pouring the glow in the dark water in a funnel and loved watching the waterfall through the colander. Our glow-in-the-dark sensory bath was a huge hit. With 45 vitamins left, I can see we will be having many glow-in-the-dark baths in the future!
During a difficult pregnancy suffering from Hyperemesis Gravidarum (HG) Emma vowed to make every day an adventure once she had recovered. Adventures of Adam is the outcome of completing a 100 day play challenge with her toddler as part of that promise.
For more sensory play ideas, be sure to follow my sensory fun Pinterest board and keep up with the A-Z's Sensory Play for Kids series.
Follow Heather G. | Golden Reflections Blog 's board Sensory Fun on Pinterest.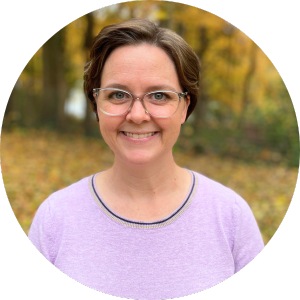 Heather Greutman, COTA
Heather Greutman is a Certified Occupational Therapy Assistant with experience in school-based OT services for preschool through high school. She uses her background to share child development tips, tools, and strategies for parents, educators, and therapists. She is the author of many ebooks including The Basics of Fine Motor Skills, and Basics of Pre-Writing Skills, and co-author of Sensory Processing Explained: A Handbook for Parents and Educators.