Affiliate and Referral links are used below to promote products I love and recommend. I receive a commission on any purchases made through these links. Please see my disclosure policy for more details.
This post is part of the A-Z's of Sensory Play for Kids Series.
If you have not heard of or played with kinetic sand yet, you are missing out on something really fun. Today I am sharing some of my favorite resources for using kinetic sand in sensory play with your kids.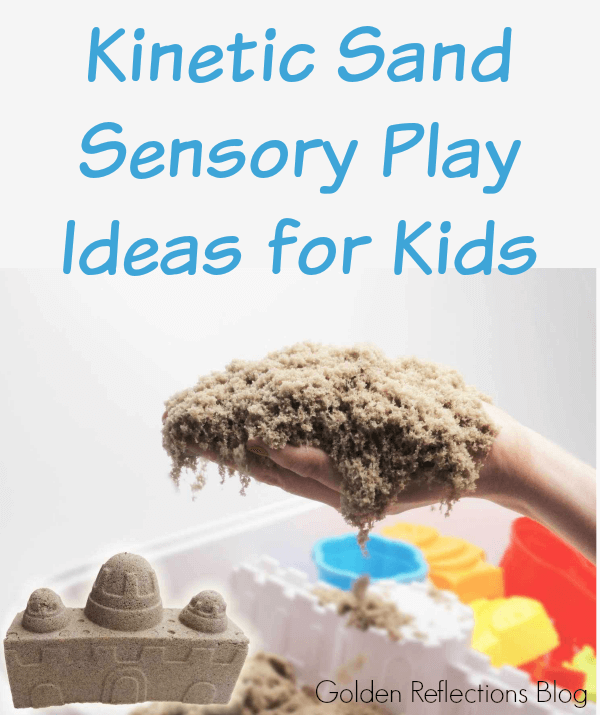 Why is Kinetic Sand so great for Sensory Play?
There are a lot of reasons really. First, it is moldable, so your child can build, sculpt and play with it almost any way they can think of.
It involves using some great skills along with sensory input:
New sensory input different from sand
Fine motor skills (finger strengthening, dexterity, in hand manipulation etc)
Bilateral coordination skills (using both hands together to mold and shape)
Visual motor skills such as eye-hand coordination
My fellow therapy blogger friend Christie at Mama OT has a great post on the Benefits of Kinetic Sand in Therapy. But these tips are also great for home.
Where Can I Get Kinetic Sand?
Most stores will carry Kinetic Sand now since it is growing in popularity. I have seen it at Walmart and heard of others seeing it at Target as well. And of course, there's always Amazon.

Or you can make your own DIY versions. Here are a couple of recipes to get you started:
How Can Kinetic Sand Be Used in Sensory Play?
There are so many ways to add Kinetic Sand in with your sensory play.  Here are a few ideas to get you started:
We will definitely be adding kinetic sand to our sensory play this spring. Be on the look out for more posts on how we use it in the future.
For more sensory play ideas, be sure follow my sensory fun Pinterest board and the A-Z's of Sensory Play for Kids Series.
Follow Heather G. | Golden Reflections Blog 's board Sensory Fun on Pinterest.