Affiliate and Referral links are used below to promote products I love and recommend. I receive a commission on any purchases made through these links. Please see my disclosure policy for more details.
My daughter, who is almost 3, has been showing an increasing interest in using scissors lately. Most of this is due to her seeing me use them to cut tags off baby clothes as we get ready for baby no. 2 to come. But developmentally, she is also at the age when children start to develop scissor skills as part of their fine motor development. Yes, that's right, 2-year-olds should be able to start using scissors to makes snips on paper.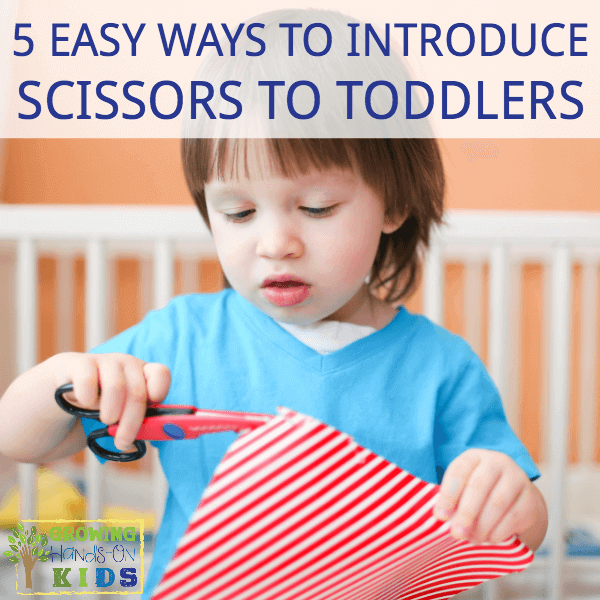 Most parents are anxious about teaching their kids how to use scissors. However, I believe that showing your child how to appropriately use scissors and giving them supervised practice will help them to develop not only good fine motor and visual motor skills but an appreciation for how to use tools appropriately.
First, you need to have some safe toddler scissor or tools to use. We really like the safety scissors from Fundanoodle. They are designed for left and right-handed children and also will only cut paper (no worries about cutting hair or other items they aren't supposed to).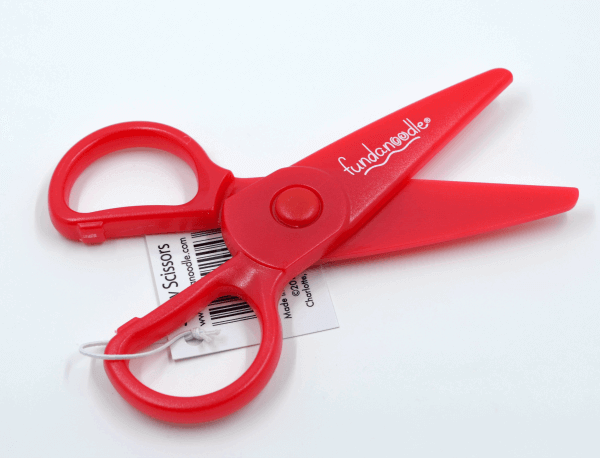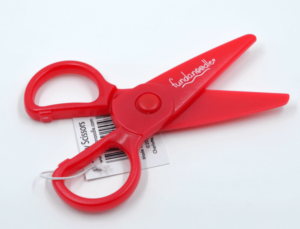 5 Easy Ways to Introduce Scissor Skills for Toddlers
1. Cutting Play Dough
For this, we just used regular Play Doh® and rolled pieces of it into longer lines or "worms." She enjoyed helping me with this part as well, which is a great fine motor activity in itself.
Then I took a "worm" and demonstrated by using the Play dough scissors to cut off little chunks. We had the Play Doh® on a small metal work tray and she sat on the couch this particular time, but she has also done this at her child table and chair work area.
She worked at this for probably about 45 minutes, really good concentration for her age, which shows she is ready to learn this skill!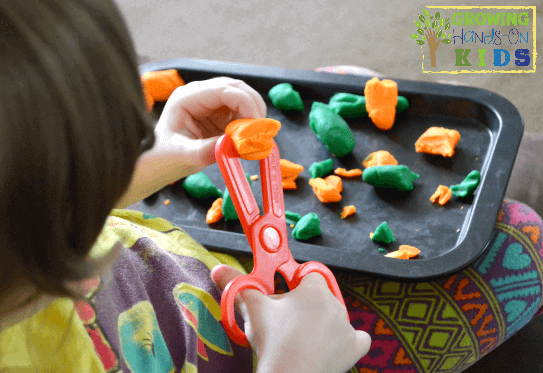 2. Cutting Modeling Clay
After trying play dough, which is a little bit softer, I would move on to modeling clay. We have tried this before as well and it is a little bit harder to cut through then regular play dough. So it's a great next step for little hands to work on strengthening those muscles.
You may also need to use regular safety scissors with this instead of the play dough scissors.
3. Cutting Foam Sheets
Moving from modeling clay to foam sheets will help to simulate cutting paper. The thickness of the foam sheets still gives them some resistance so the scissors don't move too fast and they can practice perfecting their accuracy and grip on the scissors. This also helps to practice holding an actual piece of paper, which is a good bilateral coordination skill to have.
You can also try marking the foam sheets with a very thick straight line to begin practice cutting on a line, just not free for all cutting.
4. Cutting Yarn
Cutting yarn can also double as a nice sensory bin base when they are done snipping it.
This is probably going to be the more challenging of all the options because the yarn is smaller to cut. However, it gives some great visual motor skill practice. Just cut some long strands ahead of time and let them practice cutting it into smaller pieces.
5. Cutting Construction Paper or Stock Paper
Cutting construction paper or stock paper again gives the paper a little more thickness so toddlers who are beginning to cut have an easier time handling it. You can draw lines or shapes on it and allow them to practice cutting on the lines and shapes. Just remember that developmentally, they won't really be able to follow the cutting lines until preschool (ages 3-4). But it is still good practice!
Another great resource is the I Can Cut Activity book from Fundanoodle. It also comes with one of their safety scissors and provides even more developmentally appropriate cutting activities for your toddlers and preschoolers. It is also 20% off for the month of June, 2018!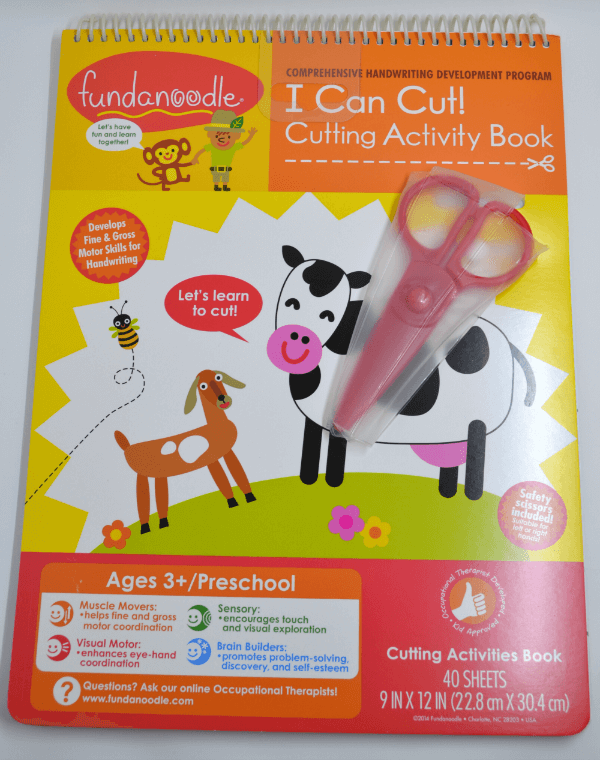 If you want to learn more about scissor skill development, get expert advice in The Scissor Skills Book, written by 10 pediatric Occupational and Physical Therapists.

You can also follow my Scissor Skills Pinterest board for more ideas.
Follow Heather G. | Golden Reflections Blog 's board Scissor Skills on Pinterest.
Have you tried letting your toddlers use scissors yet? Let me know in the comments!
You May Also Like: