Affiliate and Referral links are used below to promote products I love and recommend. I receive a commission on any purchases made through these links. Please see my disclosure policy for more details.
Bilateral coordination skills are important in your child's development, especially when it comes to handwriting, scissor skills and other fine motor activities. The ability to coordinate both sides of their bodies together in order to complete activities is very important.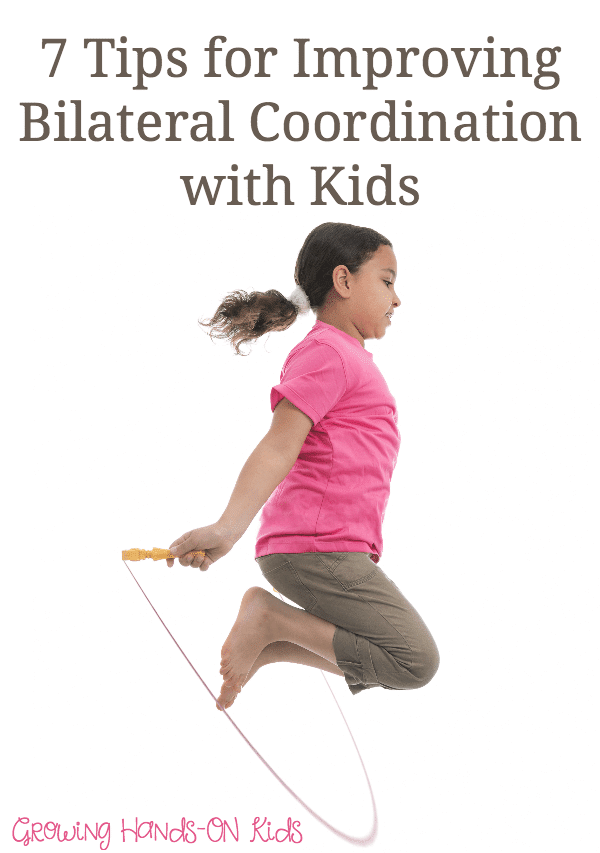 Bilateral coordination skills include being able to use both hands or arms together for an activity or both legs at the same time, as well as being able to coordinate legs and arms together. Crossing midline skills are part of this as well.
Many of us do this without thinking about it (i.e. typing on the computer, skipping, or holding a piece of paper down while writing). For some children with special needs though, this skills is hard for them. Here are some ideas to help increase and improve your child's bilateral coordination skills.
7 Ways to Improve Bilateral Coordination Skills in Kids
Stencils: make sure they hold the stencil with one hand while tracing with the other hand.
Hand clapping rhymes
Lacing activities: lacing cards, lace up stockings (two pieces of construction paper with holes punched around the edges).
Liter tube: cut off the bottom of 2, two liter bottles. Stuff the bottles with crumpled colored paper. Use clear packing tape to connect wide ends of the bottle together. Hand the child hold "handles" with both hands. Toss crumpled paper or soft ball for child to hit with the liter tube.
Games to help promote this skill include: Bop It, Mr. Potato Head (make sure the child stabilizes the head with one hand while placing body parts with the other hand), Rubik's cube, Etch-A-Sketch, rhythm sticks, Legos.
Play Four Square: make sure the child uses both hands to bounce the ball.
Ball and balloon games: have the child use both hands to pass the ball or balloon overhead, between legs, roll at a target etc.
Want More Ideas for Bilateral Coordination??
Check out the OT Mom's Bilateral Coordination Activities ebook for even more ideas and reasons to improve bilateral coordination from a pediatric Occupational Therapist.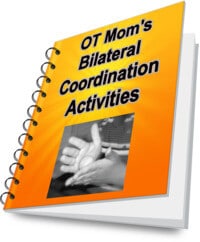 I also have a board on Pinterest specifically for bilateral coordination skills so you can find many more ideas there!
Follow Heather G. | Golden Reflections Blog 's board Bilateral Coordination Activities on Pinterest.
You May Also Like: