Affiliate links are used below to promote products I love and recommend. I receive a commission if any purchases are made through these links. Please see my disclosure policy for more details.
We have been on a homemade play dough kick recently, ever since making play dough kits as gifts for Christmas. My daughter asked me to make a duck themed play dough kit for her, so I decided to also make some calming no-cook play dough for it.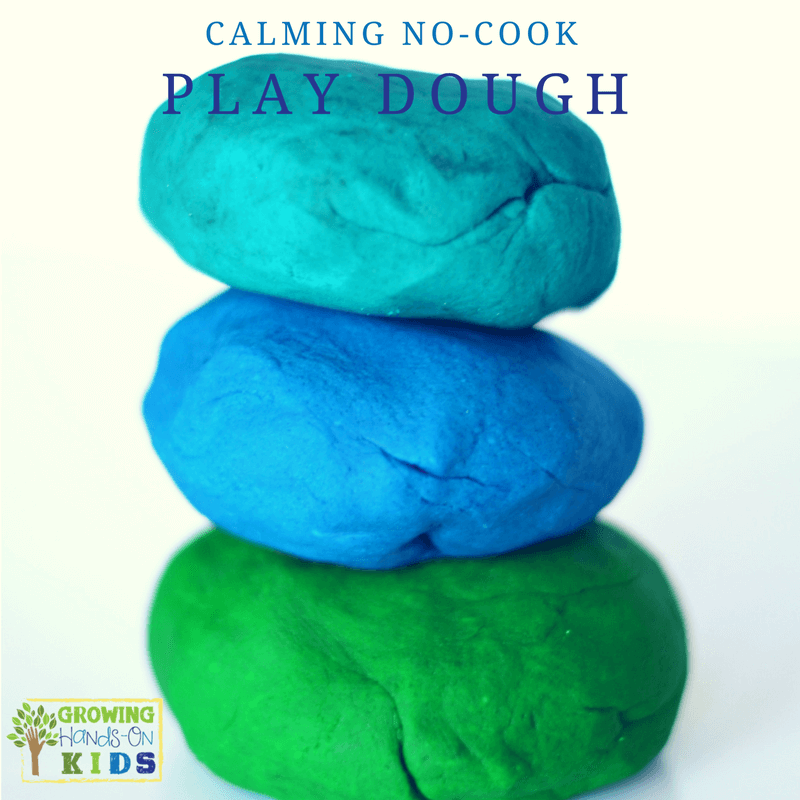 This is by far one of the best play dough recipes I have tried. The play dough is just the right texture and the best part, it's no-cook!
The recipe was inspired by the Best Scented No Cook Play Dough from Mama.Papa.Bubba. I changed it up a little though and added some of our favorite calming essential oils from Rocky Mountain Oil to it.
Calming No-Cook Play Dough Recipe
1 cup of all-purpose white flour (don't use whole wheat unless you are making brown play dough, ask me how I know ha!)
1/4 cup fine table salt
1 tbsp cream of tartar
2 tbsp of vegetable oil
1 tbsp vegetable glycerin
3/4 cup boiling water
1/4 tsp of icing colors (we used aqua, blue, and green)
4 drops each of Cedarwood, Vetiver, and Calming essential oils (from Rocky Mountain Oils)
Mix all of the ingredients except for the icing colors and essential oils. After mixing in a bowl, take the dough out and kneed it until it comes together with the consistency you want (smooth and not falling apart).
Roll it into a log and cut into 3 parts (if you are using more than one icing color). If you are just going to use one color, add the coloring into the bowl before you kneed it. You may want to use a glove to mix and kneed the icing colors into the dough so your hands don't turn blue like mine did. 😉
Add 4 drops of the calming oils (Cedarwood, Vetiver and Calming) to your colored dough. Our green one was Cedarwood, dark blue was Vetiver, and aqua was Calming.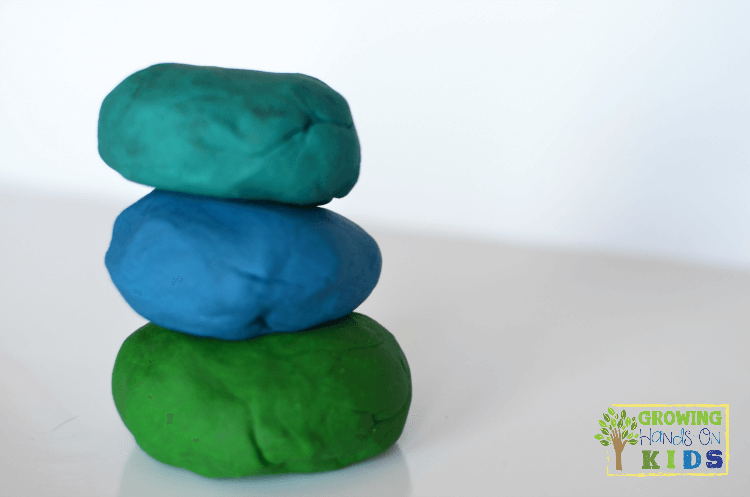 To store them, place each dough ball into a small plastic bag or air tight container. It will last you for a few months this way.
An even better way to get your kids involved is to have them help you with making this recipe.
I chose the colors purposefully since greens and blues are calming colors. You could also use purples if you decide to go a lavender route. We avoid straight up lavender in our home because it has the opposite affect on the kids.
For more great calming essential oils, check out the line at Rocky Mountain Oils. We love RMO because you can buy directly from their site, no signing up for expensive kits or memberships. Plus they offer free shipping, an amazing money back guarantee and their quality is amazing! We also love their kids line oils that come in roller bottles already pre-diluted.