Difference Between School Based and Clinic Based Occupational Therapy Services
Affiliate and Referral links are used below to promote products I love and recommend. I receive a commission on any purchases made through these links. Please see my disclosure policy for more details.
I am excited to have Dr. Holly Ann Six, OTD, OTR/L sharing a guest post with all of you today. One of the most confusing topics in Occupational Therapy for parents, teachers, and even other therapists is the difference between School based and Clinic Based Occupational Therapy Services. Today Holly is going to try and explain the differences with pros and cons of each.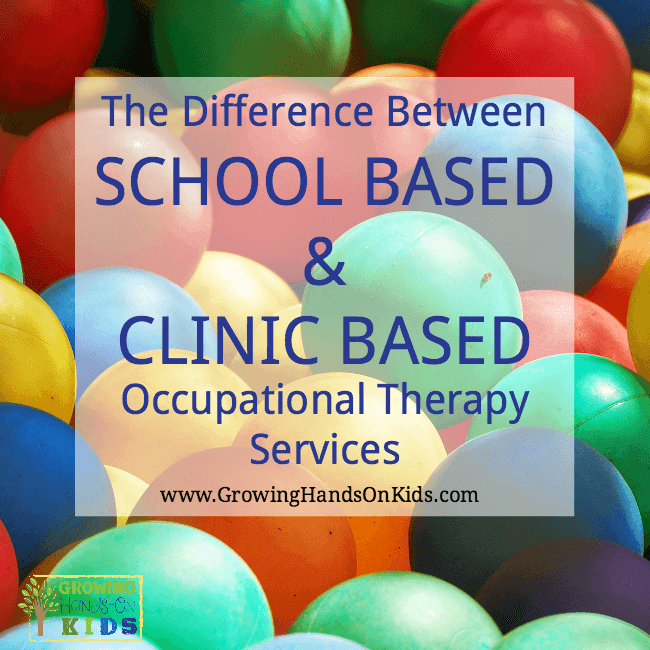 I am often approached by parents who want to know if I can provide the OT services prescribed by their doctor. After all, therapy is therapy right? The school provides an occupational therapist and wouldn't it make sense to save time and money and just have services provided through the school!! Unfortunately, that is not the way it works. I am going to attempt to explain the differences between school-based and clinic-based occupational therapy services.
What is Occupational Therapy?
Although most people have heard of, or have even had occupational therapy (OT), I find that they really don't know what it is supposed to do. According to American Occupational Therapy Association, "In its simplest terms, occupational therapists and occupational therapy assistants help people of all ages participate in the things they want and need to do through the therapeutic use of everyday activities (occupations).
Unlike other professions, occupational therapy helps people function in all of their environments (e.g., home, work, school, community) and addresses the physical, psychological, and cognitive aspects of their well-being through engagement in occupation".
I often find that the name of my profession confuses people. When they hear the term "occupational", they think of jobs and vocational training, when it actually has to do with the tasks that "occupy" a person's life. Occupational therapists try to help people be as independent as possible in what they want or need to do. This can be from helping an older client who has had a stroke relearn how to feed themselves to helping a young child learn self-regulation so that they can participate appropriately in play activities.
What are the "occupations" of children?
Like all of us, children have things they have to or need to do. Starting in infancy, children learn to be a part of a family and be social, they have to sleep, eat, and make their needs known. As they get older they learn to communicate with others, play, take care of dressing themselves, toileting and other self-care tasks, regulate emotions, etc.
Eventually, they start school and that becomes one of their primary occupations until adulthood. To participate in the learning at school, a child needs to be able to pay attention, follow directions, interact appropriately with others, hold a pencil, write effectively, organize their materials, not disrupt others, take care of their personal needs, etc.
What is the difference between OT in a clinic and OT at school?
The primary difference between school-based and clinic-based OT is the model which each of them uses. School-based OT uses an educational model that focuses on education and academic performance and is governed by IDEA (Individuals with Disabilities Education Act).
Clinic-based OT follows the medical model that focuses on working with the diagnoses is prescribed by a doctor and often directed by insurance. A child may need school-based OT, clinic-based OT or both.
The Medical Model
Clinic-based OT intervention usually starts with a diagnosis and a referral from a doctor. The costs are often covered by insurance. The child will be evaluated by the OT to determine the specific areas of concern in order to determine a treatment plan.
The interventions will address difficulties the child may have in a variety of environments such as home, school and/or the community. The goal of intervention is to assist the child to function well in all environments. Clinic-based OT will address all the environments in which the child may struggle with tasks.
The Educational Model
School-based OT intervention usually starts with the teacher, parent, or other involved person identifying a student who is struggling academically and requesting an IEP. School-based OT services are federally mandated under IDEA and are provided by the school at no charge to the parent. The IEP team, in consultation with the OT, will determine if OT testing is warranted and, if so, what areas will be tested.
School-based OT testing and interventions are ONLY done in areas that may be impacting the student academically. OT in the school is considered a "related" service, meaning it focuses on tasks that relate to the educational needs of the student. Some schools may include an OT as consultant in a 504 or RtI plan.
What are the some of the advantages vs. disadvantages of clinic-based OT?
Advantages:
Can address a wide variety of tasks and environments
Addresses a wide variety of diagnoses and conditions
The child usually has a good amount of one on one time working with the therapist
Really cool equipment and therapy rooms
Disadvantages:
Cost
Doctor directed-often the doctor does not have time to really determine all the child's needs
Usually have to attend outside of school hours, taking away from family time
What are the some of the advantages vs. disadvantages of school-based OT?
Advantages:
During school
No additional cost to parents
Does not require a doctor's prescription (Heather's edited note: Some states do require this, you will need to check with your individual state laws. As of this writing, the author's state of Colorado and also my state of Ohio do not require this).
Disadvantages:
The student often has minimal to no time one on one with the therapist
Therapy often provided in the classroom, hallways or whatever space is available
Limited to areas affecting academics only
Do you have anything you would add to these lists? Let us know below in the comments!
Heather's Note: Please remember each therapist may have different views of what would be pros/cons based on their experience in their districts. This post is geared towards parents, so large therapy-related terms and words have been avoided on purpose. Each district and state can be completely different in resources they offer/funding available, spaces available for OTs to use, etc. Thanks for sharing!
---
Author Bio: My name is Dr. Holly Six and I am a school-based occupational therapist. I initially started my professional career in mental health before taking a long break to be a stay-at-home mom. I have 2 grown kids who both just finished college and are both engaged.
For more Occupational Therapy tips and information like this, please follow my Pinterest board below.
Follow Heather | Growing Hands-On Kids's board Occupational Therapy Tips on Pinterest.
You May Also Like: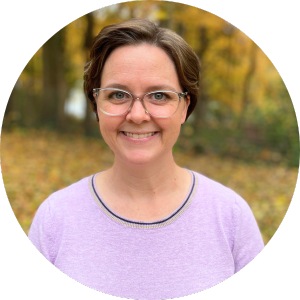 Heather Greutman, COTA
Heather Greutman is a Certified Occupational Therapy Assistant with experience in school-based OT services for preschool through high school. She uses her background to share child development tips, tools, and strategies for parents, educators, and therapists. She is the author of many ebooks including The Basics of Fine Motor Skills, and Basics of Pre-Writing Skills, and co-author of Sensory Processing Explained: A Handbook for Parents and Educators.