Affiliate links are used below to promote products I love and recommend. I receive a commission if any purchases are made through these links. Please see my disclosure policy for more details.
I love being able to find multiple uses for educational resources, especially printables. Many printables are easy to turn into hands-on activities, rather than just using a pencil, pen, or marker. Do-A-Dot printables are quite popular on Pinterest, but you can use more than just Do-A-Dot markers with them! Today I wanted to share 10 hands-on ways you can use Do-A-Dot marker printables in your tot-school or preschool.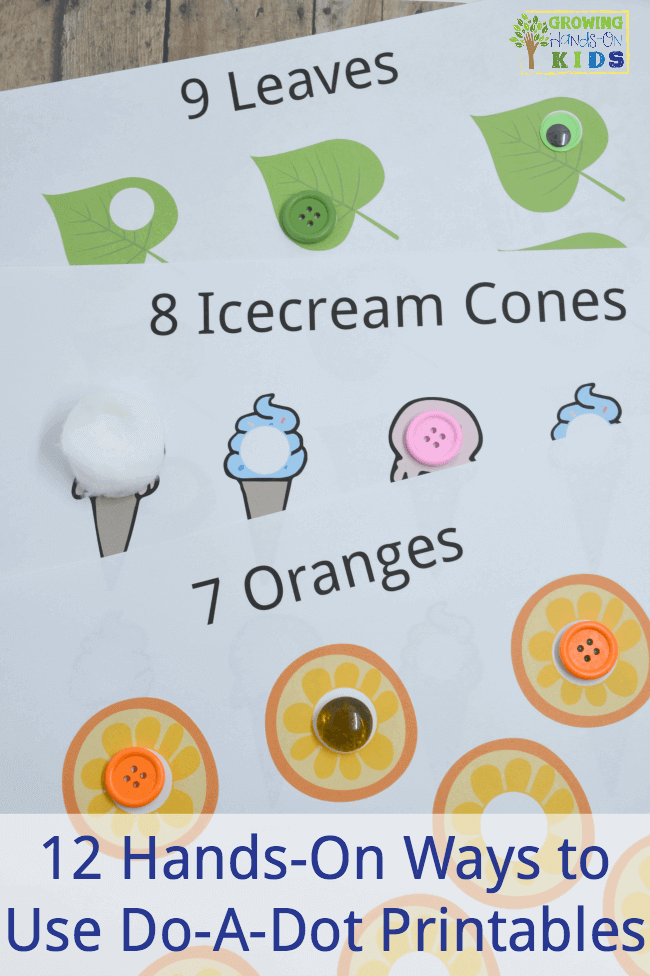 I'm also including a free set of printables at the end of this post, so keep reading!
12 Hands-On Ways to Use Do-A-Dot Markers
Instead of using Do-A-Dot Markers all the time, why not try out these 10 ideas:
Round colored stickers
Colored craft pom-poms (with fine motor tweezers)
Glass beads
DIY Magnets on a magnet board
Large wood Buttons
Small round blocks
Paint brush and finger paints
Glue sticks with paper circle cut-outs
Medium to large Googly eyes
Coins (nickels or quarters)
Make play dough circles by rolling small pieces into balls or circles with your fingers and place each circle on the do-a-dot pages.
Cotton balls

Numbers 1-10 Do-A-Dot Printable Pages
I have created these numbers 1-10 Do-a-dot printable pages so that you can use them with the hands-on items above in your classroom or home. Just click the green "Download Now" button and enter your e-mail address in order to download. You also have the option to subscribe to my newsletter where I send weekly tips and ideas, but that is completely optional.
What are some fun ways you have used Do-a-Dot marker printables before? Share with me below in the comments.
Find more ideas by following my Pinterest board below!
Follow Heather | Growing Hands-On Kids's board Homeschool Preschool Ideas on Pinterest.
You May Also Like: