Affiliate links are used below to promote products I love and recommend. I receive a commission if any purchases are made through these links. Please see my disclosure policy for more details.
Crossing midline is something that all of us do every day without even realizing it. You may not realize it because it is an integrated movement in our bodies from childhood. Today I am going to share 10 crossing midline exercises for kids.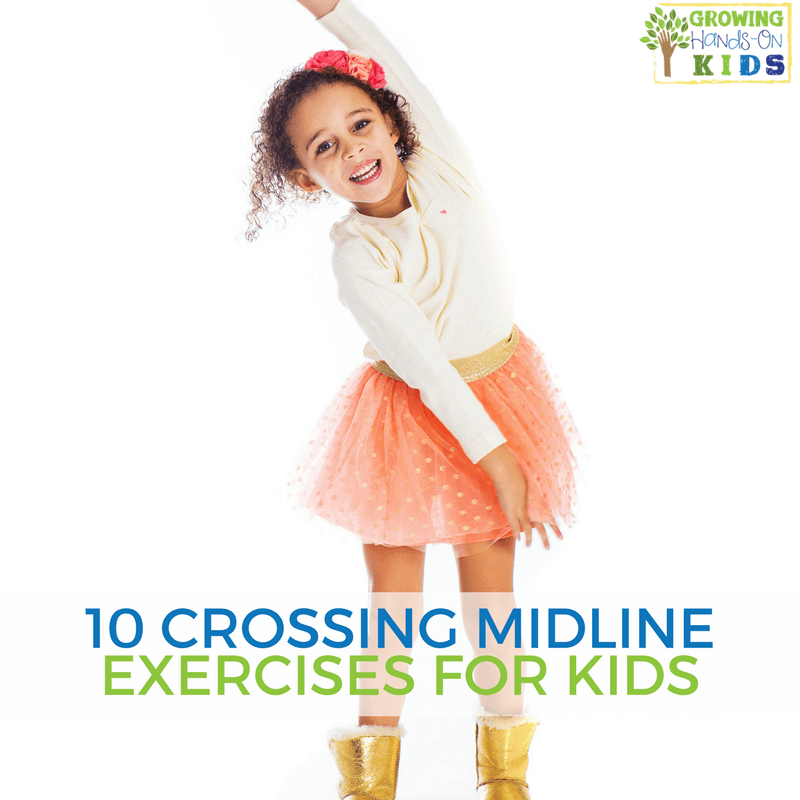 What is Crossing Midline?
Crossing midline is an important part of development in a child. They need it for reading, writing, and many other important school activities as well as play activities.
What is midline? If you were to draw a line down the middle of your body, starting at the head, that is your midline. Every time you cross that line with either side of your body, that is crossing midline. Crossing midline is a skill that children can learn from infancy.
So what does it look like if your child is having difficulty crossing midline?
Your child may actually "get stuck" in mid-reach and have to switch hands to continue
They may compensate by moving their whole trunk to reach toward the opposite side.
Poor mid-line crossing will affect how your child reads (tracking with the eye from left to right) and writes (using their dominate hand across the writing page).
So if your child is demonstrating poor crossing midline skills, or even if they aren't, here are 10 activities that you can do to encourage crossing midline skills in your children.
10 Crossing Midline Exercises for Kids
Playing cars on a large path – draw a line on a large piece of paper or make a large path on the floor with blocks for your child to drive their toy cars. Put lots of turns in the path. Encourage your child to just use one hand to drive the car.
Use large (adult size) paint brushes and/or rollers and let your child paint the sides of the house with water. Encourage using one hand at a time.
Play flashlight tag
Wash the car – Encourage your child to use his/her dominant hand and reach in all directions. Wash the windows.
Practice windmills or cross crawls (hand to opposite foot or hand to opposite knee).
Wiping the table with one hand (put a light coat of shaving cream all over the table and have your child wipe it off with a wet cloth).
Practice step and throwing with a water balloon!
Draw a large figure eight (the number eight facing side to side, not top to bottom) with sidewalk chalk for your child and have them walk the figure eight OR draw the infinity sign and have your child trace it with their finger of their dominant hand.
Set up squirt gun target practice. Use both hands on the squirt gun to try and knock over cups, wash away chalk etc.
Water flowers with the garden hose using two hands.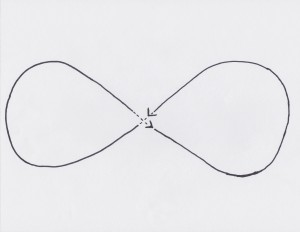 This is a "figure 8" pattern.
Here are a couple more crossing midline activities that I have shared:
For more ideas for younger children, check out my other post with 10 crossing midline activity ideas for toddlers.
Get 20 Crossing Midline Activity Ideas in a Free Download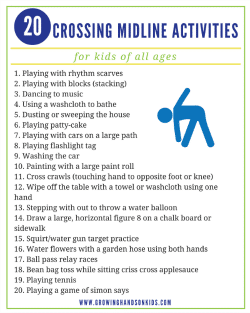 Need More Gross Motor Activity Ideas?
Check out the OT Mom's Core Strengthening ebook, written by a fellow pediatric Occupational Therapist mama. Lots of great information and activity ideas for kids of all ages.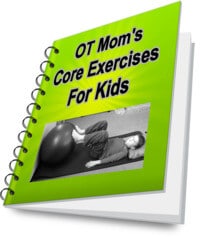 Follow Heather | Growing Hands-On Kids's board Bilateral Coordination Activities on Pinterest.
Research from: Crossing Midline – Brain Exercises for Children, 
Crossing the Midline
, 
Building Better, Brighter Brain – Neurobics
You May Also Like: