Pre-writing Activities for Kids: Crossing Midline Activity
Affiliate and Referral links are used below to promote products I love and recommend. I receive a commission on any purchases made through these links. Please see my disclosure policy for more details.
I hope you have been enjoying the Pre-writing Activities for Kids series here on GRB! Last week we looked at the circle shape and a fun pom pom task tray and also a straight lines sensory bin activity the week before that!
Today we are taking a look at the cross shape or + shape. You may think this one would be easy for kids to get if they already know the vertical and horizontal line, but it can be difficult for them if they have problems crossing midline! I explain it a little bit in the video below!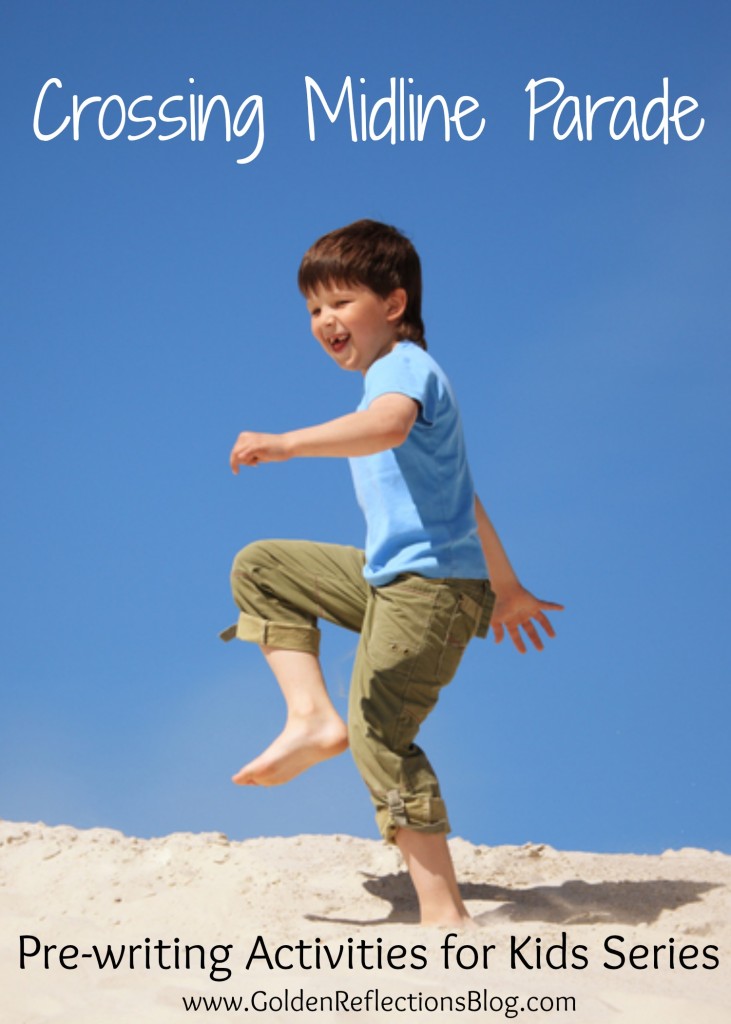 For a quick review, here are the developmental sequence that kids learn pre-writing lines.
Horizontal Line
Vertical Line
Circle
Cross shape (+)
Right/Left Diagonal Line
Square
X shape
Triangle
Today's activity is a quick crossing midline activity, or what I have dubbed the Crossing Midline Parade! Watch the video below to see how to do it and then keep reading for some ideas on how to make this a fun parade!
To make a parade out of this activity you can give your child some musical instruments such as tambourines (We love our Melissa & Doug music set for things like this) or straight long wooden sticks, like from the HandWriting Without Tears Wood Pieces Set for Capital Letters. You can use masking tape or colored painters tape on the floor to lay out the parade route.
The parade route is going to be in the shape of the cross shape! So they are getting the practice of crossing midline in a gross motor movement as well as feeling the cross shape with their entire body. Here is how it should look on the floor.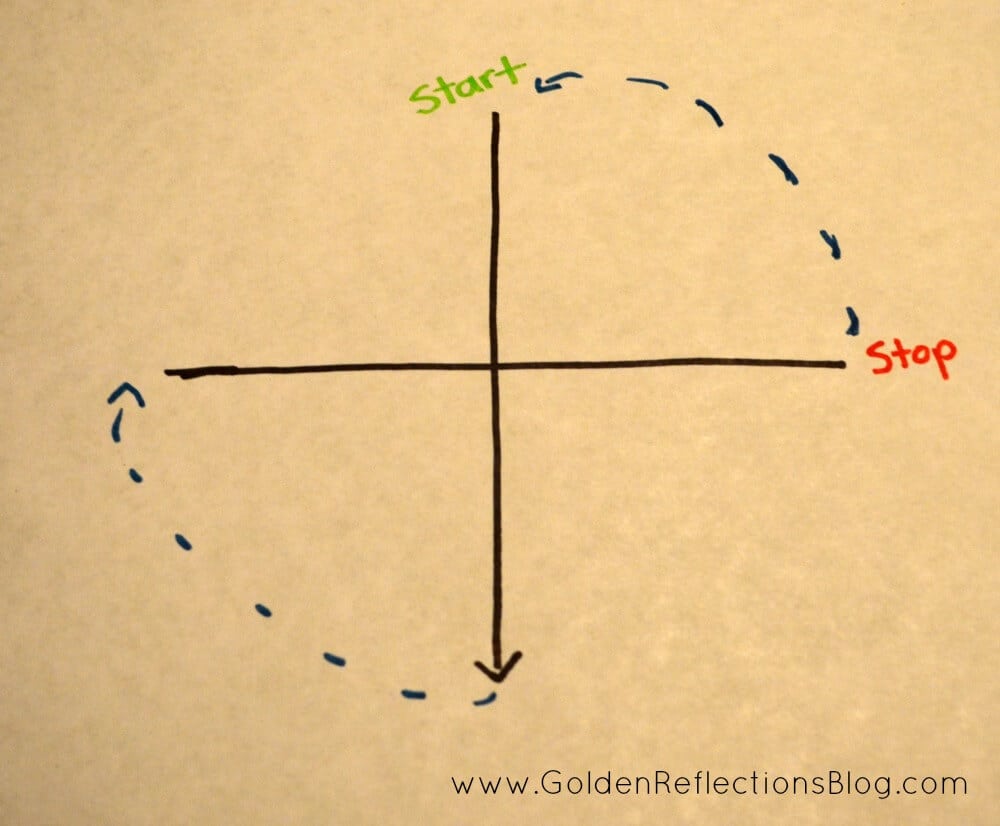 Cross shapes always start with the vertical line first, so when starting this parade route you will want to make a start point at the top and then an end point with the line across, or the horizontal line. You can mark the cross shape on the ground with painters tape or some type of tape that will come up easily and not leave marks.
You can also do the dashed lines with small pieces of the tape to give the child a visual on where to go next. Also make sure they always start the horizontal line from the left to the right. This is exactly how they will write it with a pencil so you want them to do the same thing in a gross motor way so they can get use to that shape with their bodies.
Then start some fun music, give them the musical instruments if it won't distract them, and have them start marching and doing the crossing midline exercise I showed in the video at the top! You can also have them do a little chant, something like this: "Cross shapes rock! One line down, one line across!" You could also add in following directions by asking them to march when the music is playing and then stop when the music stops.
There are lots of things you can do to adapt this activity, if you have other ideas let me know in the comments below!!
You can find the other activities in my Prewriting Activities for Kids series here:
You can also find all my OT Tips on my Pinterest board and I also have a Handwriting Skills & Activities Pinterest board as well!
Blessings,

Disclaimer: I am a Certified Occupational Therapy Assistant. The advise in these tips is not a replacement for medical advise from a physician or your pediatrician. Please consult their advice if you suspect any medical or developmental issues with your child. These tips do not replace the relationship between therapist and client in a one on one treatment session with a individualized treatment place based on their professional evaluation.
Disclaimer: All activities are designed for complete adult supervision. Please use your own judgement with your child and do not provide objects that could pose a choking hazard to young children. Never leave a child unattended during these activities.Please be aware of and follow all age recommendations on all products used in these activities.