Affiliate and Referral links are used below to promote products I love and recommend. I receive a commission on any purchases made through these links. Please see my disclosure policy for more details.
Are you looking for some fun, hands-on ways to practice handwriting at home? Here are some ideas for handwriting and letter formation practice so that your child is all set when they get back to school.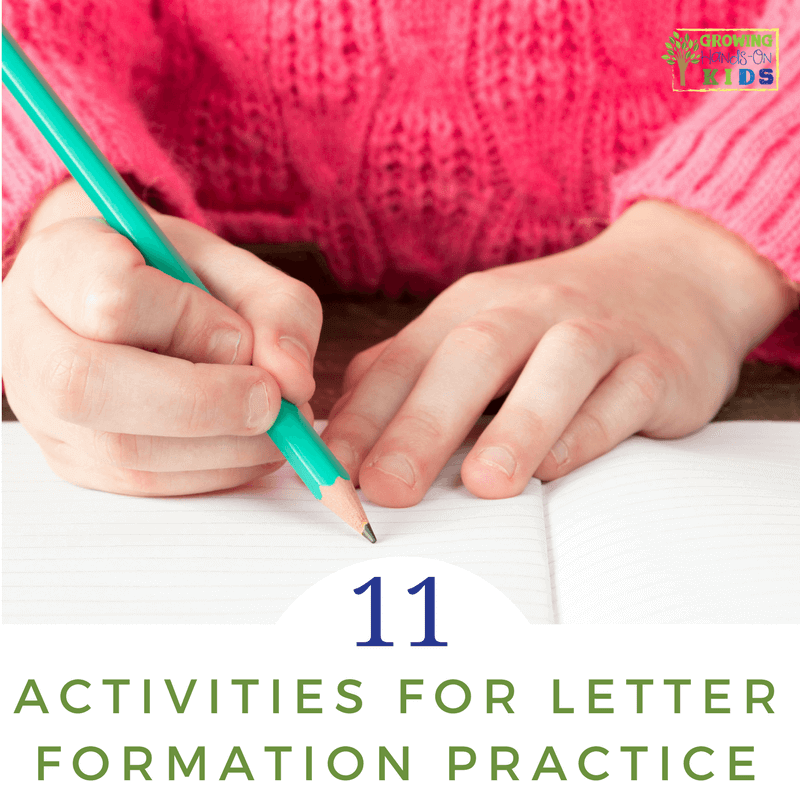 Teaching Letter Formation Tips
First, remind your child that we write in a left to right direction, just like reading.
All letters should start at the top of the line and sit at the bottom of the line. A few letters will go down below the line, depending on their formation. Using action words such as "zoom across" or "zip-down" can help when describing how to form letters.
The Fundanoodle I Can Write Letters series is a great place to start with learning letter formations along with the action words.
Review the proper letter formations with your child and work on bad habits now, such as printing letters from the bottom to the top.
If you need more suggestions for some of these problem areas with handwriting, I have a few other posts you can take a look at.
11 Activities for Lettering Formation Practice for Home
– Trace a letter on your child's back and have them guess and write the letter on a piece of paper. Take turns and have them trace a letter on your back.
– Make cookie letters. Having your child form the letters by rolling the dough and putting the pieces together.
– Form letters out of French Fries. If you don't want to use food items you can use play dough or Wiki Stix.
– Make letters with pipe cleaners.
– Draw letters with your finger on the carpet.
– Have your children write your shopping lists.
– Use a flashlight and make letters on the wall. You or your child has to guess the letter that was made. You can also cut out letter templates to place in front of the flashlight.
– Put letters on dice and have your child roll the dice and they have to write a word that starts with the letter.
– Fish for words. Place cut out fish in a shoebox. Write words or letters on the fish. Attach paper clips to the fish and adapt a small pole with a magnet. Whichever fish the child gets, they have to come up with a word or sentence using what is on the fish.
– Have them write with icing tubes.
– Use small marshmallows and toothpicks to form letters.
Need More Handwriting Help?
I teamed up with 10 other pediatric therapy bloggers to write The Handwriting Book. It is your go-to guide for learning all about handwriting. It's a digital ebook and is a great resource to have on hand in your home, classroom, or therapy sessions.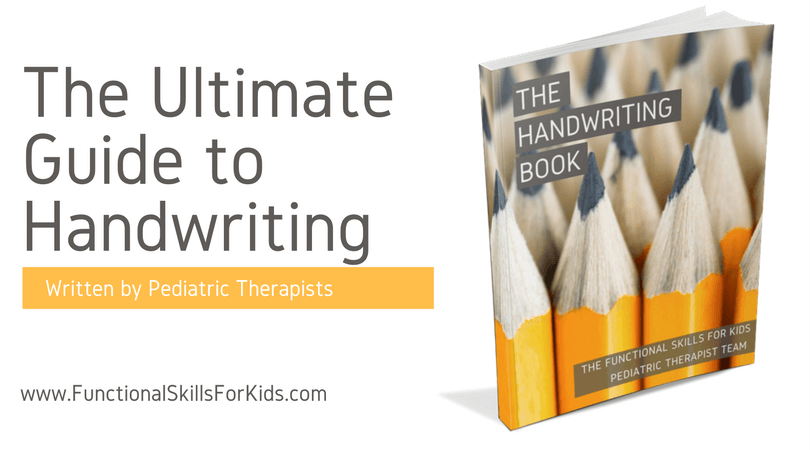 You can also find more tips and ideas below.
Follow Heather | Growing Hands-On Kids's board handwriting skills and activities on Pinterest.
You May Also Like: