Affiliate and Referral links are used below to promote products I love and recommend. I receive a commission on any purchases made through these links. Please see my disclosure policy for more details.
One of my favorite things to use when I was working in the school setting as an Occupational Therapy Assistant was a sensory body sock. So many of the kids benefited from it in many ways, plus it was a lot of fun to get some good sensory input. Today I want to share some fun ways to use a sensory body sock in your home, classroom or therapy sessions.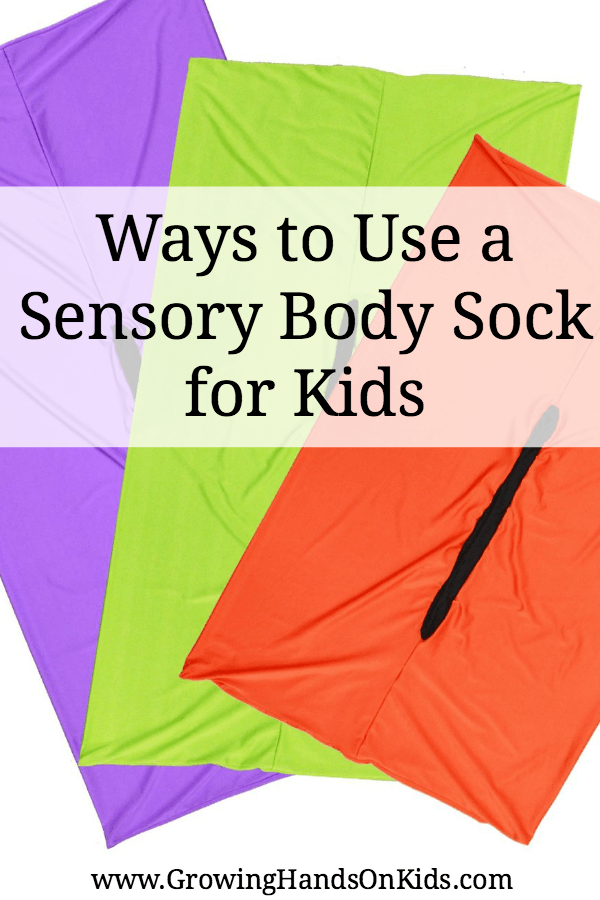 This is a sponsored conversation on behalf of Adapt Ease, a company providing Occupational Therapy tools and products. I was provided monetary compensation for writing this post as well as a free sensory body sock to review. 
Why Are Sensory Body Socks Beneficial for Kids?
Before we get into the fun activities, why are sensory body socks beneficial? For children who crave sensory input, particularly proprioceptive and vestibular input, the sensory body sock is a fun and different way to get this input. Sensory body socks are very stretchy and provide resistance when you move in them. This provides deep pressure through the joints (proprioceptive input) and when you move around in different ways, this provides the vestibular input (balance and movement in space).
Fun Ways to Use a Sensory Body Sock
Home/Therapy Sessions: 
Use a sensory body sock in your sensory room or safe area of your home. Body socks often has velcro closure, like the one below, so your child can crawl inside them and get the close, deep pressure feeling them need to calm down. Make sure their head is visible however for safety and they should be monitored by an adult close by.
Pop-Corn Game – This was a favorite among my students, even without a body sock. Place the body sock around the child's torso, but leaving the neck and head outside of it. Have the child curl up into a ball while on their back (arms wrapped around the knees). Have them hold this movement for 5-10 seconds or as tolerated and then say "POP!" The child pretends their body is a piece of pop-corn and releases their arms from their legs and pushes out against the sensory body sock with all 4 limbs.
Rolling – Have your child roll down a therapy mat or soft carpet with the body sock around their torso (leaving the neck and head outside). You can practice words such as "fast" "slow" etc.
How many letters of the alphabet can you make your body into? – This was also another favorite of mine and the kids when we used a sensory body sock. Again, make sure the child's head and neck are outside of the body sock, unless they have very close adult supervision and can easily get out of the sock if needed. Have the child lay on the floor (bonus if they are on their stomach for older kid tummy time!). Call out a letter of the alphabet and have the child move their body to form that letter on the floor. Some easy ones to start with are "C" "M" "L" "O" "Z". Add in some harder ones and see if they can problem solve how to move their bodies with the resistance from the body sock.
Bunny Hop Race – You can have your child hop like a bunny as far as they can while inside the body sock, or include lines on the floor with tape for them to jump between or on top of. Include various distances between the pieces of tape to help challenge their gross motor skills.
Relay Race – If you have more than one child, set up a relay or obstacle course while using the body socks. If you have one body sock, have each child get in and out of the body sick as they start and finish their turn so the next child can use it. This also provides great problem solving for how to get in and out, while pushing against the fabric.
Classroom: 
Include a sensory body sock in your quiet corner or reading corner. Often times many classrooms have an area that children can go to read or quietly do something during station times. Include a sensory body sock in this area and allow children to read or quietly use a fidget while inside.
Use for Brain Breaks – Include using the body sock during some of your brain break activities or exercises for children who need a little bit of extra input during sensory activities.
Also remember you can try any of the activities above in your classroom as added brain breaks or in a specific sensory room in your school.
Adapt Ease has an excellent sensory body sock option if you are looking for well constructed item for your home, classroom or therapy practice. It is made of polyester and spandex and heavy duty overlap with sturdy velcro closures. Right now they offer large, medium, and small sizes.
It is very helpful for children with low muscle tone. Also great for children on the Autism spectrum, Sensory Processing Disorder, ADD/ADHD and other diagnosis like these.
You can find Adapt Ease products on Amazon and also check out their Pinterest account.
For more sensory activity ideas, be sure to visit my Sensory Activities for Children resource page.
You May Also Like: