Affiliate and Referral links are used below to promote products I love and recommend. I receive a commission on any purchases made through these links. Please see my disclosure policy for more details.
Throwing a girl's puppy dog themed birthday party was a little bit daunting at first since I couldn't find a lot of ideas for girls. There are a ton of boy's themes and ideas for puppy dog parties, but no girls! My daughter's 1st birthday was yesterday! We had her party on Sunday and decided on the puppy dog theme, since she adores our 3 dogs!
Here are some tips and tricks I learned along the way to having the perfect girl's puppy dog themed birthday party!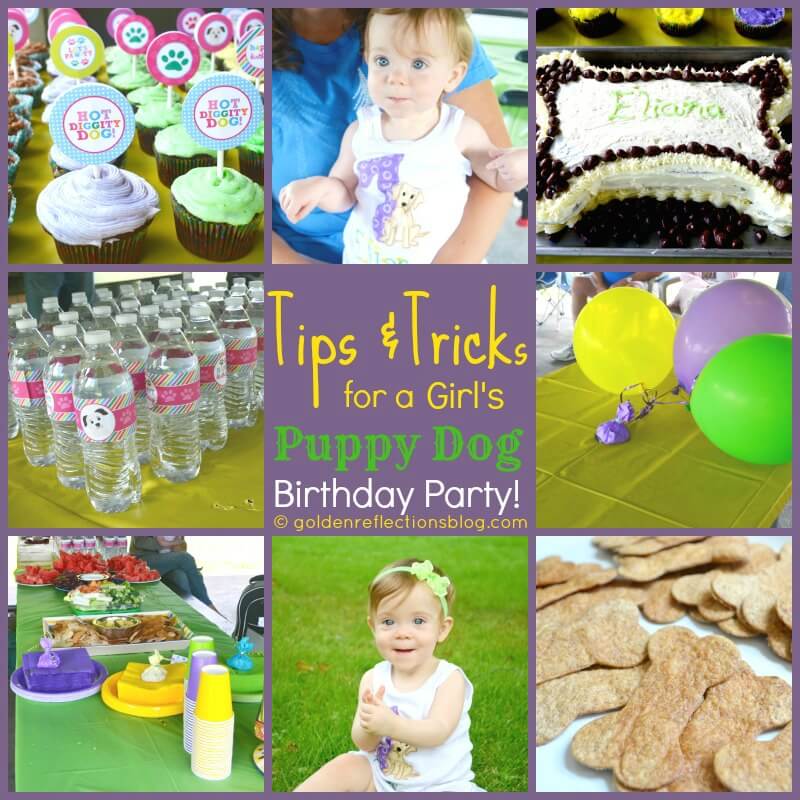 Invitations & Decorations For a Girl's Puppy Dog Theme Birthday Party
I almost gave up before barely starting! I could not find invitations for a girl's puppy dog themed party with colors that I liked! I browsed the internet and decided to give Etsy a try! I love supporting at home businesses, especially those of other moms, so I was very happy when I found Jenn at Inkberry Cards.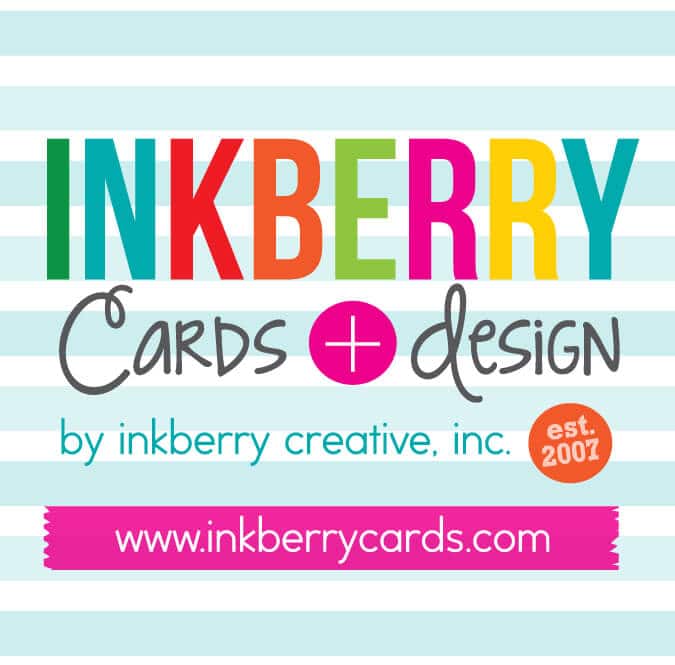 I found her Puppy Pawty Dog Theme Birthday Party Invitations and knew it was perfect! The colors were exactly what I was looking for!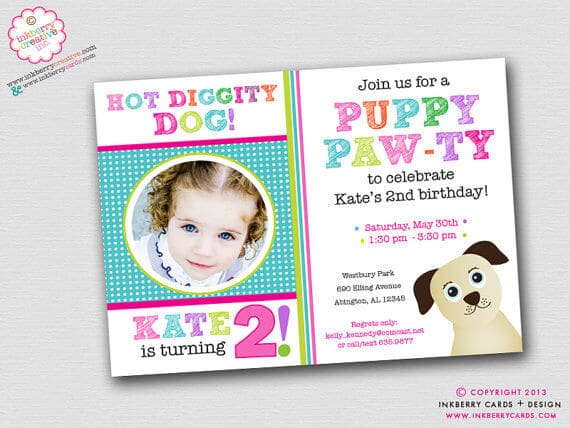 ** Photo used with permission of Inkberry Cards + Design **
Isn't this adorable? Of course, ours had our daughter's name on it, that she was turning 1 and her picture as well as location and times all customized to what we needed. I looked around her site some more and realized that she also sold party decoration kits to go along with the invitations. However I didn't see one for the Puppy Pawty Invites, so I contacted her through Etsy and asked if she had one. She did not at the time, but graciously agreed to make a party pack just for me! I was SO thankful for this! And guess what? Now she offers the Puppy Pawty Pack to all her Etsy customers, so you can go grab it HERE!
This party pack includes everything you could possibly need from cupcake wrappers and toppers, to welcome signs, water bottle covers and even thank you cards, all with the Puppy Pawty theme!
Here is how we used it for my daughter's party on Sunday!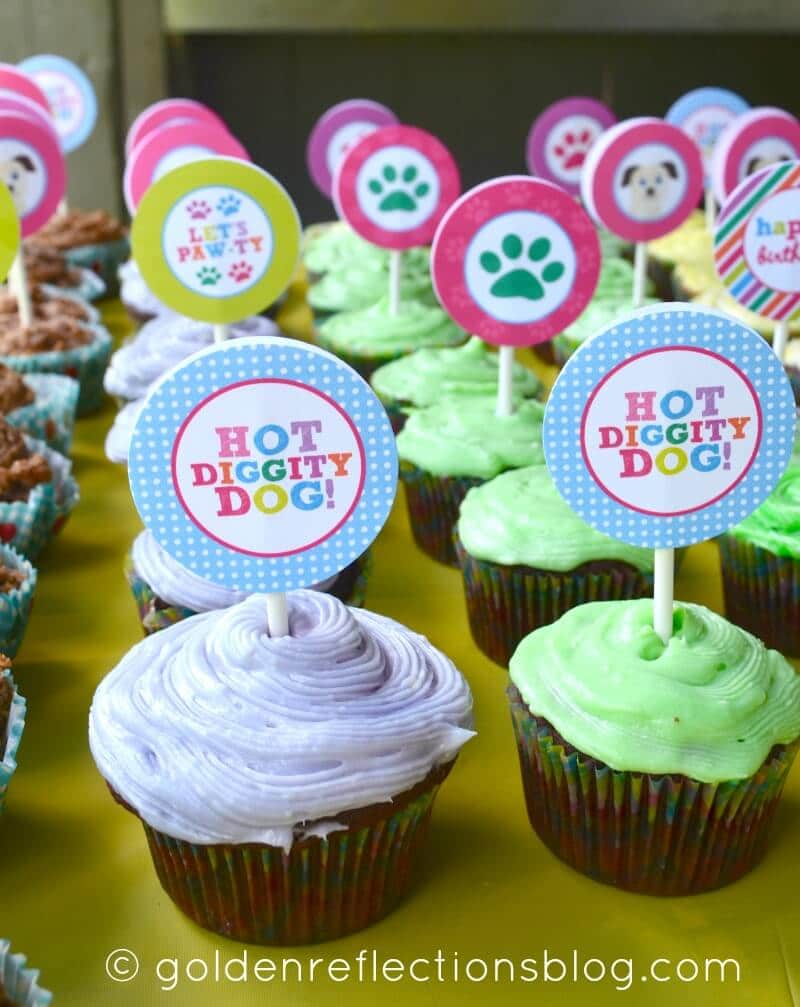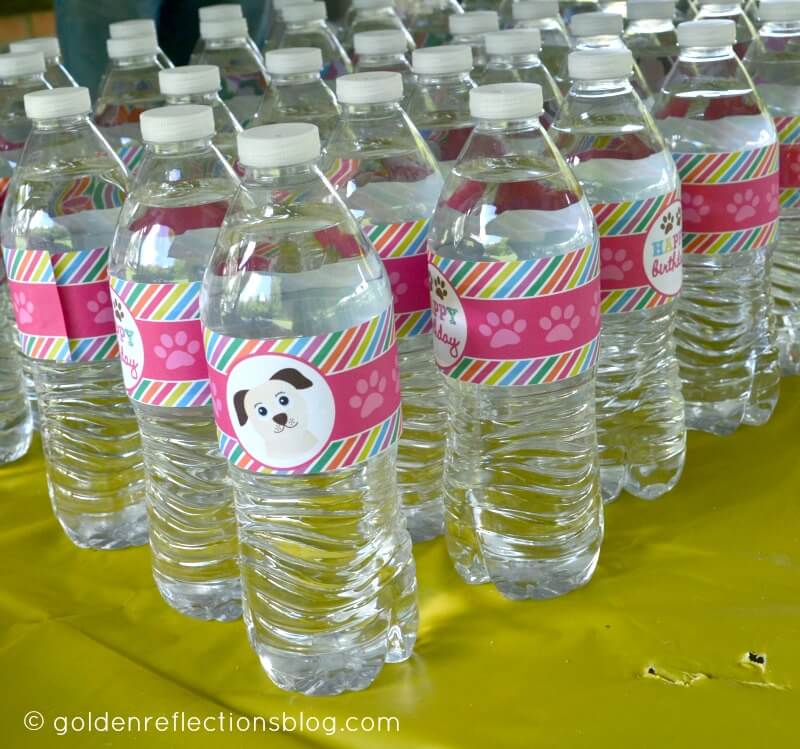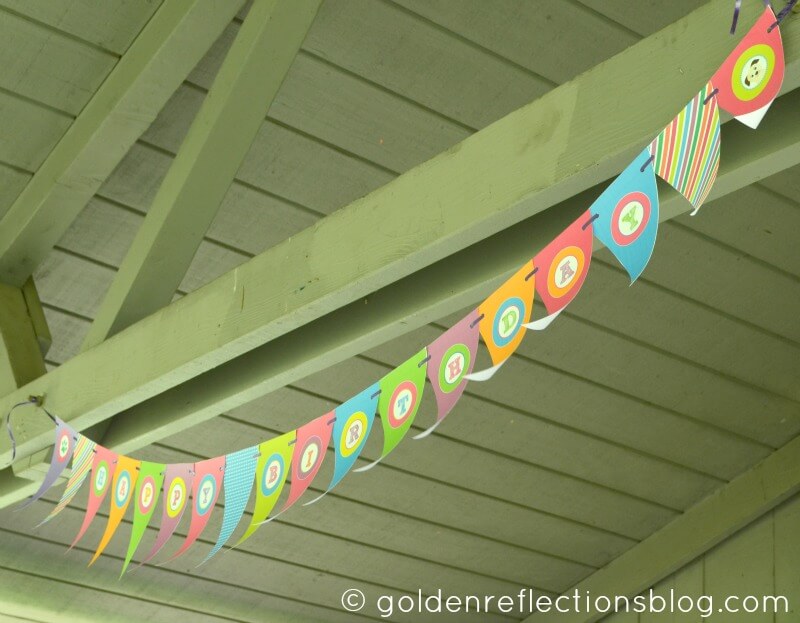 I also used the welcome signs on two of the posts at the entrance of the shelter but forgot to snag a picture of it; I was a little preoccupied and was a horrible photographer that day! haha
Thank you Jenn from Inkberry Cards + Design for helping to make the party a great success!
For the rest of the decorations we visited our local party supply store and went with purple, yellow and green, since those are the colors of E's room. I made some homemade balloon table weights, which I will be sharing how to make later! It was a good thing I did, because it was windy out and we actually still needed duct tape under the weights to help keep the balloons on the tables!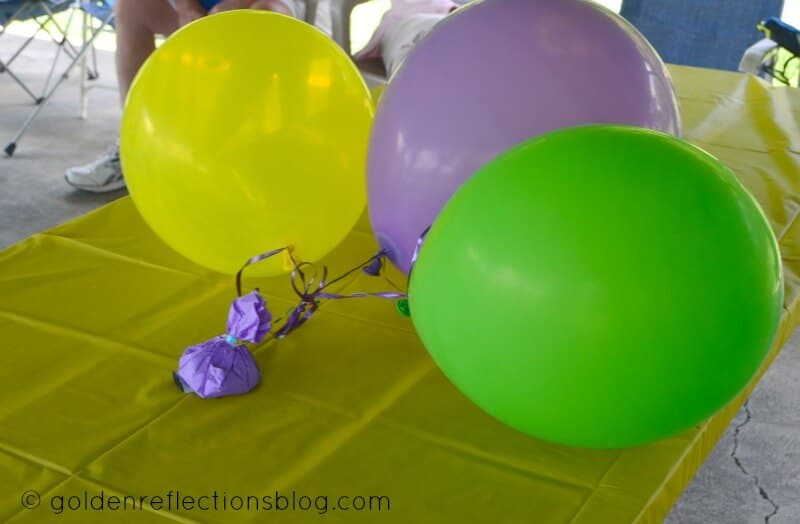 Birthday Outfit for Girl's Puppy Dog Themed Birthday Party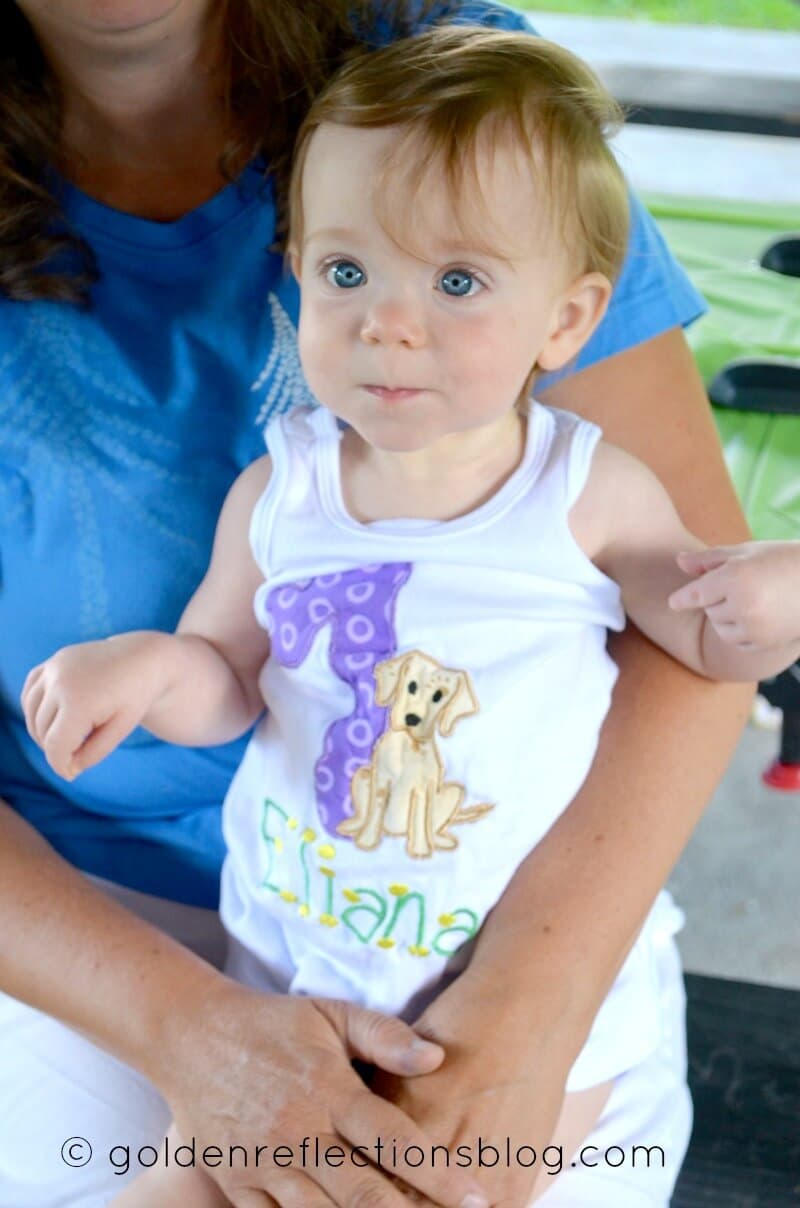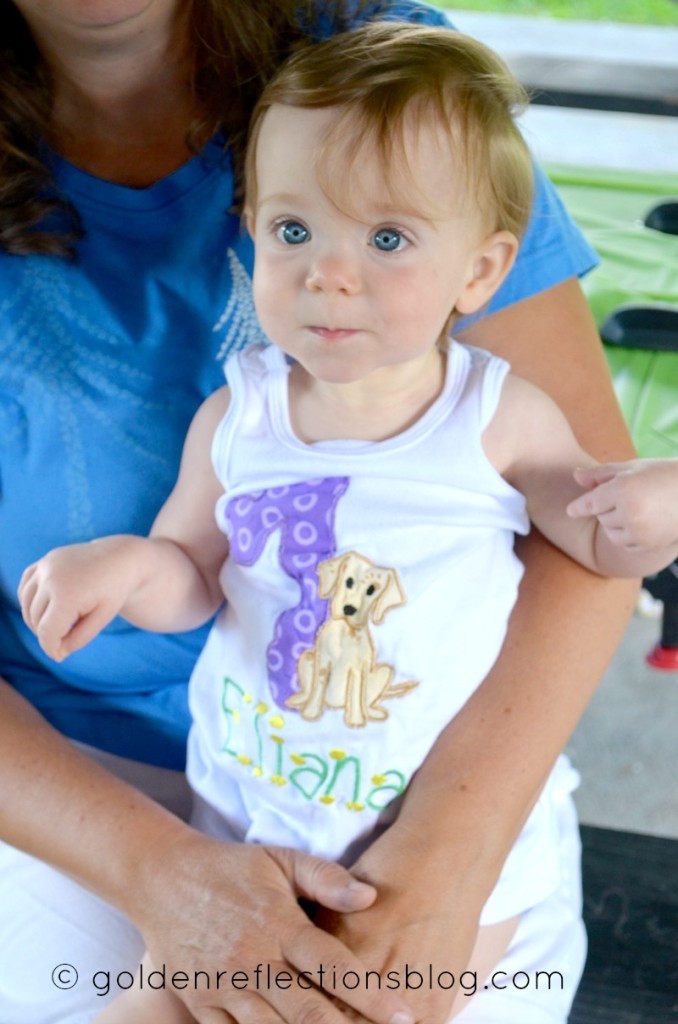 I loved my daughter's little outfit for her party! Thank you to Haley of Tuckeroo's for making it for us! Haley is also a work from home mom and makes all kinds of adorable little outfits, bags, and other clothing items for her online store! I told her what theme I was going for and the colors and she designed it from there! It matched everything perfectly! I also loved that it was a cotton sundress and was perfect with a little pair of purple shorts underneath and helped keep E nice and cool during her outdoor party!
Food for a Girl's Puppy Dog Themed Birthday Party
Okay, so the real reason everyone comes to a birthday party is for the food right? I turned to Pinterest and my 1st Birthday Party board for ideas!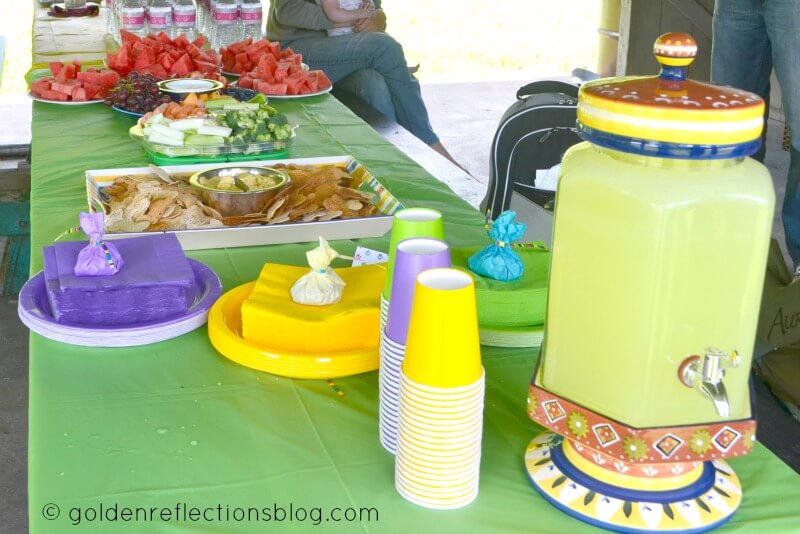 For the main course we had a "Hot Diggity" Hot Dog bar! And I completely missed taking a picture of it, silly me! There was an outdoor grill at the shelter so my dad was the grill master and grilled up the turkey and vegetarian hot dogs for everyone. The rest of the hot dog bar had buns, ketchup, mustard, relish, minced onions and cheese. The onions and cheese were in metal dog bowls that I picked up from the pet section at Walmart and washed before the party! Yes they were clean, no previous dog use! 😉
In the picture above you will see we had lemonade and water for the drinks. I also made dog bone tortilla chips (another post on how to do that coming later!) and put homemade hummus made by grandma into a metal dog dish with the bone chips around it. That was our "Dog bone chips with 'Mud' hummus."
We also had a fruit tray, veggie tray, watermelon, and homemade puppy chow dessert treats.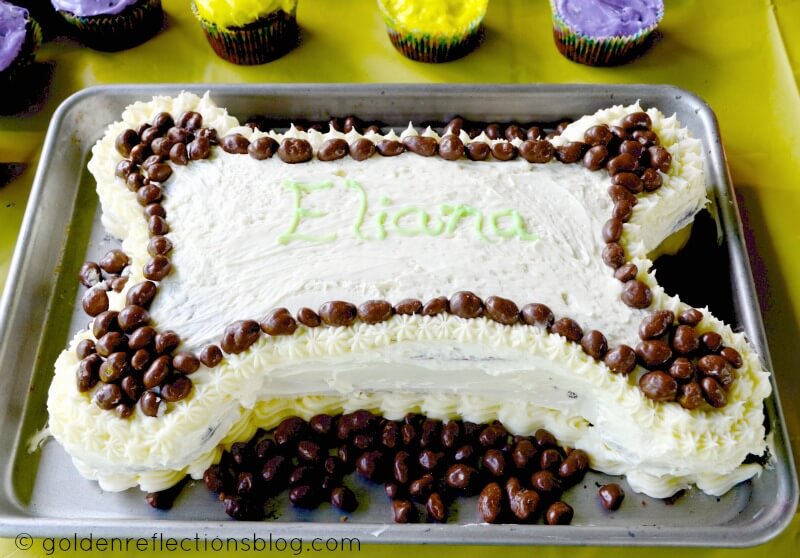 For the dog bone cake, I used 1 package of yellow cake mix and baked it in a loaf pan. Then the next morning I placed it on the cookie sheet and took 4 of the chocolate cupcakes (also store bought mix) and sliced corners out of them wide enough to fit on a corner of the cake. Next I made a quick buttercream icing (butter, powdered sugar, vanilla, and a little coconut milk) and spread that over the top. My mother in-law decorated the rest at the shelter using her cake decorating tips and then the chocolate candies are called "Goobers" which are chocolate covered peanuts. Quick side story here, "Goober" is a silly nick name for our daughter (there's even a song!), so we saw these at the store and knew we had to get them for the cake!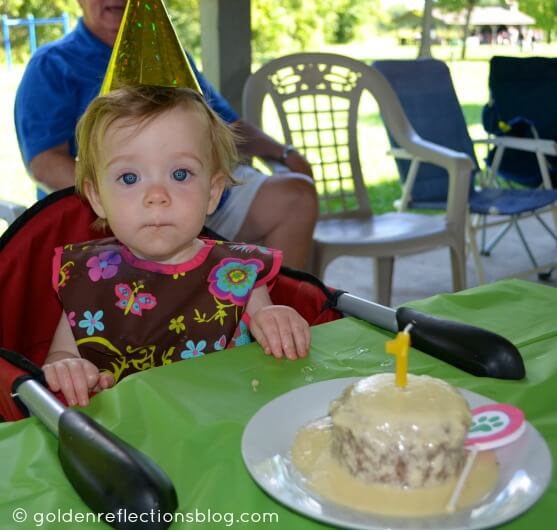 For my daughter's cake I made a vegan and sugar free cake (recipe to come later!) and a vegan icing. A couple people commented that it looked like a cinnamon roll, haha. But she seemed to like it, so that was all that mattered! The vegan icing did have powdered sugar, but it was still runnier than regular icing so it didn't stick to the cake real well. Also the cake was a little more dense than regular cake, so I did have to use a fork and break off some pieces for her to try. Otherwise she just got a fist full of sticky icing, haha!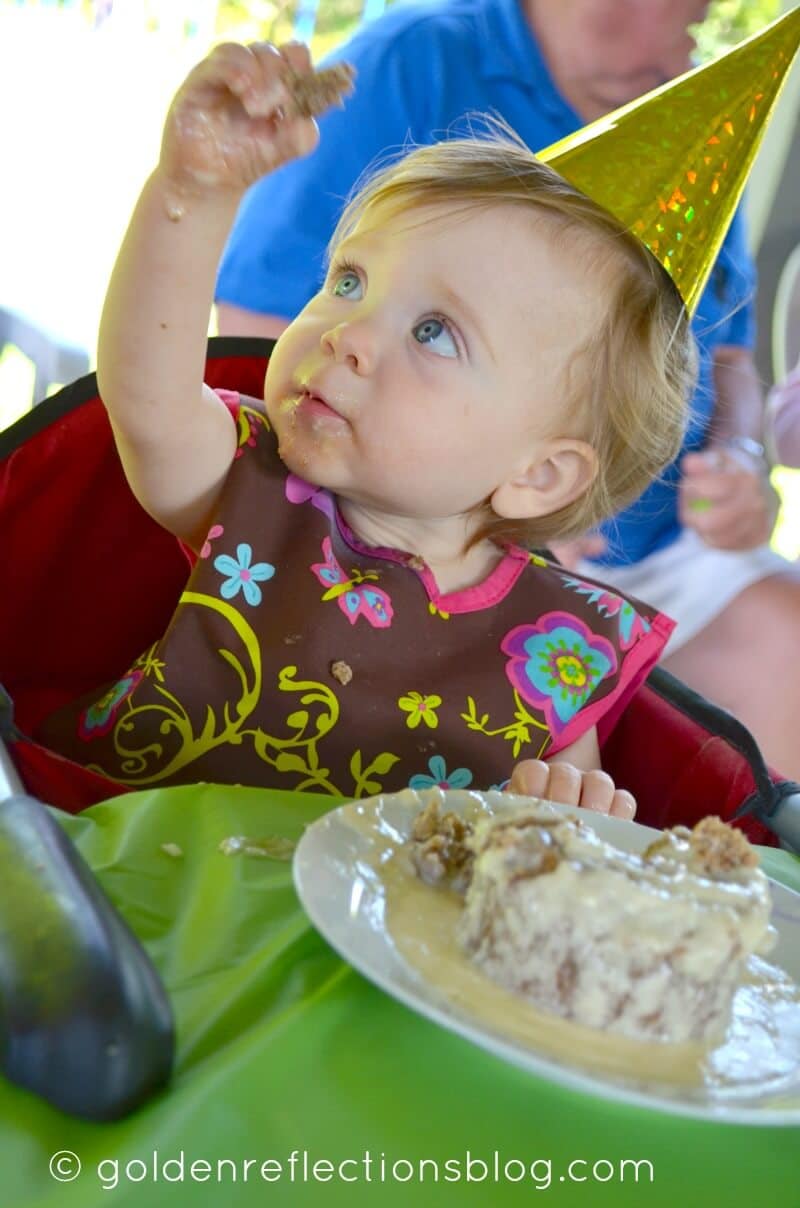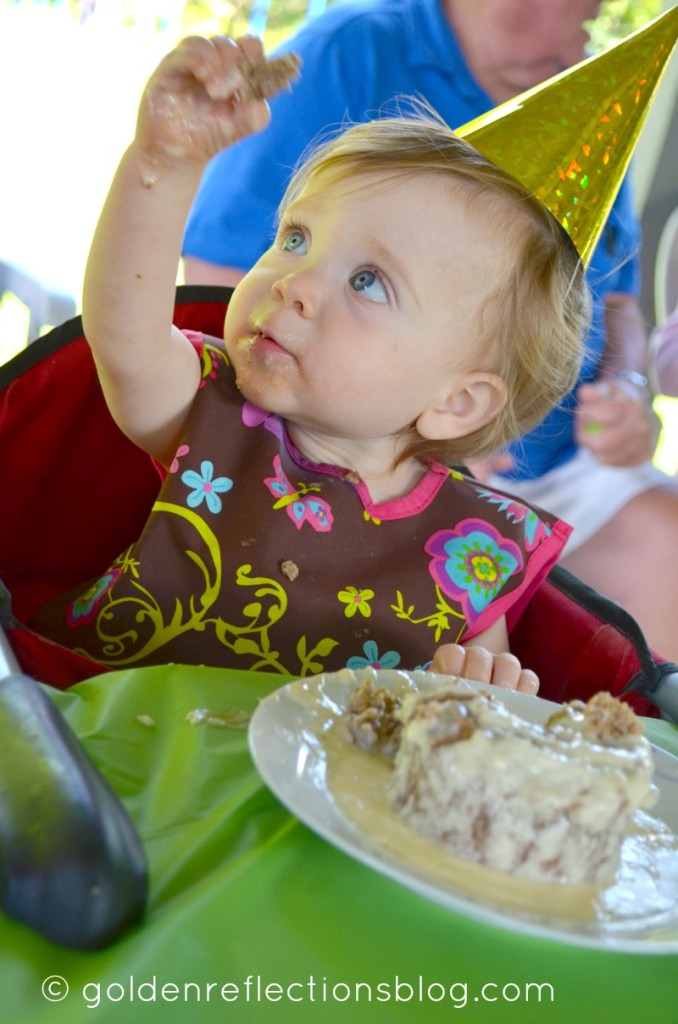 She did finally try it though and I saved the rest of it for her to have on her actual birthday, which was yesterday! I used the Girls Bib – Butterfly Blossom
from FlirtyAprons.com
 to cover her while she ate the cake; it was perfect! It covered her completely and when she was done I just un-snapped it from the back and took it off without getting any of the gooey mess on her!
And of course, you can't have a birthday without presents, which there were plenty of!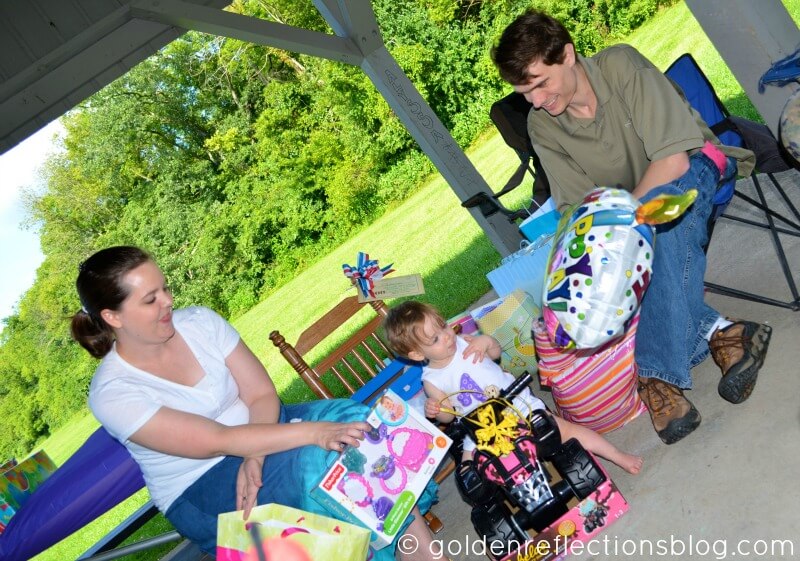 To see how I made some of the items for the party, check out these links below to other posts I have written.
Blessings,
Have you ever thrown a themed birthday party for your child/children? What was it?