Affiliate and Referral links are used below to promote products I love and recommend. I receive a commission on any purchases made through these links. Please see my disclosure policy for more details.
The gustatory system (sense of taste) can be a tricky sensory system to navigate, especially if you have a picky eater. Get the best activities for the gustatory system in this post!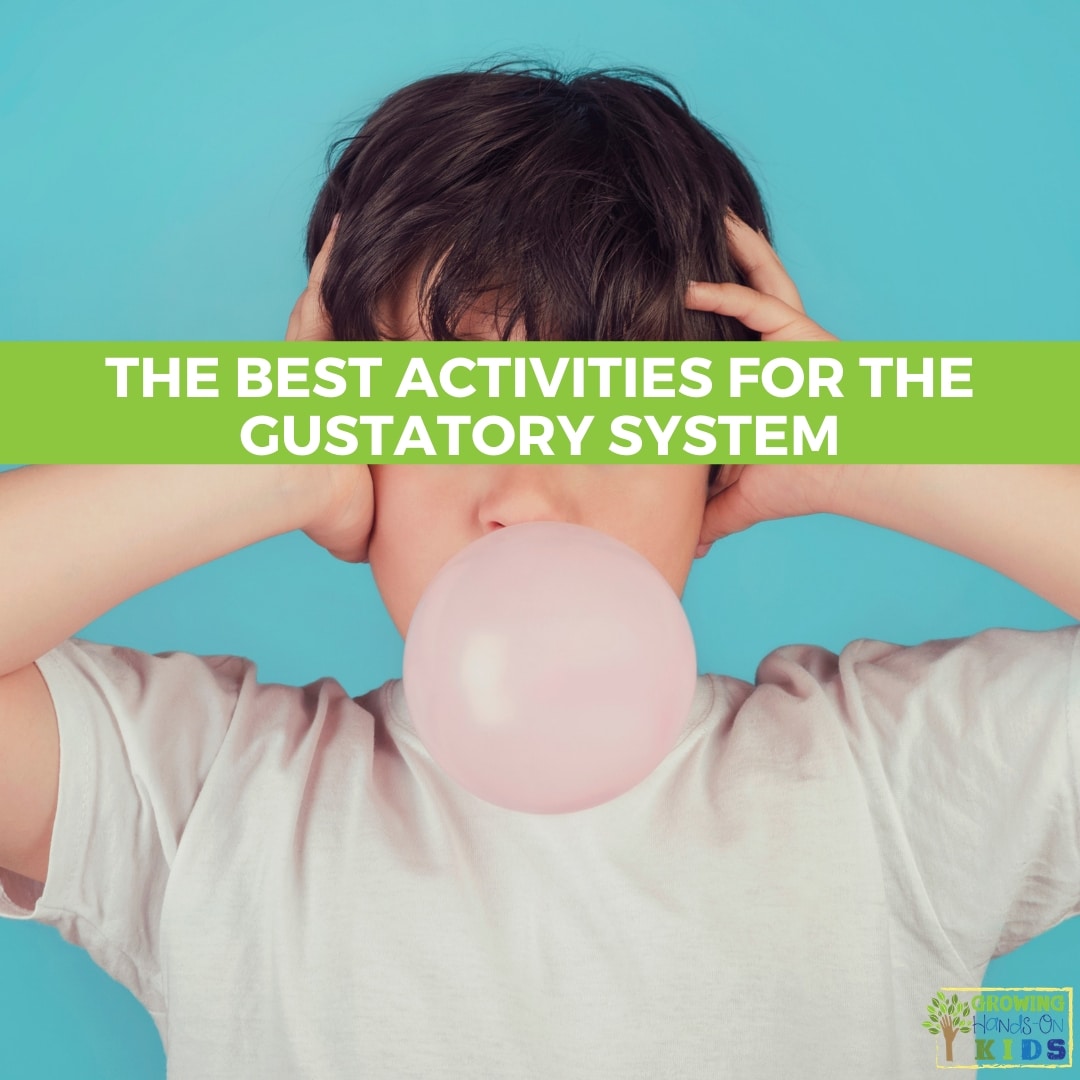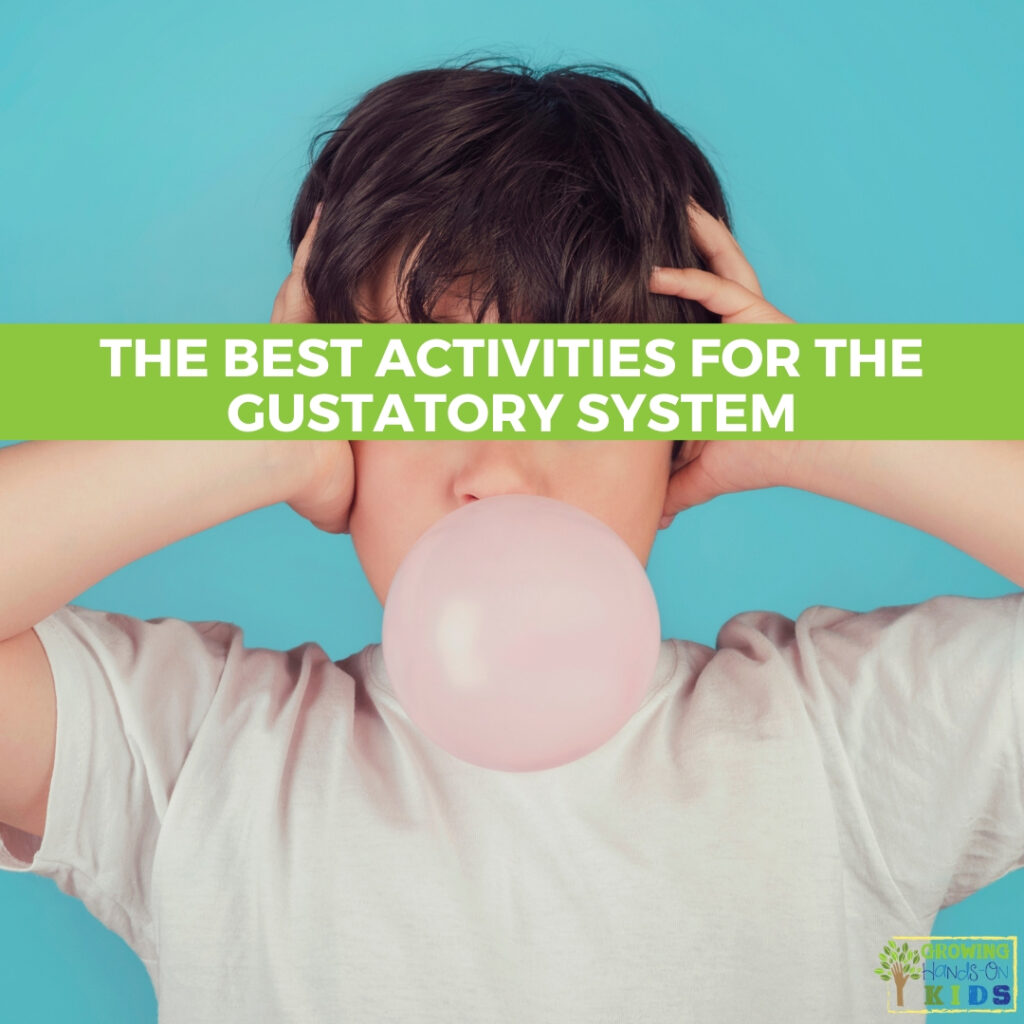 What is the Gustatory System?
Gustatory is another big science word for the sense of taste. The senses of taste come from your mouth and go to the gustatory cortext of the brain, which is located in the frontal lob.
The gustatory system senses the five main flavors of salty, sour, sweet, bitter, and umami (another funny sounding word for savory food).
Children who struggle with sensory processing challenges can also struggle with the gustatory, particuarly being picky eaters.
Children with hyper-sensitive gustatory senses can also struggle with food temperature (food being too hot or too cold), textures, limit the types of food they eat based on these sensitivities, dislike brushing their teeth, and struggle with going to the dentist.
However children can also be hypo-sensitive to the gustatory sense, which may look like needing intense flavor in their food (needed high amounts of seasoning or condiments) or eating things that are not safe or appropriate (chewing and biting clothing, unsafe objects etc).
The Best Activities for the Gustatory System
There are ways to address these struggles with the gustatory system. Here are some of my favorite activities.
I'm also including some links and resources for picky eaters (since this is not my specialty area).
1 || chewing gum
Chewing gum is particuarly helpful for children who need extra gustatory input. It can also have a focusing or calming effect when a child needs to focus on a task such as schoolwork. The act of chewing provides proprioceptive input through the mouth and joints in the mouth which can be calming and focusing for many children.
2 || chewable jewelry or chewable tool/toy
Chewerly is helpful for children who need added input and struggle with constantly biting or chewing objects that are not safe. There are many different types of chewerly out there, it is best to find the ones that your child likes and that are well-made and durable.
Two of my favorites brands include Chewigem USA and ARK Therapeutic.
3 || vibrating toothbrush
The vibration sensation from the toothbrush can be desensitizing for children and also provides added proprioceptive input to the mouth and jaw which can have a calming effect.
4 || drinking from a straw
The act sucking can have a focusing effect and help with attention, especially thicker liquids like a smoothie or milkshake. 
5 || creating taste/scent bottles 
The sense of smell (olfactory system) and the gustatory system are closely tied together. We smell our food before we taste it afterall. So creating smell or taste bottles with a variety of flavors or scents can be a great way to introduce new textures or flavors to your child.
Here are some ideas for creating your own bottles:
6 || blowing bubbles
This goes back to added proprioceptive input through the mouth with blowing or sucking. Plus, who doesn't enjoy blowing bubbles and chasing them? 🙂
7 || exploring textures through sensory bins or messy sensory play
We were all told not to play with our food growing up I'm sure. But exploring textures through sensory bins or messy play is a great way to slowly introduce new textures and scents to a child who may be a picky eater.
More info on that here: The Importance of Messy Play for Kids
What kind of picky eater is your child? Take a free picky eater quiz from my OT friend Alisha at Your Kids' Table.
8 || whistling a song or favorite tune
I have never been able to whistle. 🙁 But my daughter taught herself to whistle by sucking air in through her mouth instead of blowing out. I guess that is what happens when you lose 5 teeth in one summer, haha.
9 || blowing up balloons and/or blowing out candles
Some more great blowing activities include blowing up balloons or blowing out candles. You can create a game with the balloons such as hitting them back and forth with a racket or your hands (great for crossing midline too!) or doing a minute-to-win-it type style game with how many candles can you blow out in a minute (or even just 30 seconds).
10 || blowing a pinwheel
Any type of fun activity that requires blowing the object will work for this. Use a straw to blow cotton balls through a maze, blow a streamer, pinwheel, etc.
Resources:
Understanding SPD: The Gustatory System – North Shore Pediatric Therapy
The Gustatory System – SPD Australia
Your 8 Senses – STAR Institute
Free Handout On the Gustatory System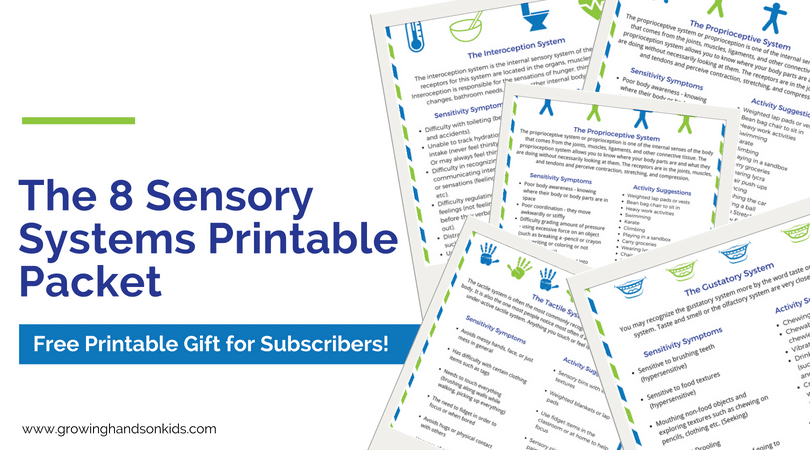 I have a free handout on the gustatory system, along with all 8 sensory systems in this 8 sensory systems printable packet. You can access it for free when you subscribe to Growing Hands-On Kids. I send a weekly newsletter of child development tips, tools, and strategies, plus other free handouts and printables.
To get your free printable packet, put your email address into the form below. You'll be redirected to a thank you/success page and then check your email for the free download. You'll also receive my free sensory systems email series with more tips and ideas for all 8 sensory systems.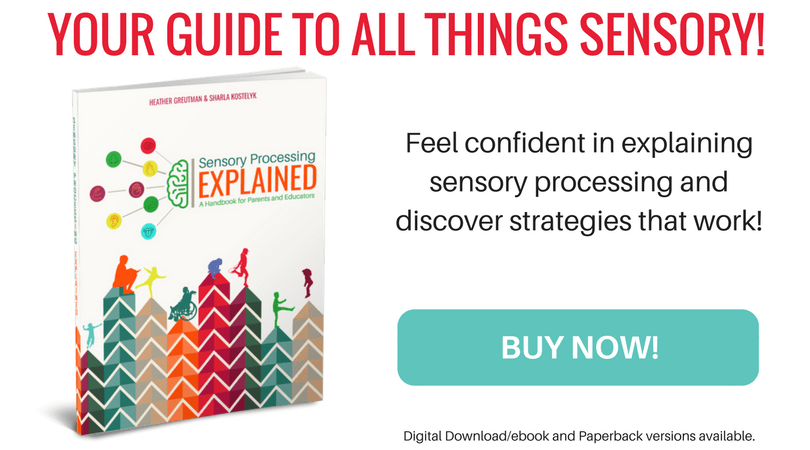 You May Also Like: