Affiliate and Referral links are used below to promote products I love and recommend. I receive a commission on any purchases made through these links. Please see my disclosure policy for more details.
I was never fond of science, particularly chemistry during high school which has led to the fact that I am not too comfortable in teaching science. And since we are planning to homeschool the kids, I am always looking for resources to help me in this area.
This is a sponsored review on behalf of Amberjack Publishing. All thoughts are 100% honest and my own, a positive review was not required.
Even though I was never found of science growing up, I don't want that to influence my kids. I want them to be able to learn about all things that interest them and also expose them to things that I didn't necessarily enjoy. That's why I'm so glad there are resources like Eddie the Electron.
Eddie the Electron is perfect for younger kids and gives a basics of what it's like to be an electron. The graphics are eye catching and the wording is fun and exciting. Ellie really enjoyed looking through the book and kept asking what all the items were in the pictures.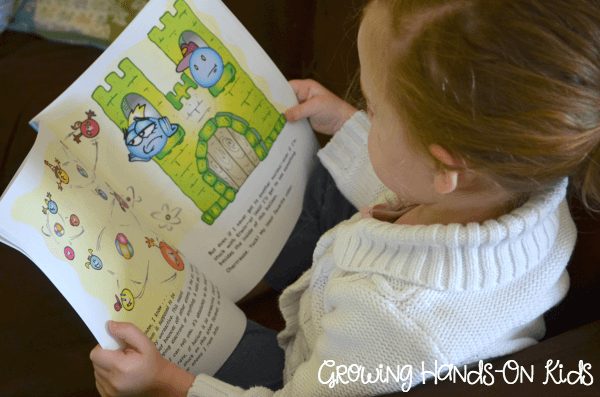 I won't lie; I was learning right along with Ellie about electrons. I love that this book is easy to understand for younger ones and it's a great way to re-introduce science for myself so that I can gradually feel more comfortable teaching it as Ellie gets older.
Using Eddie the Electron to expose Ellie to science like this early on will encourage her to have a love of learning and start her on a journey to a love of hands-on science fun. And hopefully I will gain a love for science someday along with her.
Hands-On Activity Extensions with Eddie the Electron
Use tooth-picks and marshmallows and build a model of a electrons around an atom.
Stand in the middle of the room as the atom and have your kids run around you as fast as they can pretending to be electrons around their nucleus.
Get a magnifying glass and look at sand, dust, the end of a pencil, and the period at the end of a sentence in the book. Can you find other items that might be smaller than these? What about larger?
Blow up some balloons and talk about the helium atoms and electrons inside. Pop the balloon with a pencil or pen when you are finished.
Draw a picture with crayons or colored pencils of an atom and the electrons around it.
Learn about the difference between helium, oxygen, or nitrogen atoms.
Find out what other noble gasses there are.
About the Author of Eddie the Electron
Several years after earning her Ph.D. in Chemistry, Melissa Rooney decided she did not want to be a career-Chemist. As she has always loved and collected children's books, Melissa decided to utilize her Ph.D. and write her own children's book, which transformed into Eddie the Electron.
Melissa has said, "I am confident that, by presenting these scientific concepts to children at an early age, Eddie would increase the likelihood that they would be comfortable and interested in such 'complicated' ideas."
Special Discount for Eddie the Electron
Get 10% off total purchase of Eddie the Electron through Amberjack's website (not Amazon) with coupon ihomeschool10. Expires October 31st, 2015 and does not include author services.
You can also purchase Eddie the Electron through Amazon.
Also be sure to follow Amberjack Publishing in the following ways: