Affiliate and Referral links are used below to promote products I love and recommend. I receive a commission on any purchases made through these links. Please see my disclosure policy for more details.
We all know that the rates of children being diagnosed with Autism and Dyslexia are on the rise. In fact, this past year it was discovered that 1 in 66 children are diagnosed with Autism and 15-20% of children have a reading disability.
Many parents who are interested in Montessori methods of learning often wonder how Montessori can fit with their children with special needs. When I first learned about Montessori, what drew me to it was how similar Montessori is to my profession of Occupational Therapy. Both focus on the whole child and promoting independence in the classroom and at home.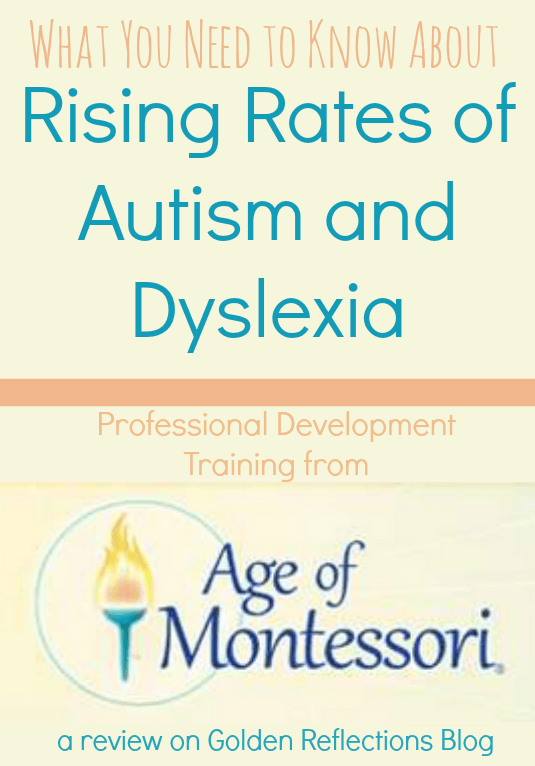 This is a sponsored review on behalf of Age of Montessori. All thoughts and opinions are 100% honest and my own.
I was given the opportunity to listen to an online professional development webinar through the Age of Montessori on this topic, "What You Need to Know About the Rising Rates of Autism and Dyslexia."
This webinar is given by Mary Ellen Maunz, M. Ed, and founder of Age of Montessori and gives basic information on autism and dyslexia and how it impacts a Montessori classroom or home environment.
The overall picture given to how children with Autism and Dyslexia function in the world and in the classroom is very helpful for teachers and parents wanting to assist these children in a Montessori environment. She mentions a ton of information from Temple Grandin as well as references to things Maria Montessori has stated about the Montessori environment.
The webinar is also in video format with slides and you also receive a hand-out with all the resources and additional reading materials on this topic.
Some topics covered in this webinar include:
Rates of Autism and Dyslexia and how they impact the Montessori home and classroom
The two types of Autism
Developmental Milestones affected by Autism and Dyslexia
What is stimming and scripted behavior in children with Autism
How to adapt the environment for a child with Autism
Recommendations for children with Autism
What is dyslexia and how common
How to overcome Dyslexia/What parts of the brain need activated
Symptoms of Dyslexia
How can you teach reading to children with Autism or Dyslexia
One thing I will note, the webinar was recorded in May 2013. So while there is a lot more information out there now on Autism and dyslexia in the last two years, this webinar can still be relevant to this topic. Some of the actual statistics given and also some of the causes of Autism mentioned have been updated and changed, but those are easy to find with a quick Google search.
Also some terms and phrases are used that are not necessarily considered politically correct (such as saying "child with Autism" instead of "Autistic Child") in the special needs world now, so just look past those terms. I do not feel that those few things diminish the overall wealth of information given on Autism and Dyslexia and how Montessori teachers and parents can assist children with these diagnoses.
CLICK HERE to purchase the Rising Rates of Autism and Dyslexia webinar replay or any other webinar replays from Age of Montessori
Upcoming Montessori & Attachment Parenting Webinar from Age of Montessori
Age of Montessori has a lot of online professional development webinars for Montessori teachers, but are also helpful for parents and families. Each webinar is $50 and you get access to the live class, as well as 1 month access to the recorded version and handouts.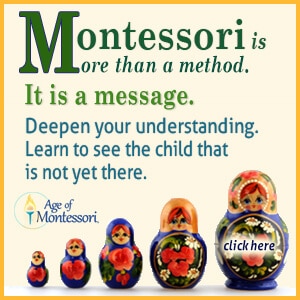 Age of Montessori has a brand new webinar coming Thursday February 26, 2015 from 6:00-8:00pm on Montessori and Attachment Parenting. Here is a short class description:
"Join master teacher, Mary Ellen Maunz, and child psychologist, Dr. Elizabeth Bennett, for a lively conversation about principles of child development taught by Dr. Montessori and validated by current attachment and brain research." – Age of Montessori
Remember you if you can't make the live class, you still have access to the recordings and handouts afterwards. To find out more about this class "Montessori and Attachment Parenting" simply click this previous link of the class title.