Affiliate and Referral links are used below to promote products I love and recommend. I receive a commission on any purchases made through these links. Please see my disclosure policy for more details.
Today I am sharing some resources for homeschool and special needs that I have here on my site.
Below you will find some of my favorites posts, resources, printables, and ebooks that I provide for homeschooling and special needs here on GHOK.
Resources for Homeschooling Kids with Special Needs
For those of you who don't know me, before I became a stay at home mom to my daughter I worked for 7 years as an Occupational Therapy Assistant. Four of those years I was in the public school system working with special needs kids from preschool through high-school.
I love sharing resources and ideas for special needs kids here on my site. What is great about kids activities is that ANY child can benefit from most of the activities I share about, no matter if they have special needs or not.
Here are some of the resources I have here on GHOK specifically for homeschool and special needs.
By far, the most popular series on my site is my Behavior vs. Sensory series. This is a 5 week series where I look at things that could be affecting your child's behavior and sensory processing. Here are the topics and posts in that series.
Sensory Processing Disorder Series
Homeschool Resources And Activity Ideas for Kids with Special Needs
Here on GHOK, I focus mostly on fine motor, sensory, and handwriting activities. I have written numerous activity ideas for each and I also have an ebook on handwriting, Basic Shapes for Beginners.
On my Sensory Activities for Kids page, I have links to every single sensory activity or post I have written about here on GRB and also guest posts I have written. I have it divided by age ranges, themes, and seasonal activities.
On my Fine Motor Activities for Development page, I also have links to all the fine motor posts I have shared. These include free printables, a link to a developmental sequence of fine motor skills printable, activity ideas, and more.
And my How to Improve Handwriting Skills with Kids page has links to all the resources I have written on handwriting skills for both typical and children with special needs.
My ebook, Basic Shapes for Beginners is a hands-on approach to pre-writing strokes for preschoolers. It is designed for ages 2-5, however, if you have a child who struggles with handwriting or is behind in fine motor skills these activities can definitely be beneficial to them.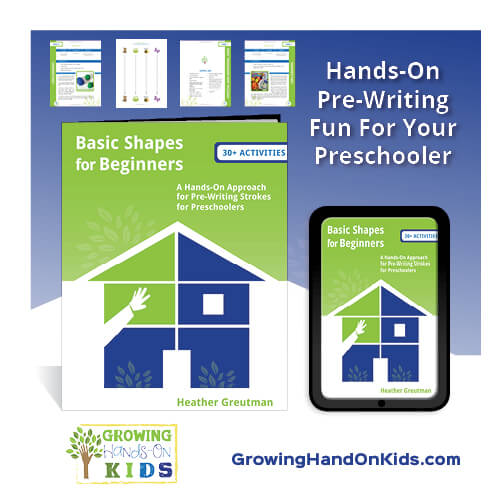 All of the activities are hands-on and focus on building excellent fine motor skills and mastering pre-writing lines and strokes which aid in helping good handwriting skills.
I also have a page of all my free printables here on GHOK. Many of these are handwriting and fine motor related.
I hope that many of these resources are helpful for you as you homeschool your child with special needs. I also have another resource for you on Pinterest.
You can check out my homeschooling special needs Pinterest board for more ideas.
Follow Heather G. | Golden Reflections Blog's board Homeschool – Special Needs on Pinterest.