Affiliate and Referral links are used below to promote products I love and recommend. I receive a commission on any purchases made through these links. Please see my disclosure policy for more details.
Since finding out I was pregnant with no. 2 and being so sick from pregnancy related symptoms, I have been on the look-out for some fun and easy preschool education type activities for my daughter. We try to have limited screen time, but that has been altered slightly with mommy being so sick. I was very excited to learn about Leo's Pad Enrichment program from Kidaptive and knew Ellie would love it.
I received this product for free in order to write this review. I was also compensated for my time. All opinions are honest, a positive review was not required.
Leo's Pad Preschool Learning App
Leo's Pad is a preschool learning app for the iPad from Kidaptive.  It is also designed by Standford researchers and some pretty amazing world class animators. What I immediately loved about the Leo's Pad app is that although the characters are animated, they do not look like your typical cartoon characters. They are very realistic and lifelike.
Leo's Pad is divided into 6 chapters, with only chapter 1 being unlocked from the beginning. As your child progresses and masters each section of the chapter, the next chapter will unlock when they are ready for it. I love that this allows the child to develop at their own pace and doesn't overwhelm them or frustrate them with trying to learn too many new things at once. You can also unlock each chapter manually if you feel your child is ready to move on ahead of time.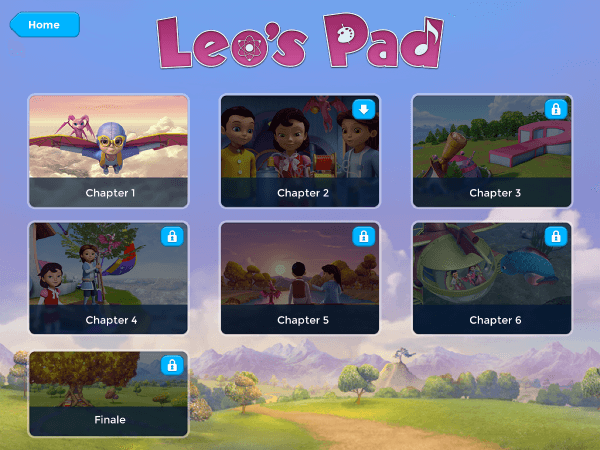 Ellie is still learning her colors, however she is very good with shapes. I was very excited to see that the first chapter focuses on picking different shapes and colors in order to complete the various activities for that chapter. Each chapter also tells a story and your child is along for the ride, while completing various learning activities throughout the story.
Since Ellie is still young (2 1/2) it is taking us a little longer to get through the chapters and unlock the next one. But I love that she is allowed to go at her own pace without feeling like she is missing something. Once the chapter is done, it goes back to the main home screen. So I just tell her "all done" with the sign and she is satisfied with that.

If you have more than one child, you can also set up a separate profile for each child. You can upload your own child's picture or use a provided graphic. This allows each child to progress at their own pace and start where they left off in the story.
What I loved most about using Leo's Pad is that I could set Ellie up next to me on the couch.  If I was not feeling well, she could still be gaining some valuable developmental learning skills while I could rest. The chapters progressively get harder, but she is catching on quickly. Daddy also enjoyed watching her play a few times.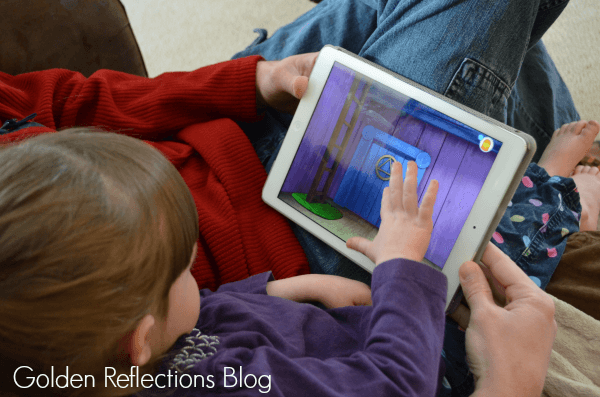 I am definitely looking forward to using Leo's Pad in our tot school and preschool in the coming months, I know Ellie really enjoys it and it gives mommy a little bit of breathing room if I am not feeling well. And it will be perfect to have around once the new baby arrives.
How to get Leo's Pad from Kidaptive
You can purchase Leo's Pad Enrichment Program for $24.95 on their website or in the iTunes store. I will admit, we typically don't buy apps and tend to stick to free ones, but you can definitely tell the difference in quality with this app from others. You definitely get what you pay for.
They also have a free companion parent's app for your iPhone called Learning Mosaics. This helps you can track your child's progress and gives you detailed information on your child's learning strengths and things they need to improve on. You can get it either on their website or iTunes.
You can also check out the first chapter for FREE to see if the Leo's Pad is right for you and your family.
Kidaptive is graciously offering GRB readers 20% off with the code IHOMESCHOOL if the app is purchased via their website. This code will not work via iTunes.  **Coupon valid 1/22/2015 – 5/31/2015
Also be sure to check out Kidaptive and Leo's Pad on Facebook and Twitter.
For more preschool learning fun, check out my Pinterest board below.
Follow Heather G. | Golden Reflections Blog 's board Homeschool Preschool Ideas on Pinterest.