Affiliate and Referral links are used below to promote products I love and recommend. I receive a commission on any purchases made through these links. Please see my disclosure policy for more details.
I like having some easy preschool apps in my back pocket to supplement our tot school and preschool activities in our homeschool. While we do try to limit screen time as much as possible (remember the recommended amount is 2 hours a day or less for ages 2+), there are definitely times when having an app available helps to give me a little breathing room, while Ellie can still work on important skills.
We were recently able to review the preschool app from Joy Sprouts and wanted to tell you about it today.
This is a sponsored review on behalf of Joy Sprouts. I received a free download of the app along with compensation for my time. All thoughts are honest and a positive review was not required. 
Preschool App from Joy Sprouts
We recently purchased a new vehicle and you know how long that process can take at times. Thankfully we were at a car dealer that is known for not taking as long as others and they even provided a small play area for kids, which was great. However, they had a TV running in the room that was on the Nickelodeon kids channel.
We are definitely NOT fans of that channel in our home. At first Ellie ignored it pretty well and played with the toys in the room. However, I noticed the longer we stayed in the room, the more she was paying attention to it. So I decided to pull her out and got our iPad out for her instead.
It just so happened we had downloaded the Joy Sprouts preschool app a few days before and I had not introduced her to it yet. So we used this opportunity to check out the app. It was definitely more age appropriate for her than what was being played on the TV in that kids area.
She was immediately drawn to the BBC animals area of the app. She could choose different animals that she wanted to help grow and then it turned into an animal matching game. With each card that was matched, she learned a fact about that specific animal. After all the cards were matched, she got to watch a video from BBC showing that animal out in the wild.

The matching cards game was a little above her age level (she is 2 1/2), so I did have to help her with that portion quite a bit, but I know as she gets older she will be able to do more herself.
There are different areas of the Joy Sprouts App that work on different age appropriate preschool skills. In one of the games you get to play with Garfield and Ody as they play that they are a fireman, detective, athlete, or musician and complete some games that go with each of those "jobs".
This section didn't hold her attention as long though as many of the games were still a little too challenging to her, and I actually had some difficulty finding how to navigate some of the games myself. For example, on a couple of them you have to push an arrow to move on to a new "page" in the app to find more objects, but it wasn't too obvious that you needed to do that to keep playing.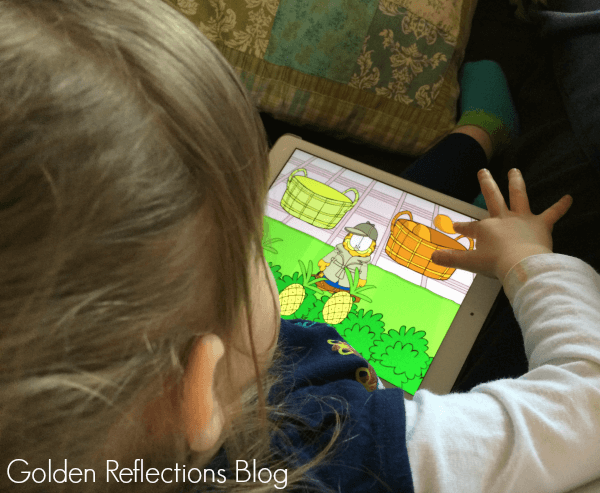 Ellie also prefers real animals to cartoons, so the BBC animals area was definitely our favorite. While the cartoon stories and games were interesting at first to her, they did not hold her attention nearly as long. She has a real love for animals right now, so this made sense.
As parents, you also get a special parents section of the app that you can track your child's progress through the app. As they master each game, they earn "eggs" or points that show on the sides of each game so you can see how far they are getting in the game. Then when you check the parents area, it let's you know what areas of development your child is excelling or areas that they may need more time in.
Get this Preschool App from Joy Sprouts for FREE
The Joy Sprouts App is $9.99 in the app store.
They are also offering a way for you to get their app for FREE.
Get Joy Sprouts free by tweeting about the app!
1. Download Joy Sprouts http://www.joysprouts.com/
2. Tweet about it and tag @JoySprouts
Example Tweet
I downloaded @JoySprouts. It's our new favorite #homeschool app! #ihsnet http://bit.ly/1whJaub
3. Joy Sprouts will make full refund via Paypal.
4. If you have any trouble with getting your refund, contact support support@joysprouts.com.
You can also follow Joy Sprouts on social media in the following ways: