Affiliate and Referral links are used below to promote products I love and recommend. I receive a commission on any purchases made through these links. Please see my disclosure policy for more details.
This past Christmas it seemed there was an un-written farm theme with all the toys the kids received. Both of them love animals, so it is a natural theme for grandparents to gravitate towards I think. They both received so many nice farm theme toys that I thought I would share them all below. If you have a farm animal loving child, these will give you some great ideas.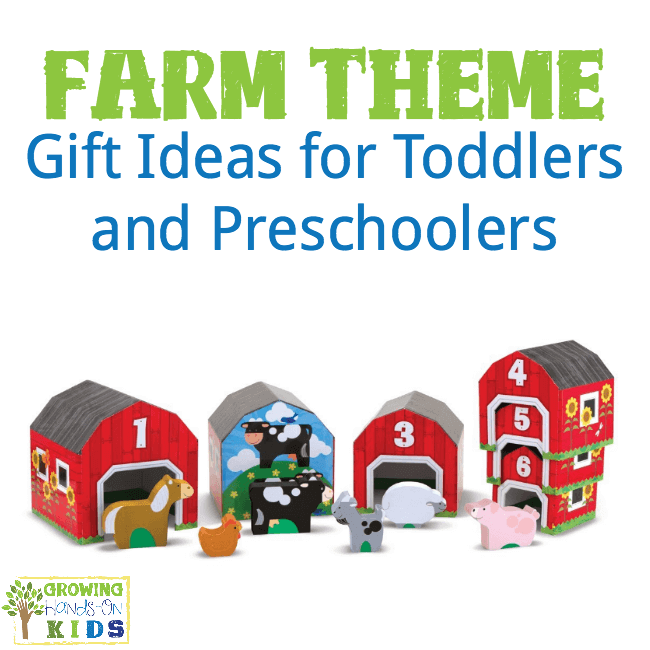 Farm Theme Toys for Baby
Ben was about 5 months old at the time, so these gifts would be perfect for kids one and over.
Farm Touch and Feel Picture Cards – There are 4 different sets total which I also got for Ben, but this is definitely a cute farm theme one for his age.
Let's Play Pig!, Goodnight, Cow, and Hello, Chick are three really cute peakaboo adventure board books. My 3 year old loves books too so we can enjoy these as a family.

We typically don't have a lot of toys that make noises in our home, but this The Farmer Says See 'n Say is a really cute toy. I remember having one when I was younger too.
This Melissa and Doug Fish Grasping Toy is also a nice addition, and I love that it is sturdy and wood.
I absolutely love this little My Barnyard Friends toys as well. They are fit nicely into the barn and each one makes a different noise when you squeeze it or shake it. Both of the kids liked this actually.
For older babies and young toddlers, this chunky piece farm puzzle is also a great addition.
Farm Theme Toys for Toddlers & Preschoolers
Ellie is 3 and really enjoyed all of these toys mentioned below.
This On the Farm Puffy Sticker Play Set was a big hit, she sat and played with it the entire time I was nursing Ben to sleep for a nap (about half an hour to 45 minutes).
She also really loved this Melissa and Dough Fold and Go Stable.
Grandma has also been gradually working on getting her the My First Little House Books series, which is a picture book version of some of the popular Little House on the Prairie Books. Not all of them are farm related, but I think they fit in well. She also LOVES these books and asks for them all the time.
We didn't get these Farm nesting boxes for Christmas, but Ellie does like these and we had them up in her room for a while for a quiet time activity.
Ellie also adores the mini animal sets, so we also have this farm animal one, among many others.
Here are some other farm toy options which look really fun for many ages too.
Farm Magnetic Hide 'N Seek Board
Need more gift ideas? Check out my Pinterest board below.
Follow Heather | Growing Hands-On Kids's board Gift Ideas on Pinterest.
You May Also Like: