Affiliate and Referral links are used below to promote products I love and recommend. I receive a commission on any purchases made through these links. Please see my disclosure policy for more details.
Watching videos online with young children around can be a challenge. Ads can pop up on the sidebar that are not age appropriate, or even ads before the videos plays. Or your child can click on a video that you may not approve of. There is definitely a need for kid friendly ways to watch educational videos with your kids in a safe and family friendly environment. This is where an online video subscription service with Highbrow can be helpful for using educational videos for children in your homeschool or after school time.
This is a sponsored post and review on behalf on Highbrow. I received a free subscription as well as compensation for my time. All thoughts and opinions are honest and a positive review was not required.
How We Use Educational Videos In Our Home
For the most part our video watching has consisted of using Netflix or Amazon Prime to watch Curious George or Clifford, two of my daughter's favorite shows. As she is getting older however, I really wanted to start introducing her to some more educational type videos that we could watch.
However YouTube can be a rabbit hole trying to find the perfect video. The quality can sometimes be iffy and the ads are so unpredictable, even for children's videos I honestly had not even considered using YouTube yet.
When I learned about using Highbrow to stream educational videos online, I knew this could be a great fit for us.
I was extremely happy to find that Baby Signing Time was included among some of the videos for Ellie's age range. I have been wanting to introduce these to her for a while, but did not want to spend the money on the DVDs. So we have been enjoying learning signs while watching Baby Signing Time with our Highbrow subscription.
Highbrow has videos available in their online subscription for infants all the way to age 13. So your entire family can enjoy the many videos offered. You can also give each child their own account and assign them their own videos to watch so you can keep track of who is watching what.
You can also search for videos by age or subject. And there is a nice sized section for special education, which I was glad to see.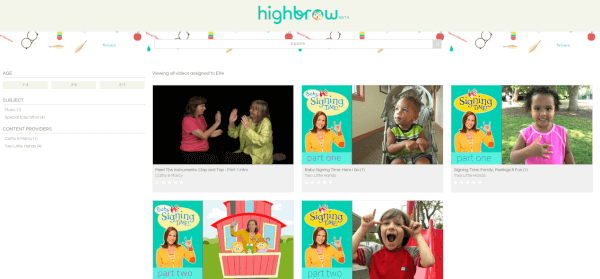 Once the videos are in your child's account, they can go back and watch them as many times as they want.
And the best part, there are no ads to worry about, everything is family friendly and safe for the entire family to watch.
Highbrow is like Netflix for children's educational videos.
Monthly subscription = $8/month
Annual subscription = $60/year (effective cost = $5/month)
First month is free in both packages!
You can join Highbrow HERE.
And you can also follow them online:
Sharing with: The Natural Homeschool, 3 Boys and a Dog, The Jenny Evolution, Happy & Blessed Home