Affiliate and Referral links are used below to promote products I love and recommend. I receive a commission on any purchases made through these links. Please see my disclosure policy for more details.
The holiday season can be stressful time. If you are a parent of a child with special needs, those issues can intensify over this time of year. The change of schedule and routine, the added social aspect of visiting family and friends at holiday parties or Christmas shopping. If you are not careful, all these things combined can lead to a huge sensory meltdown.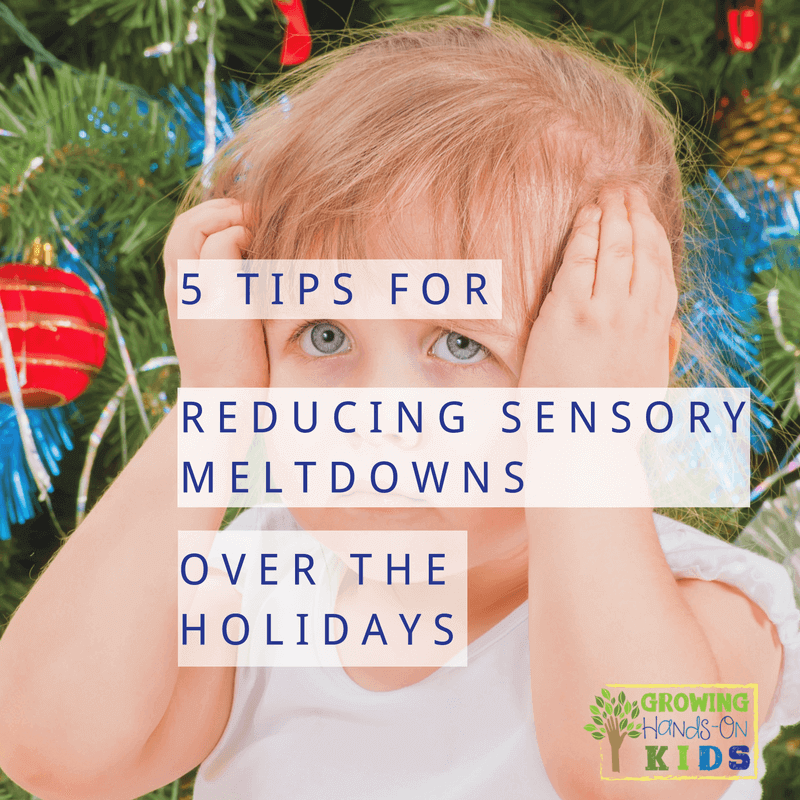 I have reached out to some of my blogging friends and fellow moms who also happen to parent children with special needs. Each one of them has their own unique circumstances and each one of their children is different.
MY LATEST VIDEOS
Even if you follow all these tips, that does not mean your child won't have a sensory meltdown over the holidays. However, I hope these tips will help to lesson the chance, or at least make it easier for you and your child to have a calmer and more manageable holiday season.
Tip #1 – Sensory Calm Down Bag from Elizabeth at Creative Learning Fun
Create a sensory calm down bag and bring it along. If there are items that help to soothe your child when they are overwhelmed then place them into your calm down bag and bring them along just in case. Some examples of items you can bring along include; noise cancelling headphones, pressure vest, squishy/fidget toy, chewy tube, Ipod and headphones with calming music or even a rice pouch that has been infused with essential oil. Your child will appreciate having their comforting items within reach when they need them most. Children with sensory difficulties often cannot calm themselves on their own. By having these items close by, you're prepared to help your child cope with whatever this holiday season brings.
Elizabeth Pritchett has a B.A. in Psychology and an M.S. in Psychology (Emphasis in Child and Adolescent Development as well as Educational Psychology). She is also mom to a young daughter with Aspergers. You can find her at Creative Learning Fun and on Facebook & Pinterest.
Tip #2 – Back to the Basics from Jennifer at Jennifer A. Janes
We're dealing with holiday sensory meltdowns again. They've been particularly bad this year, and we've found one thing that works better than any other: we're going back to the beginning. The brushing, joint compressions, plenty of time for sensory play and activities she finds relaxing, providing deep pressure with a weighted blanket or other means, and all the other things we used to do when she first began therapy and we first realized that SPD is why some of the meltdowns were occurring—we're doing them all again and always giving her the option of having a timeout during any gatherings where she can be calm and quiet, away from the bustle of the event. That's what we're doing this year, and after only a week of really being diligent, it's working.
Jennifer Janes lives in Arkansas with her husband Jeremy, their two daughters, and a few feline friends. She spends her days doing Bible study, homeschooling, writing, and reading. She prefers blue ink when writing longhand, and she is a firm believer in eating dark chocolate daily. She writes about faith, family, homeschooling, and special needs parenting on her blog, Jennifer A. Janes. You can also find her on Facebook and Google +.

Tip #3 – Pre-Activity Preparation From Rebekah at Journeying Outside My Box
Our 9-year old struggles with sensory issues and we've learned a lot as we try to successfully navigate through the holidays as a family. What has worked best for us is pre-activity preparation. We work to find out as much as we can about any activity we choose to participate in, to prepare him ahead of time. For example, we might look up a Christmas light display online, read about it, and watch any clips they show online. We also drive by places several days before we plan to visit, so that it's not a "brand new" outing for him. If we have time, we'll stop and walk around to explore for a bit (look for lights or sounds that may trigger him). When it's time for the whole family to participate, he feels as though he's already had some success at that location or activity, and that helps keep him feeling calm, and less likely to have a sensory meltdown.
Rebekah and her husband make their home together in Pennsylvania. She is a homeschooling mother to their three children, including one with special needs. She has followed her God-given call to writing, to encouraging, and to offering support to women in their various roles. She offers encouragement for real life, and a place of respite for when life becomes overwhelming. She shares her perspective on everyday life because it's in the realities of life that common bonds are found. You can find her blog at Journeying Outside My Box and Facebook.
Tip #4 – Plan Ahead and Stick to Routine from Sharla at The Chaos And The Clutter. 
Four of our seven kids have SPD (sensory processing disorder) and the holidays can be a challenge. Over the years, we've figured out that a few small adjustments can make things run much more smoothly. A lot of the things that we do to get through the holidays with our kids who suffer from anxiety also apply to kids with sensory issues. Taking sensory balls, playdough, a favourite stuffed animal, or weighted blanket with you when you go out to holiday parties or family gatherings can be very helpful. Take time before going out to talk about some of the sensory challenges (loud noise, bright or blinking lights, having to sit still, etc.) that may be present and brainstorm coping strategies together. I also advise sticking as closely to routine as possible. It is possible for both you and your child to enjoy the holidays!
Sharla Kostelyk is a homeschooler, author and mother of 7. She blogs about finding joy amidst the chaos at The Chaos and The Clutter. You can also find her sensory ideas on Pinterest and on Facebook.
Tip 5 – Find a Quiet Room While Out and About 
If you know you are going to be at a friend or family members house for a holiday party or while over night, ask that person or hostess ahead of time if there is a room that your child could use as a quiet room. Talk to your child ahead of time and let them know that if they start to feel anxious or to get overwhelmed by a noise, sight, or smell etc that they can retreat to this room to gain their composer or to relax. You will also, of course be keeping an eye out for signs of sensory overload and also take them to this room if they seem to be escalating. It will take them out of the stressful situation and hopefully provide a safe and calming environment for them, while still allowing your family to take part in the holiday festivities.
I hope you are able to find some peace and quiet this holiday season.
You can also follow my Occupational Therapy Tips board for more tips like this in your Pinterest feed.
Follow Heather G. | Golden Reflections Blog's board Occupational Therapy Tips on Pinterest.
You May Also Like: