Affiliate links are used below to promote products I love and recommend. I receive a commission if any purchases are made through these links. Please see my disclosure policy for more details.
In the last post, we looked at the basic idea behind what a sensory diet is, who can create one and who they are helpful for. Today I wanted to share some resources for creating sensory diets for therapists, parents, and teachers.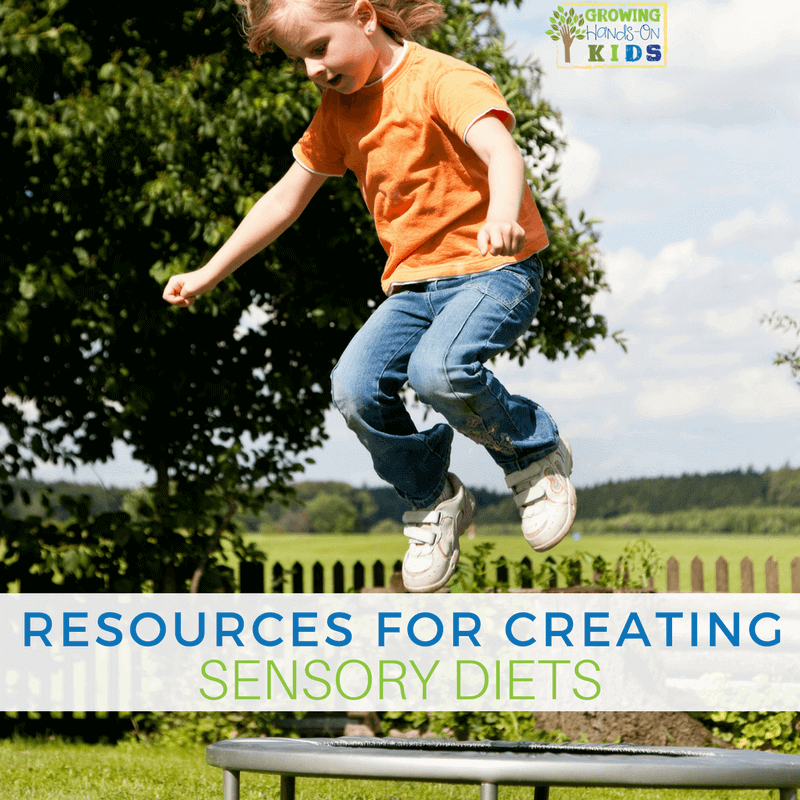 An Occupational Therapist who has been trained in sensory processing and sensory related therapies is the best person to develop and create a sensory diet for your child. However, all children can benefit from sensory breaks or brain breaks throughout their day.
I am going to share resources for each to help you get started on creating sensory diets in your practice, at home or in the classroom.
Creating Sensory Diets – for Therapists
Parents and teachers, don't skip this section either. This is good information to know if you are working with a therapist to create a sensory diet for your child.
Typically a therapist will begin by evaluating your child for sensory processing concerns. This is when you need to have very detailed information for the therapist on how your child reacts and responds to different things throughout their day.
The therapist will often do their own observation, as well as give you a sensory screening tool to fill out for your child. All of this information is then put together and the therapist will give their opinion based on all that information.
Once the therapist has an idea on what sensory processing issues your child is facing they can begin to develop strategies and a sensory diet to help your child focus and function throughout their day.
Remember the goal of a sensory diet is to help find that optional level of arousal for your child. So whether your child has a sensory overload or low arousal, there are many different sensory activities that can help.
Vestibular and proprioceptive input is typically the first 2 sensory systems a therapist will address when creating a sensory diet. These two systems are the primary organizers for your child's brain and body. Think big, gross motor movements, lots of pushing, pulling, spinning, bouncing, changing head positions etc.
Resources for Vestibular and Proprioceptive Input:
After addressing these two systems, your therapist will look at all the other sensory systems including tactile, auditory, smell and taste, sight, seating and floor time issues, writing and fine motor skills, meals, and snacks, transitions etc. All of these may be addressed depending on your child's individual sensory processing difficulties.

Visual schedules for sensory diets are often very helpful. Here are some resources for that.
Creating Sensory Diets – for Parents & Teachers
For parents and teachers, it is important to follow through with all the sensory diet protocols your therapist sets up for you. Carry over into home and school will give you the best outcomes when working with a sensory diet. Consistency is KEY! Without it, you won't know if the sensory diet is really working or not.
It is also important to remember that sensory diets are not a one-time fix-all solution. You will need to work closely with your therapist to continue to tweak and add or take away items from your child's sensory diet until you find the right combination.
Remember that what may work for a couple weeks may not work after a while. This is why communication with your child's therapist and the teacher is SO important.
Creating a sensory area or room in your home or school is a great way to get started. Having a variety of sensory toys such as fidgets, chewing items, dim lighting, etc. are important parts of a sensory room.
Also planning ahead and having an idea of what types of input or transitions sets your child's sensory processing behavior off and having ways to help them cope and transition is important for you to recognize. Have a routine so your child knows what to expect for the day is definitely helpful.
Visual schedules are very helpful for this and here are a few resources for that:

There are so many resources out there that this post could go on and on. But this is a good starting point for creating sensory diets in your home or classroom. Remember to always consult with your therapist when developing and creating sensory diets.
Also, remember that typical kids need sensory breaks too, many of these resources will be helpful for including those in your child's day.
For more reading on sensory processing and how you can help any child, here is a list of books I recommend.
You can also follow my Occupational Therapy Tips board for more OT related advice and articles.
Follow Heather G. | Golden Reflections Blog 's board Occupational Therapy Tips on Pinterest.
You May Also Like: