DIY Fidget Toolkit for Wiggly Kids
Affiliate and Referral links are used below to promote products I love and recommend. I receive a commission on any purchases made through these links. Please see my disclosure policy for more details.
Fidgets seem to be the topic of conversation lately thanks to the fidget spinner and pop-it craze. I've taken a look at the science behind fidgets here on the site, but I've had some people ask what type of fidgets I recommend.
While there are many great DIY fidget ideas, I wanted to create a DIY fidget toolkit using popular fidgets you can find on Amazon or other therapy-related sites. Fidgets are a great tool to have on hand for the wiggly kids in your home or classroom.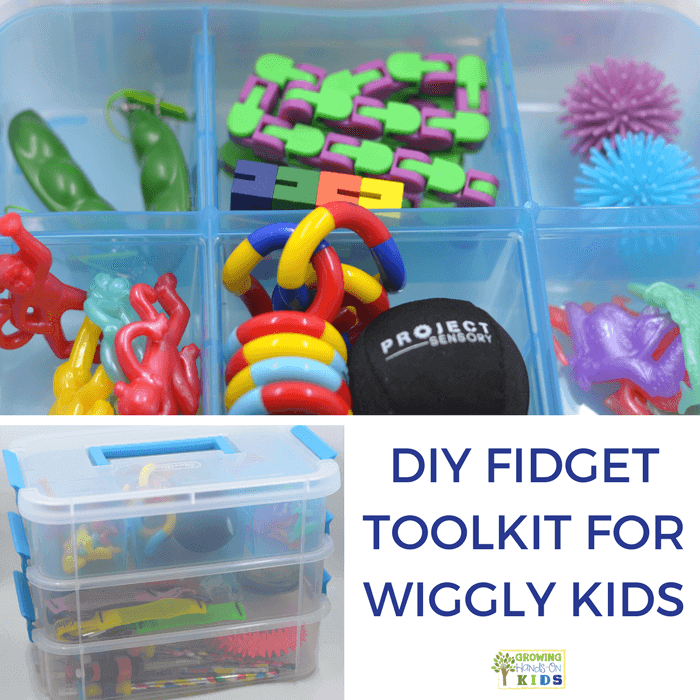 Fidgets are Tools NOT Toys
One of the things I stressed in my science behind fidget tools post is that fidgets are just that, tools NOT toys.
While the fidget spinner has become mainstream as a hot toy, fidgets should not be treated like that. Therapists often use fidgets as a way to help a child focus and reduce anxiety while doing school work and during transitions. In order for a child to successfully use a fidget, it cannot be distracting from the original task. So while fidget spinners may be helpful for some, you will not see them in this fidget toolkit.
Benefits of Fidgets
Fidgets should also be repetitive in nature. In other words, the same movement or motion is used to work them. This is the calming aspect of fidgets. It should be a motion that you don't have to think a lot about. Something that can be done on autopilot and helps to reorganize thoughts and calm the brain so it can process and think. Think about your own fidgeting habits. Maybe you tap a pencil or twirl your hair. Or you chew gum or suck on a piece of hard candy to help wake yourself up.
Fidgets are great to have on hand for that wiggly child who needs to focus on a task. For example, a child who needs something to do while transitioning to a new task or a new environment, like in the hallway to and from lunch or gym, etc in a school, or transitioning to a new task or homework at home.
It's important to set up some basic guidelines for when a child can use their fidget and also when the fidget needs to be put away. Work together with the child to figure out what is best for them, along with your Occupational Therapist.
It's important to try different fidgets and see which one works best. An Occupational Therapist can give the best advice on this, assessing a child's sensory processing needs and figuring out the best activities that will encourage their optimal level of focus. A fidget should not be distracting from the main task at hand. It should have a calming effect on the child, not something that ramps up their excitement.
Making Your Fidget Toolkit
To set up your fidget toolkit, a 3-tier container with a handle works best. This makes it easy to carry with you on the go (in different classrooms, an area of your home, or in the car).

Here is what I included in my fidget toolkit for our home:
Some additional items could include:
After you get all your items together, organize them into your kit. It's as simple as that. Take your kit with you on trips, between schools if you are a traveling therapist, in a classroom sensory area, or in your home for homework or homeschooling. It is very versatile and you can add your child's favorite fidgets that I may not have mentioned above as well.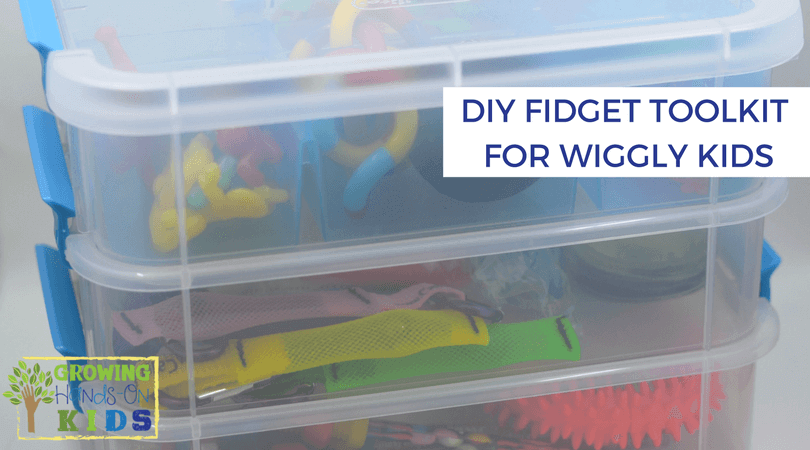 The sky is the limit in this one!
You May Also Like: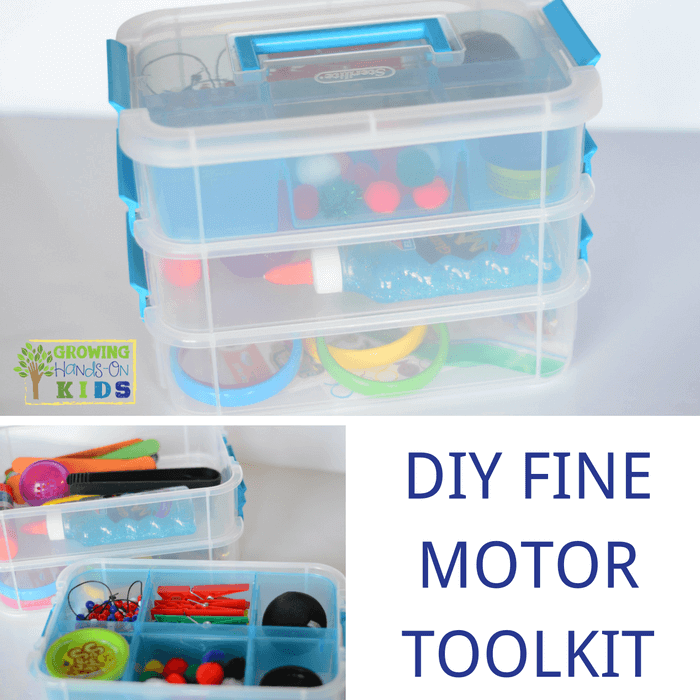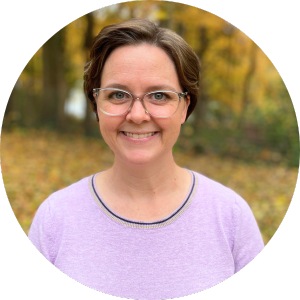 Heather Greutman, COTA
Heather Greutman is a Certified Occupational Therapy Assistant with experience in school-based OT services for preschool through high school. She uses her background to share child development tips, tools, and strategies for parents, educators, and therapists. She is the author of many ebooks including The Basics of Fine Motor Skills, and Basics of Pre-Writing Skills, and co-author of Sensory Processing Explained: A Handbook for Parents and Educators.