Affiliate and Referral links are used below to promote products I love and recommend. I receive a commission on any purchases made through these links. Please see my disclosure policy for more details.
It's back to school season, and for us that means it's back to homeschool season. Just because you aren't getting your kids ready for the big yellow school bus doesn't mean that you don't have a ton to prepare.
There's curriculum to buy and organize, routines to put in place, and unit studies to plan. How in the world will we ever get it all done before the new homeschool year starts? With the help of these posts from other experienced homeschool mama's.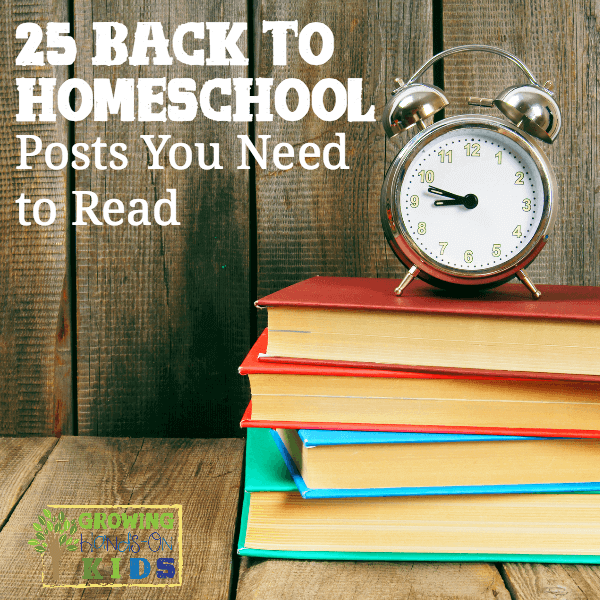 25 Back to Homeschool Posts You Need to Read!
35 Homeschool Planning and Organizing Ideas from Growing Hands-On Kids
Back to Homeschool Shopping List from Not Consumed
How to Create a Homeschool Curriculum from The Relaxed Homeschool
5 Homeschool Habits to Build in Your Children from Christin Slade
The Ultimate Guide to Homeschool Planning from Your Vibrant Family
Back to Homeschool Theme Songs from Busy Boy Brigade
4 Tips for a Successful Homeschool Year from Growing Hands-On Kids
Setting Your Homeschool Goals from Intoxicated on Life
My Super Simple Homeschool Planning Method from Homeschool Your Boys
Back to Homeschool Resources from B-Inspired Mama
10 Days of Homeschool Encouragement from Sallie Borrink
7 Things I Organize for Back to Homeschool from Joy in the Home
31 Days to a Better Planned Homeschool from Living Life and Learning
4 Tips for a Successful Homeschool Year from Growing Hands-On Kids
First Day of School Photo Signs from Yellow Bliss Road
10 Days of Back to Homeschool Prep from This Outnumbered Mama
Organizing the New Year from Homeschoolin' Mama
3 Tools for a Sane Homeschool Day from Simple Convivial
10 Lessons I've Learned About Homeschool Planning from Weird Unsocialized Homeschoolers
What Homeschool Subjects to Teach and When to Teach Them from Tina's Dynamic Homeschool Plus
Keeping a Tidy Home While Homeschooling from Real Life at Home
10 Homeschool Lesson Plan Options from More Than a Homeschool Mom
6 Tools to Determine Your Kids' Learning Styles from Feels Like Home
Preparing for a New Homeschool Year from Adventures in Mommydom
The Power of Homeschool Routines (With Flylady!) from Ultimate Homeschool Radio Network
With all of these awesome posts, you are sure to be off to a great start for the new homeschool year. And finally, keep in mind that back to homeschool might be a bit overwhelming, but it's really supposed to be fun. Do something fun for your first day, be gentle with yourself and your kiddos, and start the year off with a bang.
Follow Heather | Growing Hands-On Kids's board Homeschool Curriculum Choices on Pinterest.
You May Also Like: