Three Wise Men Play Dough Invitation to Play
Affiliate and Referral links are used below to promote products I love and recommend. I receive a commission on any purchases made through these links. Please see my disclosure policy for more details.
I am very excited about today's activity. I came up with it last week and have been anxious to get it put together. The kids finally let me do that today and it has been so much fun. Here is my Three Wise Men play dough invitation to play activity, just in time for the Christmas season.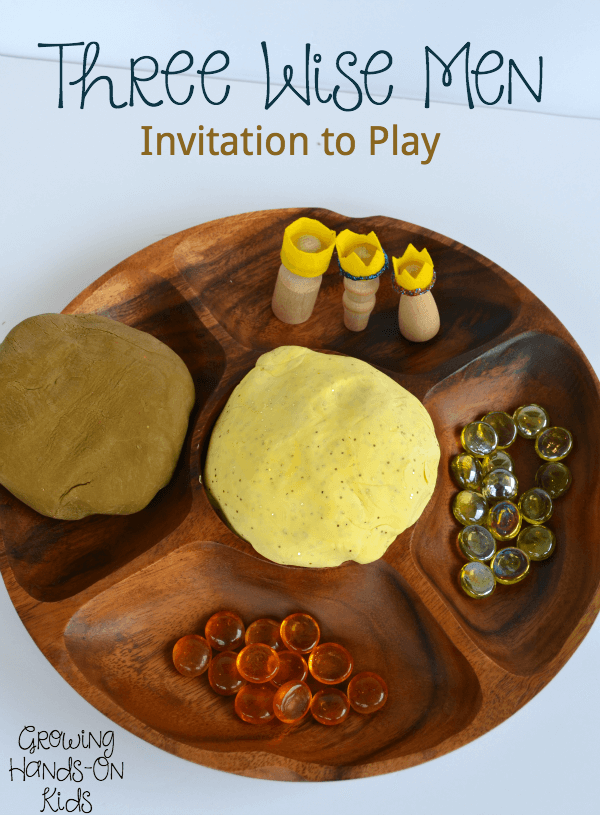 There are a few different parts to this activity that need set up before you let your kids play with it. It did take me most of the morning to do, but then I had to stop a few times to take care of the baby and keep the preschooler from getting into too much trouble.
Also, yes, I do realize there were probably more than three wise men in the nativity story. You can always make more wise men to add to your tray. 🙂
Items Needed for Three Wise Men Invitation to Play
Hot glue gun
Gold glass beads
Frankincense and Myrrh Essential Oils
Hair conditioner
Corn starch
Gold glitter
Glitter glue
Green, Blue, Red, and Yellow food coloring
Yellow felt (I used a firmer felt that would stick up for the crowns, not regular felt)
Scissors
Optional: miniature camels (we didn't have this, but I plan on adding it)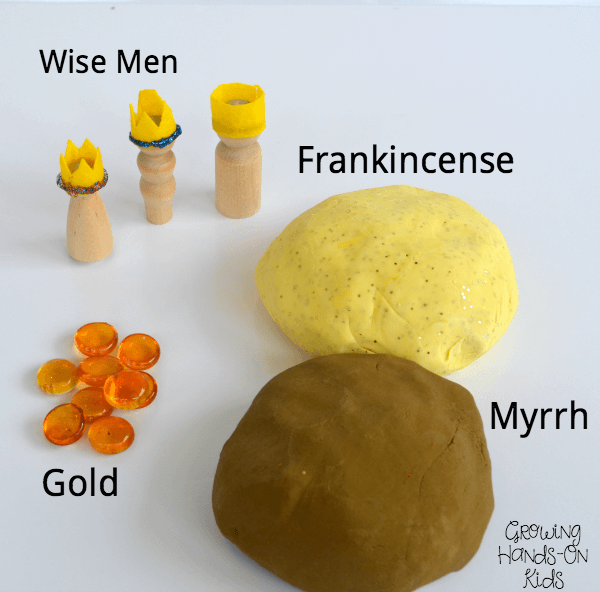 How to Make the Frankincense & Myrrh Play Dough
I used our Frankincense and Myrrh essential oils, 1/2 cup of hair conditioner, 1 to 1 1/2 cups corn starch, and food coloring for the play dough.
For the Frankincense play dough I added a couple of drops of yellow food coloring and gold glitter and for the Myrrh I added a few drops each of green, blue, red, and yellow food coloring to make brown. Then I used 3-4 drops each of the essential oils for their corresponding dough.
This play dough is super soft and is very much like kneading bread dough. If it's still too sticky, add more corn starch.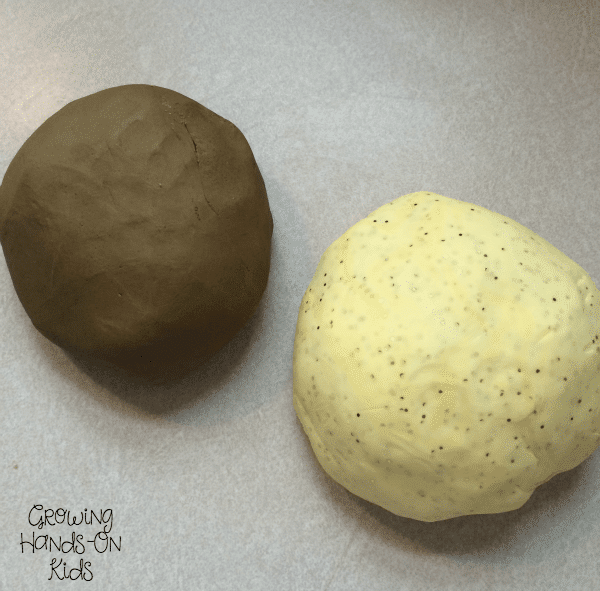 Three Wise Men Wood People
For the three wise men, I used stiff yellow felt, 3 wooden people, hot glue, and glitter glue to make them. I cut out some of the felt and used the hot glue gun to stick it to their heads. Then I decorated with the glitter glue around the edge. I also cut crowns out of two of them.
Invitation to Play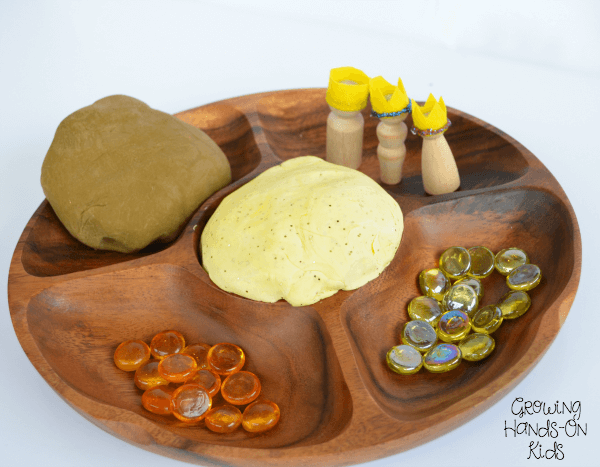 I used a wood chip and dip bowl to put all the items on. The "Gold" pieces are just glass beads I had from some of our fall activities this past year. You will need to let the wise men dry for quite a while before the kids play with them, so you may want to make this at least the night before you plan on having your kids play with it. Otherwise the glitter glue will come off on their hands and the play dough.
Also, you can add the miniature camels and do animals prints in the play dough. Simply set it all up and let your kids take the lead and their imaginations sore!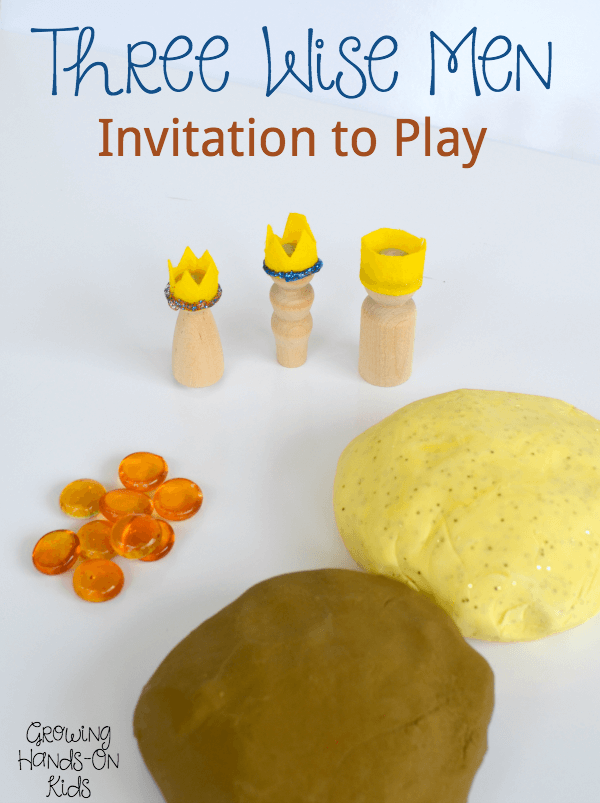 Want more ideas like this one? Follow me on Pinterest!
Follow Heather | Growing Hands-On Kids's board Holly Jolly Christmas on Pinterest.
You May Also Like: