Affiliate and Referral links are used below to promote products I love and recommend. I receive a commission on any purchases made through these links. Please see my disclosure policy for more details.
We are on a wintery theme here this month, which is fitting since the temperatures have plummeted and we are getting a winter storm this weekend. This sparkly winter 2 ingredient play dough for sensory play. I also added a couple extra special things to make fit our wintery theme.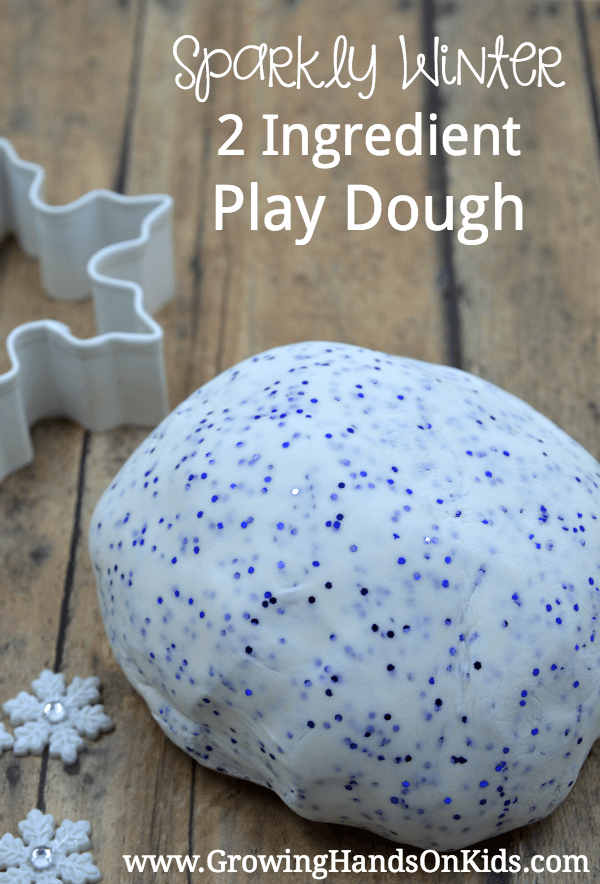 This play dough is so easy to make and is the softest play dough you will ever make.
2 Ingredient Play Dough Recipe
1/2 cup hair conditioner
1 cup cornstarch (you will need more to get the right consistency, but this is a good starting point).
Winter theme:
Blue sparkles
Measure the hair conditioner into a bowl and then mix in the essential oil and cornstarch. You will most likely need more than 1 cup of cornstarch, but 1 cup is a good measurement to start with.
You are looking for a smooth and soft texture, one that does not break away or crumble when you knead it like bread.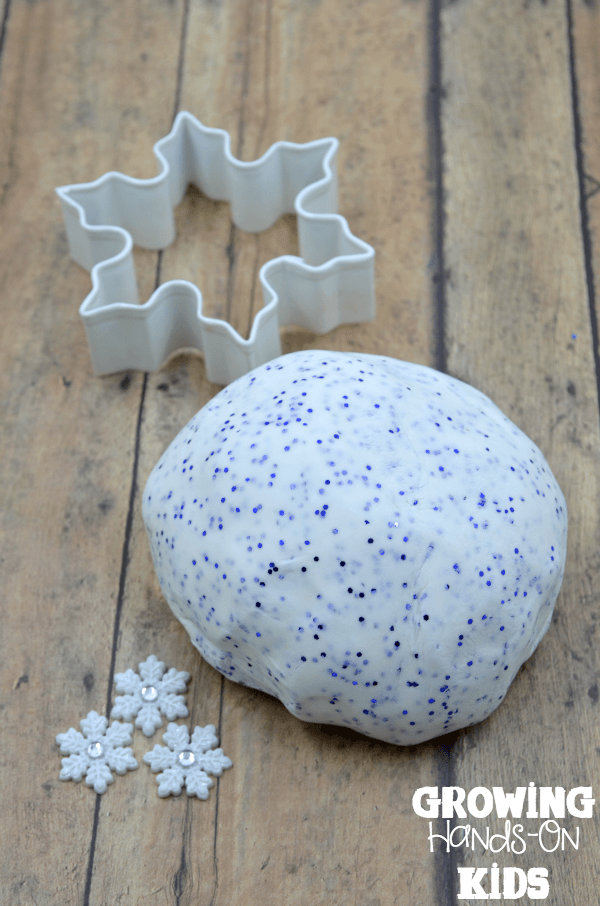 To store it I keep it in a plastic bag and place it in our invitation to play wooden tray with whatever other items I decide to put with it (typically play dough tools, cookie cutters etc).
If it happens to get left out overnight or for a few hours it will begin to crumble apart and dry out. You can try adding more hair conditioner and cornstarch as needed to try and get it back to the right consistency to play with.
We had a lot of fun playing with this, this week. I plan on making it monthly with different themes and scents so I hope you will come back and check them all out.
Recommended Products to Make This Activity
Nonscents Conditioner- Truly Unscented & Fragrance Free – Beautiful Shine – Great De-tangler and Smoother – Nice on Curls – Safe for Scent Sensitive and Allergies!

Jason Fragrance Free Conditioner, 32 Fluid Ounce

Pacon Spectra Glitter Sparkling Crystals, Sky Blue, 4-Ounce Jar (91670)

Deli Food Storage Containers with Lids, 16 Ounce (50 Count)

Sterilite 19889804 70 Quart/66 Liter Ultra Latch Box, Clear with a White Lid and Black Latches, 4-Pack

Spruce Essential Oil
I also created this Sparkly Christmas themed 2 ingredient play dough, which is just as fun.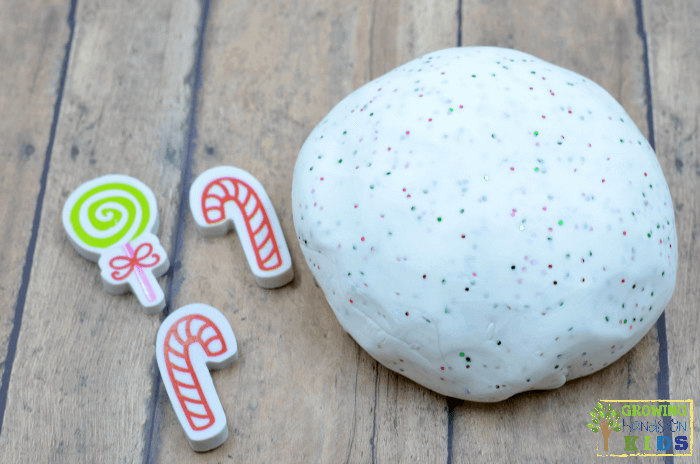 For more sensory play ideas like this one, you can check out these posts below and also follow me on Pinterest.
Follow Heather | Growing Hands-On Kids's board Sensory Fun on Pinterest.
You May Also Like
: