Affiliate and Referral links are used below to promote products I love and recommend. I receive a commission on any purchases made through these links. Please see my disclosure policy for more details.
If you have a baby who is just learning to crawl, roll, or walk, then I'm sure you understand the importance of having safe and fun things around the house for them to play with and explore. Babies are naturally curious and on the move, so today I wanted to share some great sensory play ideas for babies that will keep them engaged and active in a positive way.
And a big thanks to Family Dollar Kidgets diapers for sponsoring this post today. After all, your baby needs a great absorbent and stretchable diaper with all this movement and sensory play right?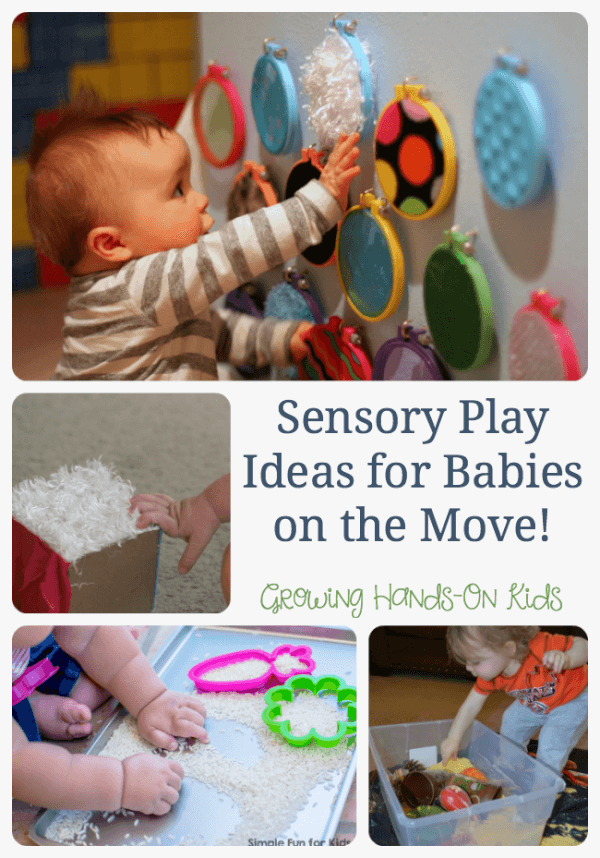 Why is sensory play important for babies and their development?
My littlest guy, Ben, is 4 weeks old and we are just starting to incorporate some sensory experiences for him. And honestly, it's not that hard at his age to do.
I like to strip Ben down to his Kidgets diaper and put him on his back or tummy on a large, soft play mat. The one in the picture here was a gift from my grandma and is organic cotton that is washable.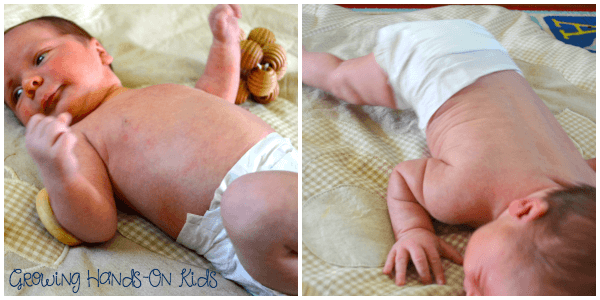 Right now we are just focusing on tummy time and visual motor skills, specifically eye tracking movements (being able to follow the sound of his rattle or other noise related toy by moving his head towards the movement and also beginning to reach towards the object). I like using wooden toys as that provides even more sensory input than plastic ones.
Since the idea behind putting Ben on his tummy or back in his diaper is to encourage movement, I'm glad the Kidgets diapers are absorbent as well comfortable with stretchable sides to allow him to move as he wants (plus makes diaper changes that much easier!).

Even your older babies can benefit from sensory experiences and exploration by stripping them down to their diaper and just letting them have at the activity, particularly messy play activities. For babies on the move like this, it's important to have a diaper that will keep up with all this moving and exploration without adding to the mess. The Family Dollar Kidgets diapers are great to use for activities like this because they are budget friendly so you don't have to worry about wasting diapers for messy sensory play.
Here are some fun sensory play ideas for babies on the move.

I love this baby sensory board idea from Fun at Home with Kids. If you don't have the space for a wall like this though, this sensory cube from Teaching Mama is a great idea as well.
This rice play with cookie cutters idea is great to do outdoors on the porch or inside on a big tarp. For babies who are on the go and tugging this ribbon box is perfect for them.
When my daughter was just under a year old, I also did this cornmeal sensory bin with her. We did it inside on a black trash bag, but you could also do it in a tiled area, use a large kiddie pool indoors or just do it outside on the front porch or in the yard.
Before you try your next sensory play activity, be sure to head to Family Dollar and pick up your package of Kidgets diapers. 
**This is a sponsored post written by me on behalf of Family Dollar. 
Sharing with: Living Montessori Now, ABC Creative Learning, Hip Homeschool Moms, The Natural Homeschooler, Teaching Mama