Affiliate and Referral links are used below to promote products I love and recommend. I receive a commission on any purchases made through these links. Please see my disclosure policy for more details.
Sensory boxes and bins are an amazing way for children to explore sensory activities in a safe and contained area. There are SO many ideas out there, but I needed something that would be appropriate for my 1 year old daughter. She is still in the "everything must go in mouth!!" stage.
So after looking around for edible sensory bin base ideas, I saw an idea for using corn meal. Perfect! It may not taste great when it isn't cooked, but the texture would be fun and still edible for her.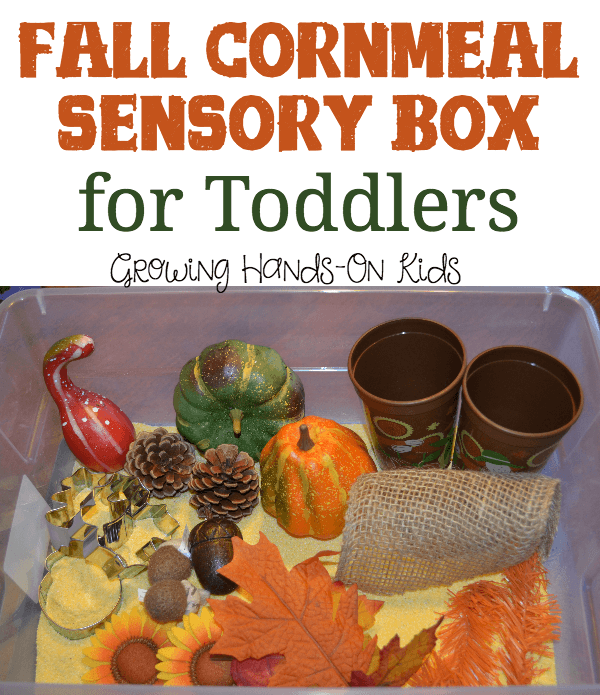 We made a trip to our local Hobby Lobby so I could get the items I needed. Amazon would be another great place to look, or your local Dollar General or Dollar Tree. I already had a large tub of corn meal on hand and the plastic bin to put everything in, so I just purchased the items to go inside the box.
Here is a list of items I included in my box. Most of these items I got from Hobby Lobby, the last two I already had purchased for a Montessori activity in the dollar isle at Target.
Fall Cornmeal Sensory Box for Toddlers
I put the corn meal into my bin and then placed a few of each item inside. There is also a lid, so when we were all done I could just box it up and save it for the next day.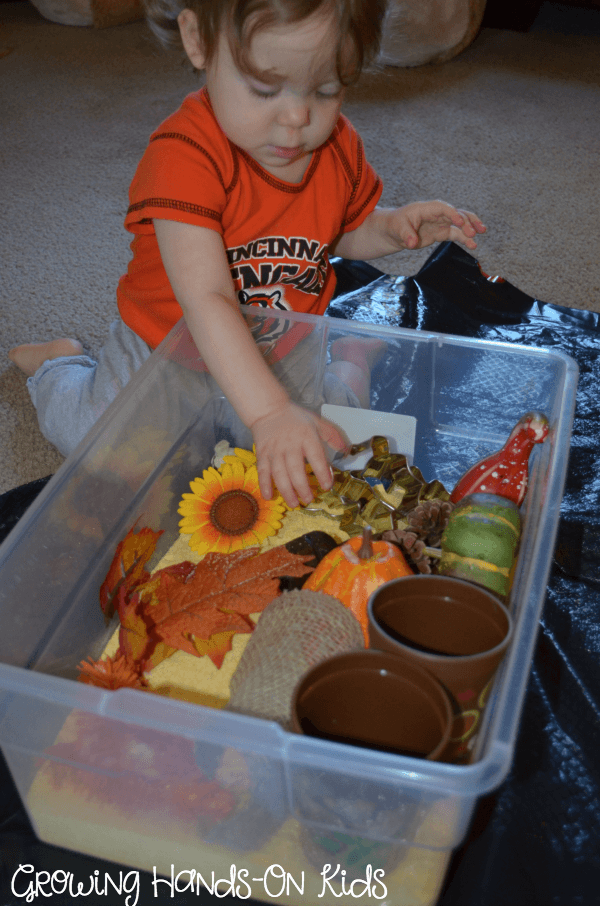 I placed a plastic trash bag that I had cut open to lay flat underneath and then opened the box and just let E explore. I didn't interfere much, just let her move at her own pace with it. At first she was just taking items out and looking at them (i.e. tasting them!). I did show her that there was corn meal in the bottom and that is was safe to play with, but she ignored it at first.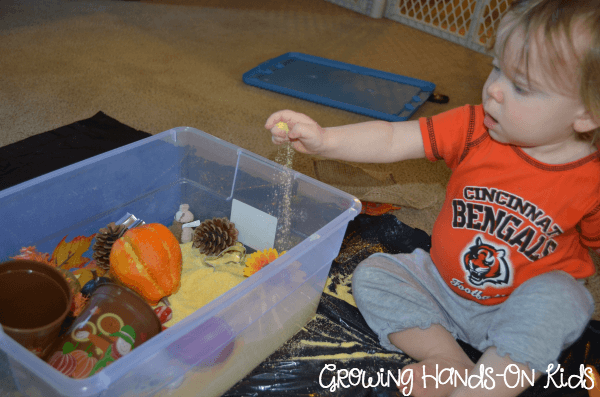 Then she decided to check it out. Then she started going to town with it! Let's just say that my living room floor ended up having piles of corn meal everywhere.
She loved the way it sounded when she threw it against the trash bag, so there was a lot of throwing. She was playing appropriately though, so I did not interfere with this and just let her throw it.
During this activity, I had some nature sound music playing in the background as well.
Also a side note, we were a little happy that the Bengals beat the Steelers in Monday Night Football, so the outfit was appropriately worn this morning.
So why are sensory bins or boxes so great for exploration and fun?
First of all, engaging a young child's 5 senses is how they learn! Children don't learn from just one or two of their senses. ALL 5 senses are important for their development! If you look at all the items I included in my bin, I engaged all 5 senses.
Sight – Fall colors & shapes
Taste – Corn Meal
Touch – Soft, Hard, gritty, fabric, rough, etc…
Hearing – Nature sound music playing in background
Smell – Corn Meal (you could definitely add pumpkin scented items to this to make it even more smell oriented)
Sensory bins and boxes are a great way to include all of these learning things, but have it in a contained space and fuel curiosity and engagement. It is also a great way to introduce new sensations to a child who may shy away from certain sounds, textures, smells etc… in a safe and fun environment.
A great resource to learn more about sensory bins and boxes in Sensory Bins – The What, the How and the Why by Sharla Kostelyk. She includes some great ideas to get you started, as well as some homemade recipes for sensory box base ideas.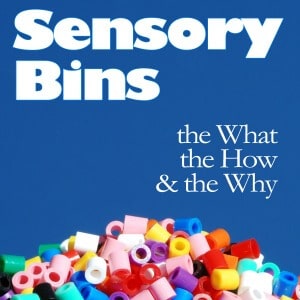 I was very excited to be part of iHomeschool Network's iHomeschool Hangout on sensory play. You can watch the YouTube video below to see what we discussed. A lot of fun ideas for including sensory play in your homeschool and with the younger kids in your home.
You can also follow my Sensory Fun pinterest board for some great Sensory and Fine Motor Ideas.
Follow Heather G. | Golden Reflections Blog 's board Sensory Fun on Pinterest.
Sharing with: Sensory Bins, The Mommy Club