Spring Senses Scavenger Hunt
Affiliate and Referral links are used below to promote products I love and recommend. I receive a commission on any purchases made through these links. Please see my disclosure policy for more details.
Spring is here! We love spring here as it's a chance for us to get outside more in warmer weather. Use this spring senses scavenger hunt to get outside and explore the spring weather with all 8 senses.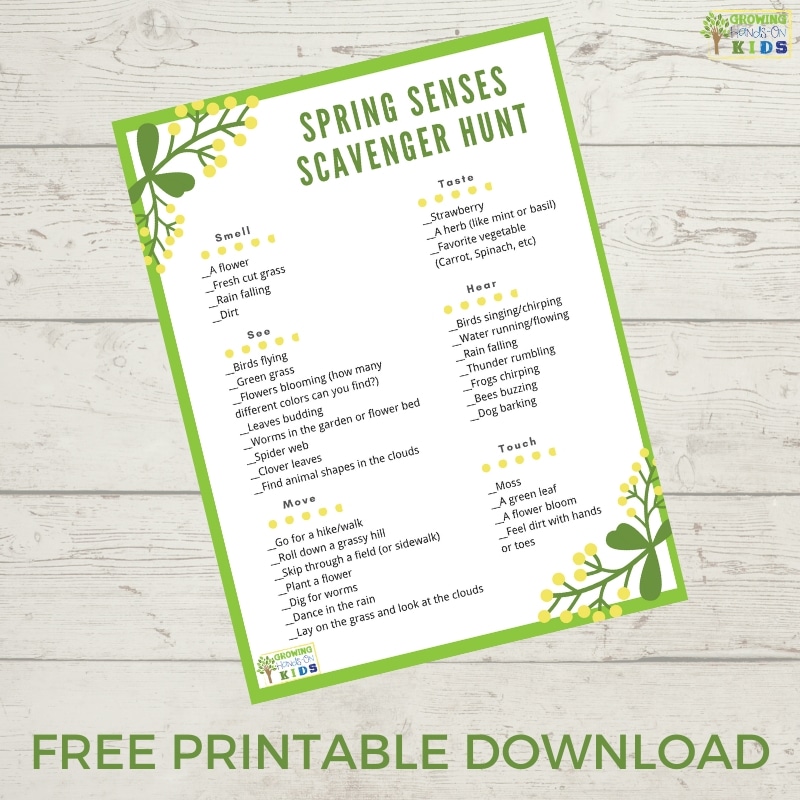 For this spring scavenger hunt, I divided the activities things to find into things that would fit into all 8 senses.
Let's take a look at each thing to find. If you would like a printable version of this list, I have it for you at the end of this post.
Smell (Olfactory System)
A flower
Fresh cut grass
Rain falling
Dirt
See (Visual System)
Birds flying
Green grass
Flowers blooming (how many different colors can you find?)
Leaves budding
Worms in the garden or flower bed
Spider web
Clover leaves
Find animal shapes in the clouds
Taste (Gustatory System)
Strawberry
A herb (like mint or basil)
Favorite vegetable (carrot, spinach, etc)
Hear (Auditory System)
Birds singing/chirping
Water running/flowing
Rain falling
Thunder rumbling
Frogs chirping
Bees buzzing
Dog barking
Touch (Tactile System)
Moss
A green leaf
A flower bloom
Feel dirt with hands or toes
Move (Vestibular, Proprioception, Interoception)
Go for a hike/walk
Roll down a hill
Skip through a field (or sidewalk)
Plant a flower
Dig for worms
Dance in the rain
Lay on the grass and look at the clouds
I'd love to hear your suggestions for each sensory system below. Just leave a comment with your spring-themed suggestions.
Free Spring Sensory Scavenger Hunt Printable
To get your free spring sensory scavenger hunt printable, just put your email address into the form below and click the green "click here" button. You will receive an email with a link to download your printable directly to your computer.
I'll send weekly child development tips, tools, and strategies to you, plus access to free printables that I don't share in blog posts. You can unsubscribe at any time.
Happy Spring! 🙂
You May Also Like: