Affiliate and Referral links are used below to promote products I love and recommend. I receive a commission on any purchases made through these links. Please see my disclosure policy for more details.
I have to admit, I did not know you could make your own play dough until this past year. I know, I know, really bad Occupational Therapy Assistant. I decided to have a try at it this week making my own Pumpkin Pie Scented Play Dough recipe for my 1 year old's sensory play yesterday.
This pumpkin pie scented play dough is perfect for fall or autumn sensory activity of all ages. I love that my 1 year old could play with it and I didn't have to worry about her accidentally putting it in her mouth. She especially LOVED walking over it barefoot, which was so funny to watch.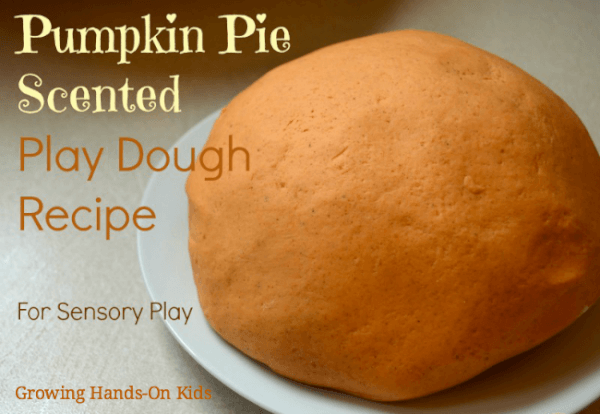 This recipe is inspired by the Best Ever No-Cook Play Dough Recipe from The Imagination Tree.
Pumpkin Pie Scented Play Dough Recipe
3 cups all purpose flour
1/2 cup salt
2 tbsp vegetable oil
2 tbsp cream of tartar
1/2 cup pumpkin puree
2 tsp. cinnamon spice blend/pumpkin pie spice
1 1/2 cups boiling water
8-10 drops red food coloring (all natural food coloring option)
5-7 drops yellow food coloring
Directions: 
Mix flour, salt, cream of tartar, oil, pumpkin pie spice and pumpkin puree together.
Add boiling water (you can add in batches) and mix with a spoon until everything is combined.
After mixture has cooled, take it out of the bowl and knead on the counter until it is not sticky anymore. You will need to add flour as you go, but just use your judgement with that.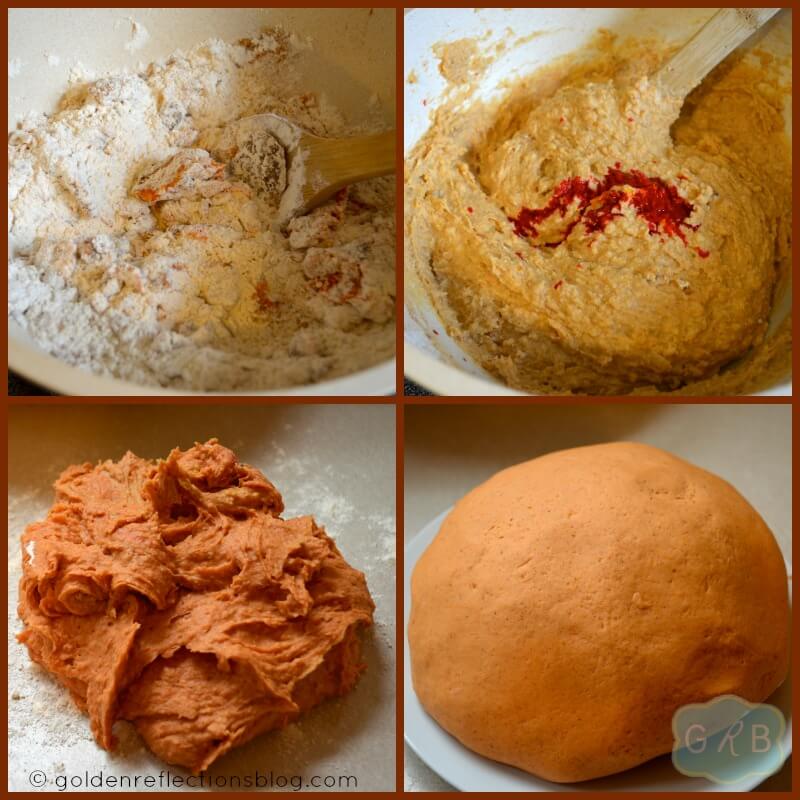 For this recipe, I originally added only 2 cups of flour, but when I kneaded it I ended up adding at least 2 more cups while kneading it. So I added one cup to the recipe, but you may need to add even more once you get to the kneading stage.
Hands-On Play Dough Activity
I already had a rolling pin which I had purchased from the Target dollar aisle a couple weeks ago for her. I also had the tray from Hobby Lobby, which had been sitting on a chair, waiting for just the right activity.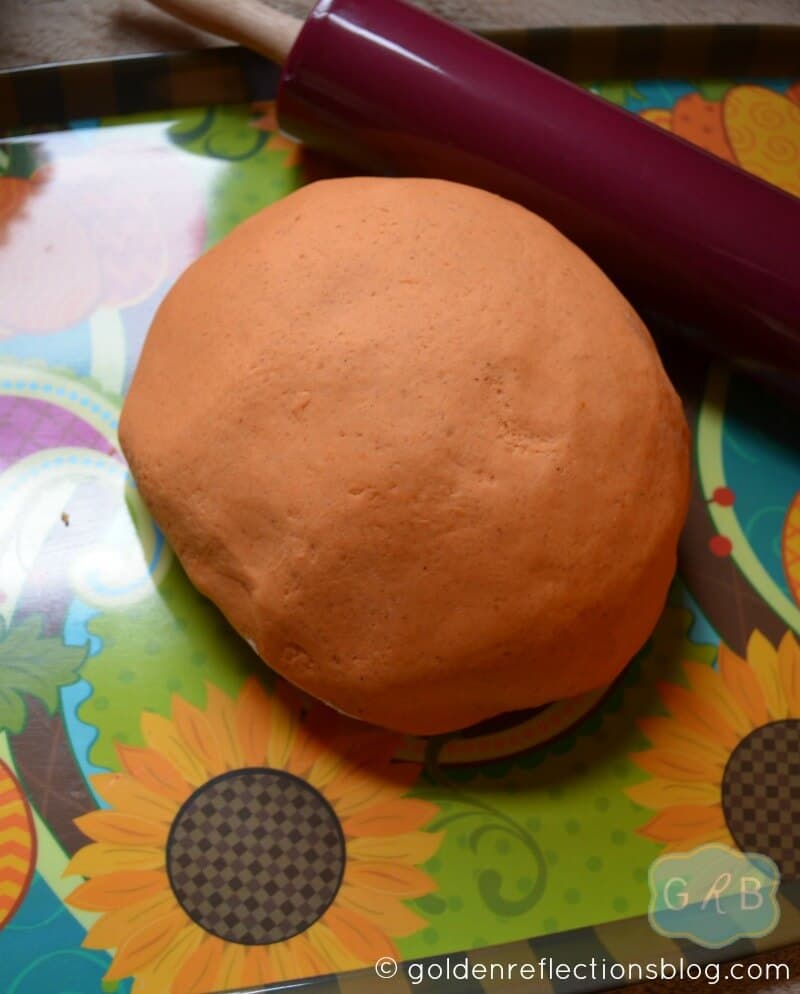 At first she just poked at it with her fingers, then I showed her the spoons and the rolling pin and she starting pushing the spoon and the end of the rolling pin into it. She also started pushing her fingers down into it. I also grabbed some plastic bath toys and added them to the tray.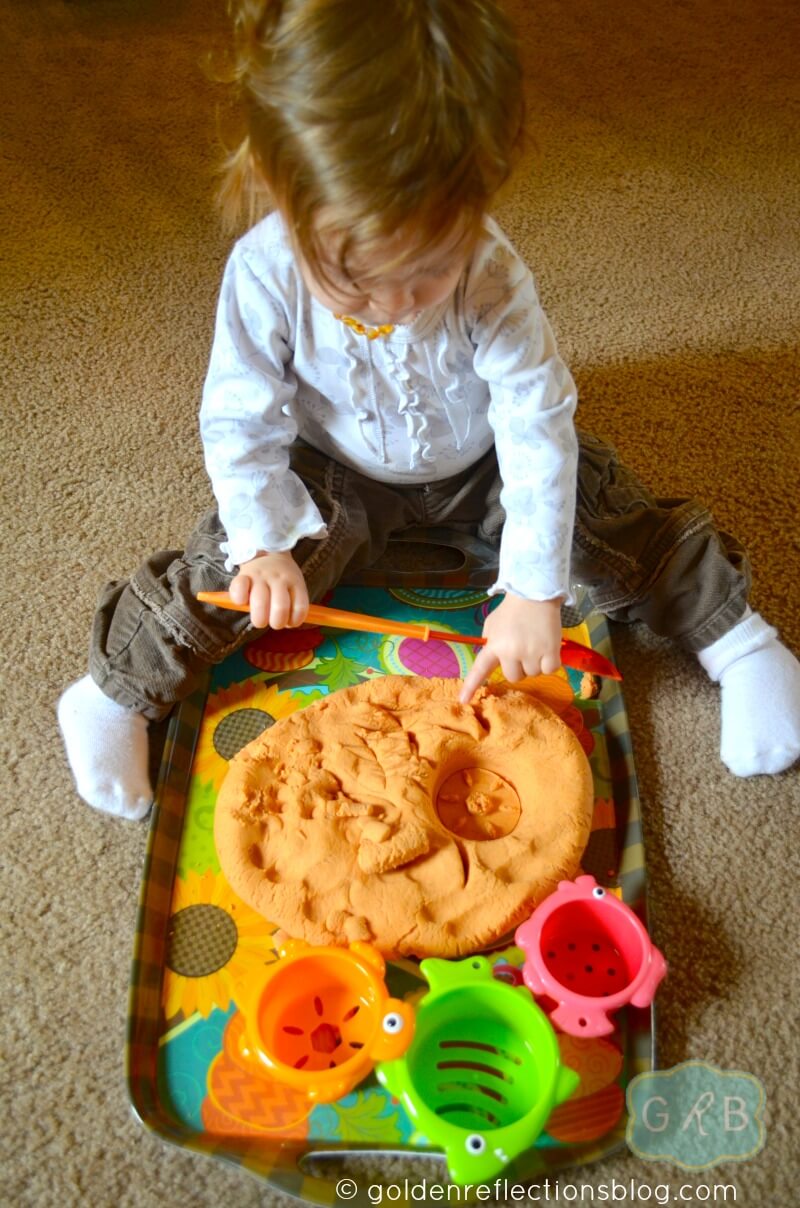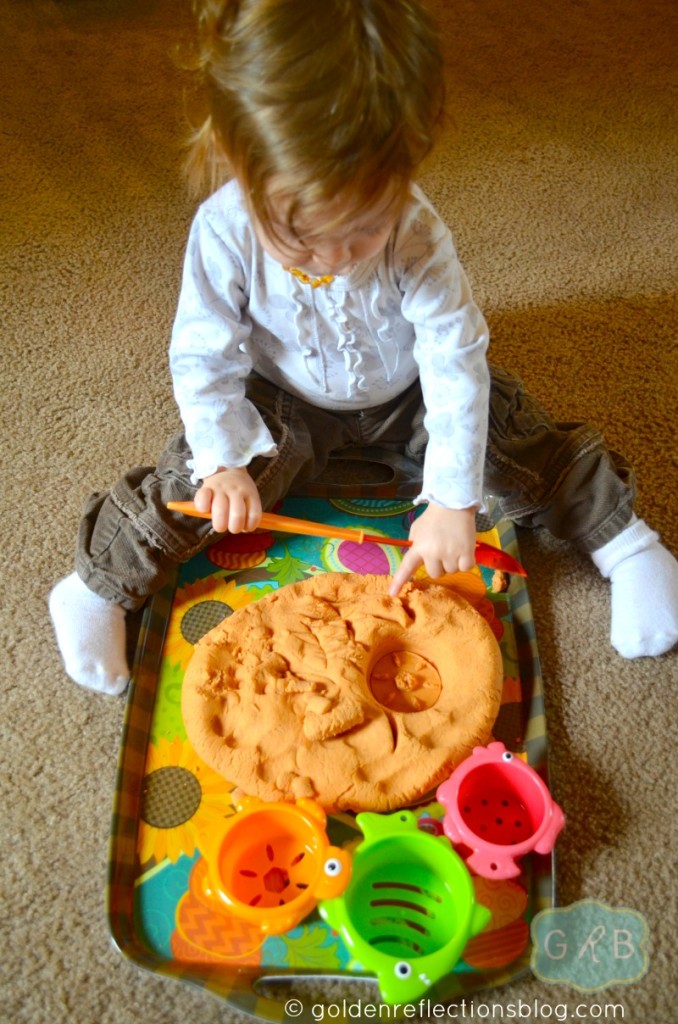 Then the socks came off. Wow did she love that! She started throwing her feet on top of the play dough and started walking all over it.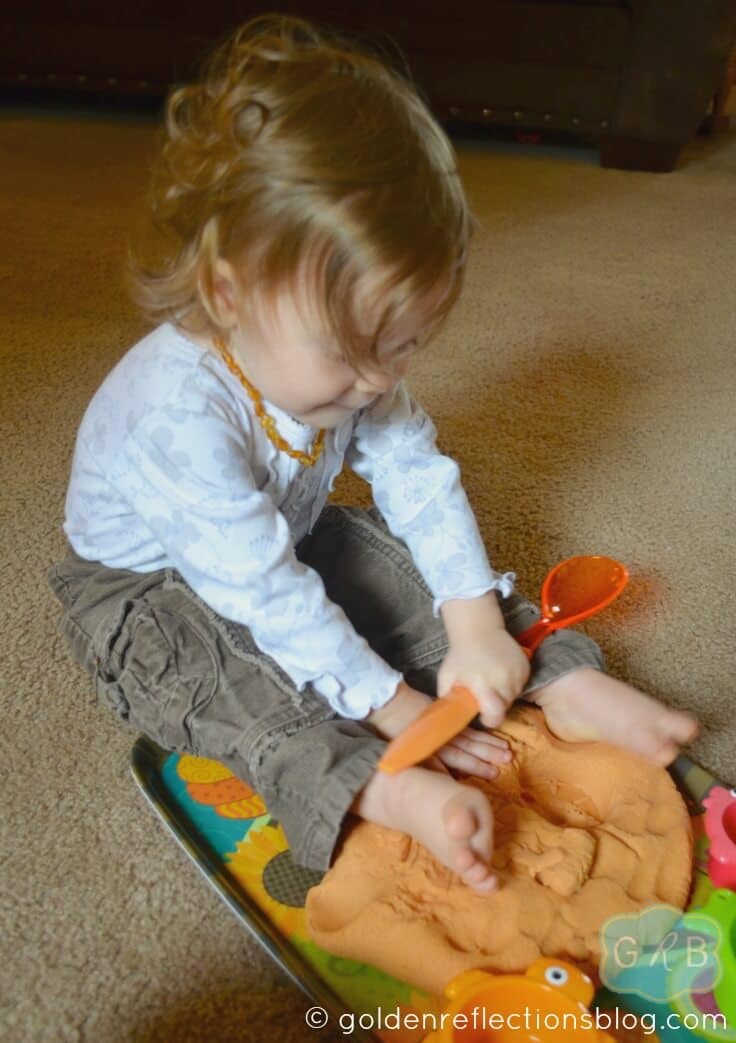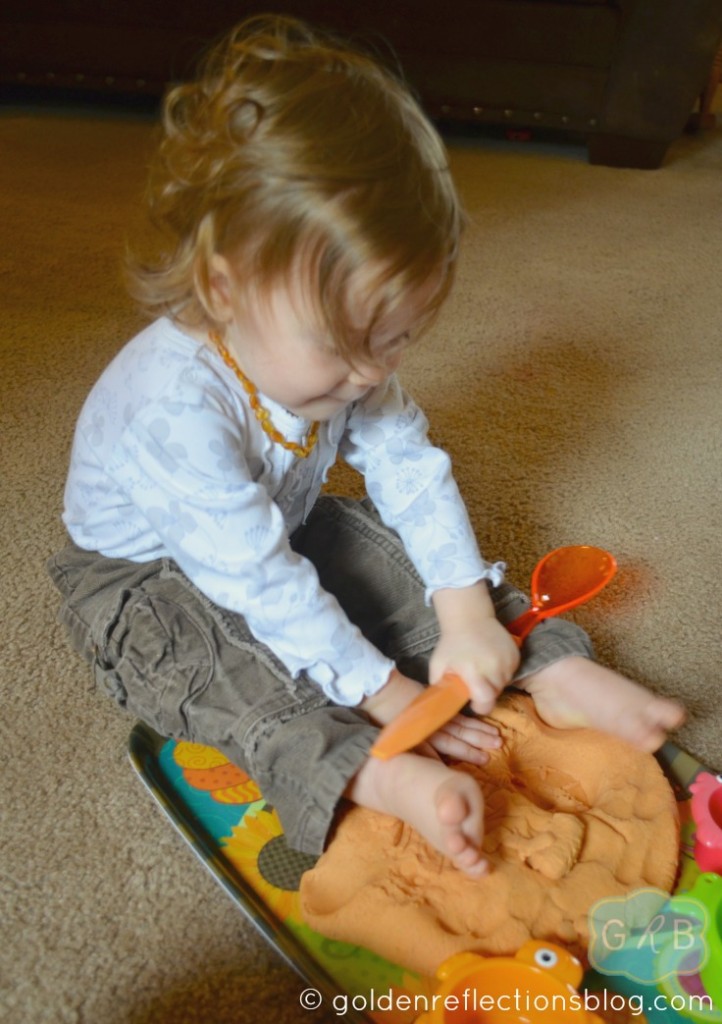 Functional Skills Used:
Bilateral Coordination -Mixing the dough; kneading the dough, using the rolling pin with it; pushing down with cookie cutters or bath toys.
Engaging the Senses – Smell – Pumpkin Pie Spice; Sight – Orange color; Tastes – if they decide to put it in their mouths as my daughter did once; Touch – Soft, cold, squishy etc.  Sound – In our case my daughter banging the rolling pin and spoons in it.
Hand strength and endurance – rolling the rolling pin, using cookie cutters or bath toys to push down.
Visual Motor Skills – Using the play dough to make shapes, pre-writing lines, letters in their name etc.
Pre-writing skills – Using the play dough to make letters in their name, words, pre-writing lines (horizontal, vertical, circle shapes).
For more fall fine motor activity ideas, check out my Pinterest board below:
Follow Heather G. | Golden Reflections Blog 's board Fall Fine Motor Activities on Pinterest.