Affiliate and Referral links are used below to promote products I love and recommend. I receive a commission on any purchases made through these links. Please see my disclosure policy for more details.
We often hear about putting babies on their tummies for "tummy time." However many babies do not like this activity. Today I am sharing 4 tips to include tummy time in your baby's day.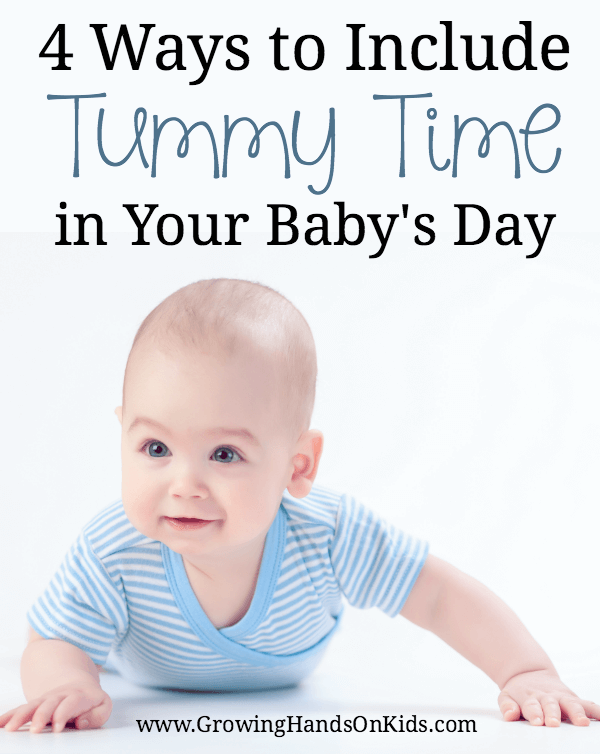 Some other benefits of tummy time include:
Promotes muscle development  and strength in the neck and shoulders
Helps prevent tight neck muscles and the development of flat areas on the back of the baby's head
Helps build the muscles your baby needs to roll, sit and crawl
4 Tips on Including Tummy Time In Your Baby's Day
Lay  your baby on your chest facing towards you. Switch the position/side their head is on each time to avoid their heads being flat on one side.
Lie on the floor with your baby, encouraging him to rest on his elbows and lift his head up. Use gentle support of his torso and arms to help him be positioned comfortably.
Place toys on the floor around your baby so he can see them. This will encourage him to reach out for those toys, which will encourage him to raise his head, helping to strengthen his neck and tummy muscles.
While you are watching TV (remember that too much TV exposure is bad for your baby's eyesight) or talking with friends or family, drape your baby stomach down over your lap, patting their back for reassurance.
When should I start tummy time with my baby?
Babies at any age can benefit from tummy time. When they are just days or weeks old you can lay them on your chest or stomach in order to get tummy time in each day. Once they do better not being held or away from mom or dad directly, floor time is a great idea to incorporate into their day.
Don't forget your toddlers and preschoolers can benefit from tummy time. You can have them lay down on their tummy to put puzzles together, crafts, and fine motor activities.
For more tummy time ideas visit: Tummy Time for Babies 
Before you know it, they will be sitting up and crawling.
More Reading on this Topic:
For more Occupational Therapy tips, follow my OT Tips from GRB Pinterest board.
Follow Heather G. | Golden Reflections Blog 's board OT Tips from GRB on Pinterest.