Affiliate and Referral links are used below to promote products I love and recommend. I receive a commission on any purchases made through these links. Please see my disclosure policy for more details.
I am really excited about this 5 day series I am starting on my site this week! This week we will be looking at 5 Days of Tot-School & Preschool ideas for your homeschool!
I am teaming up with the amazing bloggers of the iHomeschool Network to bring you a 5 day hopscotch. There will be something for everyone in this series! Be sure to check out the iHN Summer Hopscotch for more amazing ideas from other homeschool bloggers!
Here are the topics we will be covering this week: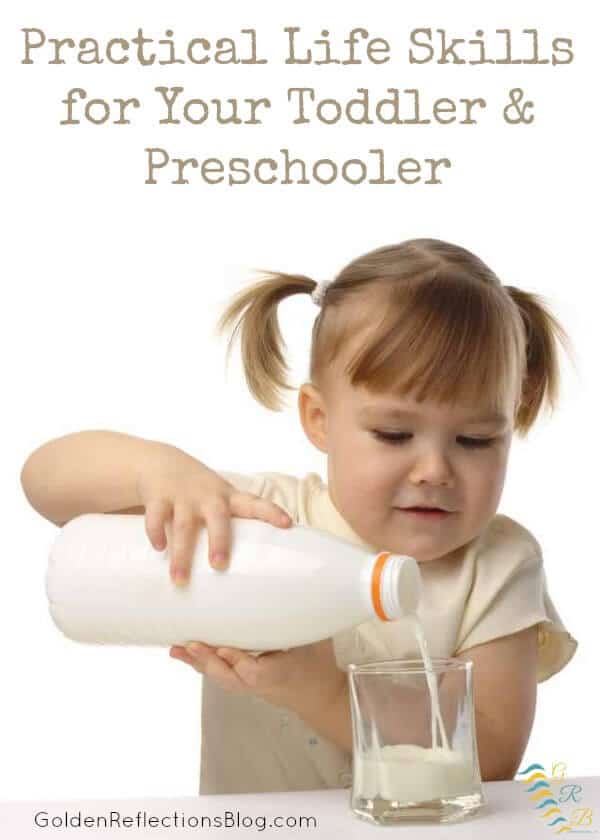 So before you start wondering if I am sitting my toddler down to do 2 hours of tot-school each day, let me assure you that tot-school is ANYTHING but sitting down and doing "school work!" Tot-school simply means that you are providing fun and engaging activities for your toddler to participate in that provide learning experiences, but are not "school work."
All children under the age of 6 are in a hands-on learning phase; they do more learning through their hands than with their eyes. So that means toddlers and preschoolers need to up and MOVING and exploring their world in hands-on ways! Tot-school is simply the formal word used to describe this! So you are probably doing a lot of tot-school ideas without even knowing it!
Tot-school (typically ages 1-3) can be as involved or laid back as you want it to be. I tend to be somewhere in the middle. I like things that are fun and require some set-up, but I also like things that are easy to do! So that is what you will find here in the next 5 days in this series!
Today we are going to talk about practical life skills!
Practical Life Skills for Toddlers & Preschoolers
What are practical life skills? Well, the name kind of gives it away! Basically any type of skill your child needs in order to perform day to day skills are life skills! Some of those things could include:
Getting dressed
Brushing teeth
Toileting
Fixing their own meals or snacks (Opening containers, spreading ingredients, pouring liquids)
Cleaning up after themselves
These are just a few examples!
The main thing to remember with practical life skills is to have things accessible for your toddler or preschooler to be able to use!  Also remember to have as many things as you can within eye-level of your child. It may mean you need to do some rearranging, but it will help to encourage independence in your child's day to day life!
Here are some ideas of how you can do this in your home.
Bathroom 
Have a stool next to or close to the sink so you child can independently wash their hands.
Have your child's toothbrush and toothpaste within reach so they can brush their teeth.
Include a towel and washcloth within reach.
Encourage your child to wash themselves in the tub or shower.
Have a hairbrush or comb within reach
Bedroom
Have clothing that your child wears often within reach
Allow your child to pick out their own clothing and get dressed, only with assistance as needed
Have your child's favorite toys, books, within reach and accessible.
If your child is still in diapers, have diapers and wipes within reach so your child can get those items when they need changed.
Kitchen
Have a specified area where your child has their own eating utensils, plates, cups etc. where they can reach them.
Have snacks (either prepared ahead of time or easy to prepare) in the lower area of your fridge.
Include a child size broom, mop, or other cleaning items accessible for your child to assist in cleaning.
Include your child in as much food preparation as they are able to.
Living Room/Play Area
Have a space for all your child's favorite toys at eye level and attractively laid out. (We use a bookcase that is laid on it's side and all our activities are on those shelves in the living room)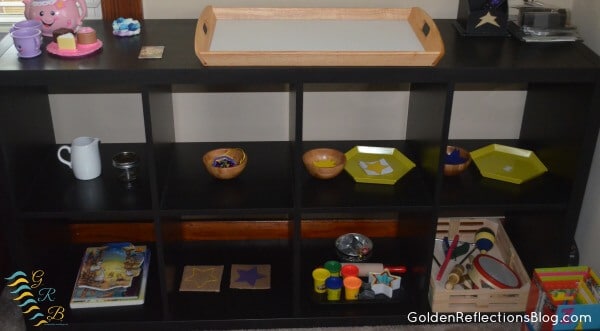 Have a designated play area in your house!
For us, that play area is the living room/dining room area, with our shelves in one corner of the room. She also has a small child size table and chairs that she can use when she wants.
We are also still working on the bedroom area in our house. Mommy is waiting to get her new home office, so E will be switching to the guest bedroom and my office and her future homeschool room and craft room will go in her now bedroom. So I am waiting on that to organize her bedroom when we move it.
Many of these activities and ideas are inspired by the Montessori style of learning. You can read more about Montessori style learning in the Montessori At Home ebook or Montessori from The Start on Amazon!
You can also get many more ideas from my Homeschool Preschool and All Things Montessori Pinterest boards!
Follow Heather G. | Golden Reflections Blog's board All things Montessori on Pinterest.
Follow Heather G. | Golden Reflections Blog's board Homeschool Preschool Ideas on Pinterest.
And don't forget to check out the rest of the posts in this series!
Blessings,
Disclaimer: All activities are designed for complete adult supervision. Please use your own judgement with your child and do not provide objects that could pose a choking hazard to young children. Never leave a child unattended during these activities.Please be aware of and follow all age recommendations on all products used in these activities. Golden Reflections Blog is not liable for any injury when replicating any of the activities found on this blog. 
Sharing with: 3 Boys and a Dog, The Super Mommy Club, B-Inspired Mama, Toddlers & Preschoolers