Pumpkin Scented Oobleck for Sensory Play
Affiliate and Referral links are used below to promote products I love and recommend. I receive a commission on any purchases made through these links. Please see my disclosure policy for more details.
We are slightly obsessed with Oobleck in our house. I think it is easily one of our favorite sensory play mediums, next to slime. My daughter asks for it all the time and she loves playing with her miniature animals in it. So I came up with this pumpkin scented oobleck version with a fall twist.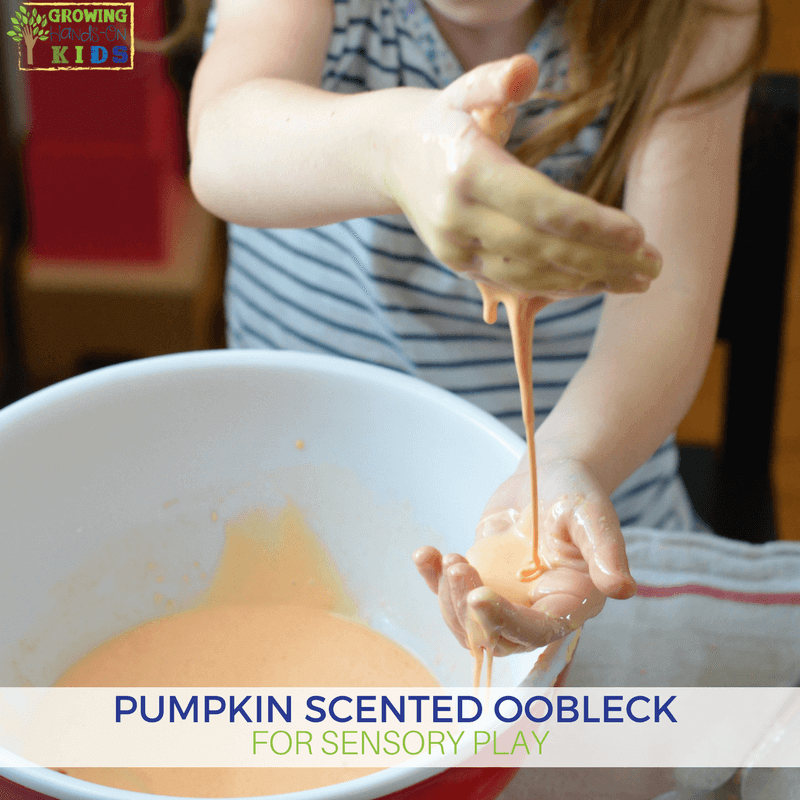 If you have never made oobleck before, you are in for a treat! The consistency is so different than most sensory play mediums such as slime, goop or play dough. It is definitely my daughter's favorite thing to play with and keeps her focused for a long time (usually 30-45 minutes!).
Pumpkin Scented Oobleck Recipe
1 cup of corn starch
1/2 cup water (start with 2-4 tablespoons and add more as needed to get the right consistency)
1 tsp. Pumpkin Spice liquid
Orange food coloring (we used 1-2 drops of red and 4-5 drops of yellow to make our orange color)
Glitter (optional)
Bowl
Spoon
Fall items such as glass beads, leaves, acorns etc. Make sure you use items that can be cleaned easily since the oobleck will stick to them.
Directions:
Dump the corn starch into your bowl. Add the pumpkin spice and then start mixing 2-4 tbsp. of water in at a time. Once you are able to get the melting effect when the oobleck leaves the spoon, you are getting close. The oobleck will look like a liquid in the bowl, turn into a solid when you touch it with the spoon and then melt as it leaves the spoon. It will also do the same thing when you touch it with your hands. Add 2 drops of red food coloring and 4 drops of yellow. You may need to add a few more of each color to get the orange color you want.
Add 2 drops of red food coloring and 4 drops of yellow. You may need to add a few more of each color to get the orange color you want. Once you are happy with the color, add some glitter. This part is optional, but my daughter always asks for it.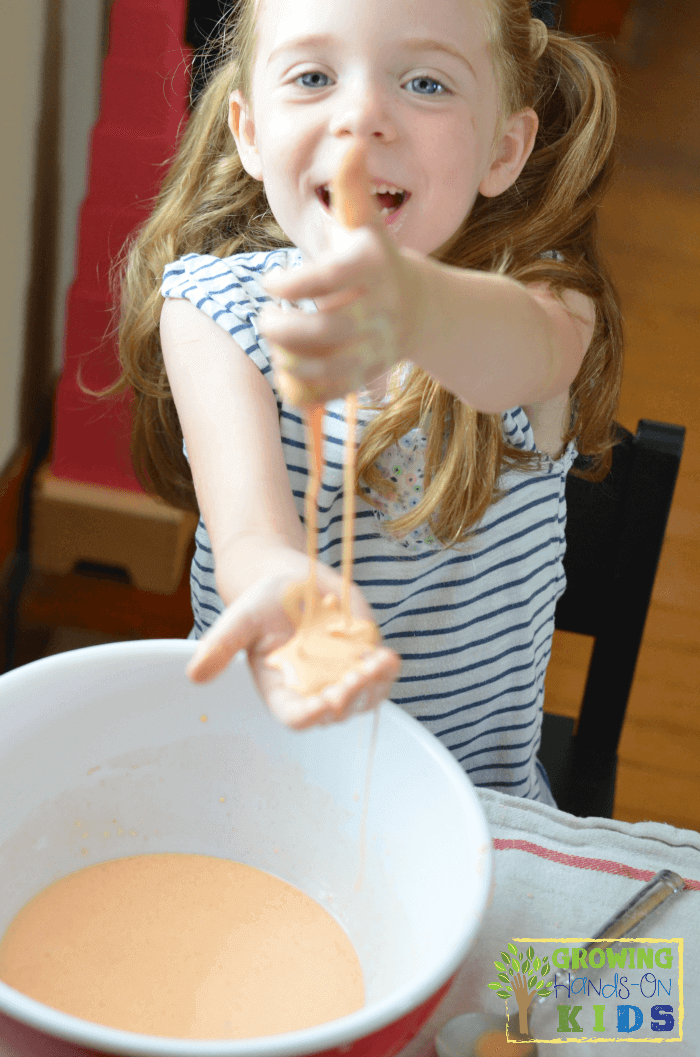 We added some fun fall glass beads, pumpkins, and acorns for some extra fine motor practice.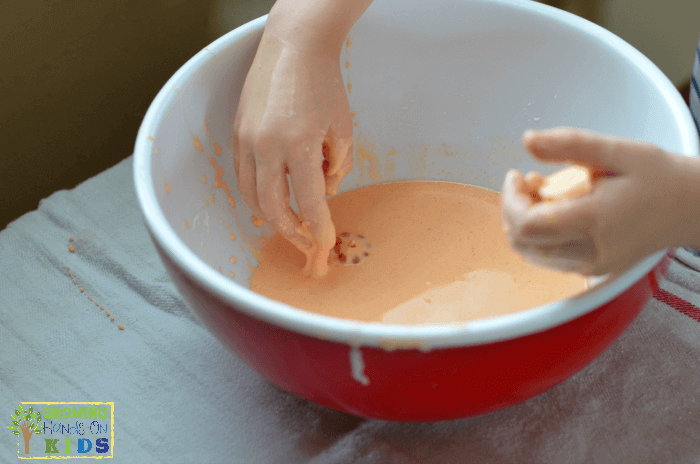 This is by far one of our favorite sensory play activities. My daughter will sit and play with this for quite a while. She likes to add her miniature animals to it as well. Just make sure everything you use to play with can be washed easily since the oobleck will harden to it.
Cleaning yourself off is not that bad. I always cover the table with a towel and then we wash our hands when we are done. The oobleck easily comes off. If you get some on the floor, just wipe it off with a damp cloth. You may notice some white streaking from the corn starch when it dries, so just wipe over it again with a wet cloth to get it all up. We have wood floors, so I have never done it with carpet. You may want to cover with a tarp on the floor if you have carpet.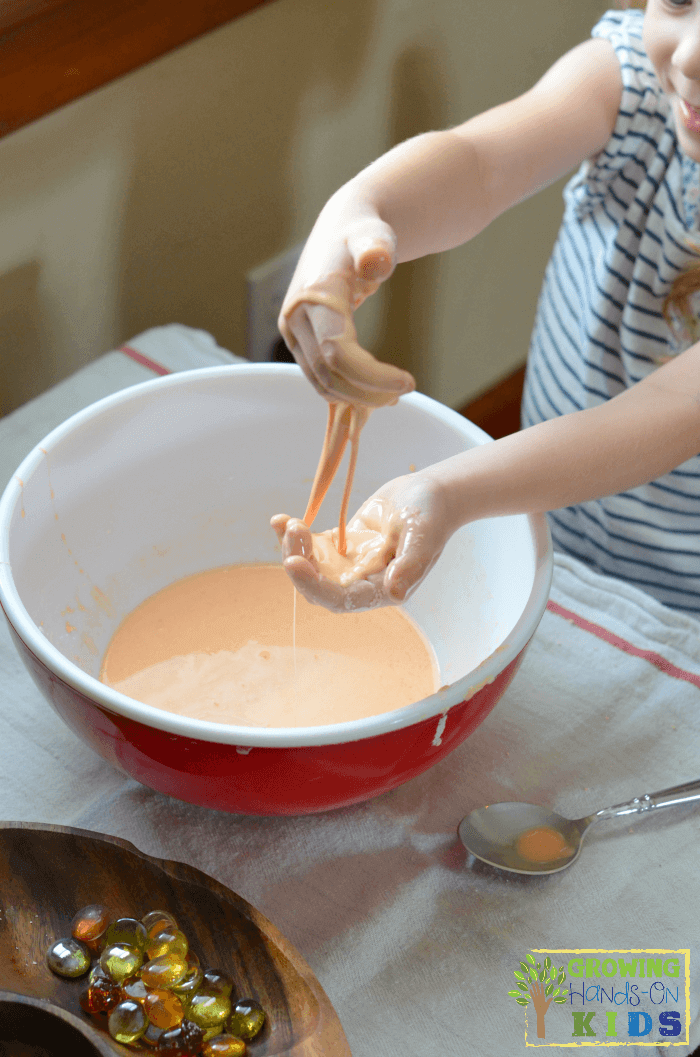 Follow Heather | Growing Hands-On Kids's board Sensory Play Fun on Pinterest.

You May Also Like: