Preparing Your Hands-On Learning Environment for Preschool
Affiliate and Referral links are used below to promote products I love and recommend. I receive a commission on any purchases made through these links. Please see my disclosure policy for more details.
Are you thinking of doing preschool at home with your child? You may think you need to have an entire preschool classroom set up in order to do this at home, but you really don't. Just having a hands-on learning environment for preschool in your home with things you already have is a great way to get started.
Today I am giving some tips on how we have our home set up for tot school and preschool at home.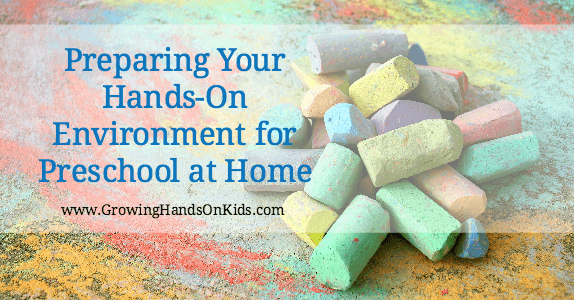 Our Hands-On Learning Environment For Preschool at Home
For me, the biggest part of having a hands-on learning environment in my home is making sure things are set up to allow my daughter as much independence as possible. You would be surprised how many things a 2 to 4 year old can do on their own if you just step back and let them take the lead.
Children in the preschool age range learn best by doing. Using their hands to explore and learn is always the best way.
For my daughter, we tend to lean towards Montessori inspired activities at home. Montessori methods put tons of emphasis on hands-on learning, independence, and following the child's interests and lead in their learning.
Here are some ideas with how we have things set up in our home:
Bedroom: We have all her clothing that she wears consistently in the bottom two drawers so that she is able to reach it and pick out her own clothing is she wants. For her closet, I also plan on having a low hanging rack so she can reach her dresses and other hanging items as well. Her bed is also on the floor (box spring and top mattress) so she is able to get in and out on her own. She also has a bookcase on the floor so she can reach her books and a few toys when upstairs for quiet time each afternoon.
Kitchen: We have a large step-stool that she is able to pick up and place where she wants it. She uses this to reach the kitchen sink and help me rinse or wash dishes or so she can wash her hands. I also have her plates, cups, and bowls in a drawer that is at her level. We did have her silverware in it, but she was pulling it out and playing with it on the floor, so I moved it a drawer that she can still reach but isn't as easy for her to open. When she gets older we will probably move it back.
Bathroom: The bathroom has her toothbrush and toothpaste in a cup that she can reach and also a step stool for easy reaching. We also have a toilet seat and step stool in our downstairs one for her to use the bathroom with.
Living Room: There is a basket of books on the floor that she has access to so she can read or ask us to read to her anytime. We also have our Montessori bookshelf in there with some items she likes to play with out on them. I am going to try to be better about rotating those out now that she is getting older and needs more novice items out. Also with baby coming, 4 selves will be changed out for him on the bottom, and then the 4 shelves on top for her. There is also a child size table and chair set next to her shelf area.
Dining Room: The dinning room area holds kind of our odds and ends. We have a stackable bin shelf with stacking blocks, one with crayons and writing utensils, one with paper etc. So she has access to those items any time she wants. Then I have a couple of storage baskets that hold containers and other various crafting items so when I switch out activities on the shelves. Our bookcase is also in there and the bottom two shelves have puzzles and other various play items that she can get into as well.
After the initial set up, it is easier to move thing around as you need them. I like to rotate items, shelves, and toys around every 2-4 weeks.
Are you looking for more ways to encourage independence in your home? Get my free ebook with 5 easy tips for encouraging independence in your home, one room at a time. Just put your e-mail address below to subscribe and the download will automatically be sent to your computer once you confirm your subscription (double check your spam folder!).

For more ideas check out my Pinterest boards and other blog posts below!
Follow Heather | Growing Hands-On Kids's board Homeschool room ideas on Pinterest.
You May Also Like: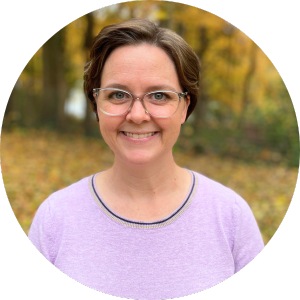 Heather Greutman, COTA
Heather Greutman is a Certified Occupational Therapy Assistant with experience in school-based OT services for preschool through high school. She uses her background to share child development tips, tools, and strategies for parents, educators, and therapists. She is the author of many ebooks including The Basics of Fine Motor Skills, and Basics of Pre-Writing Skills, and co-author of Sensory Processing Explained: A Handbook for Parents and Educators.