Pom-Pom Number Caterpillars – Busy Bags Kids Will Love
Affiliate and Referral links are used below to promote products I love and recommend. I receive a commission on any purchases made through these links. Please see my disclosure policy for more details.
Do you struggle to find ways to keep your kids occupied while you are trying to fix dinner or finish a quick chore? Busy bags are a great way to encourage independence play and today I'm sharing a great pom-pom number caterpillars from my friend Sara's new book – Busy Bags Kids Will Love: 52 Fun-Filled Quiet Boxes, Bags, and Bins. There's also a giveaway, so be sure to scroll all the way to the bottom of this post to enter for a chance to win!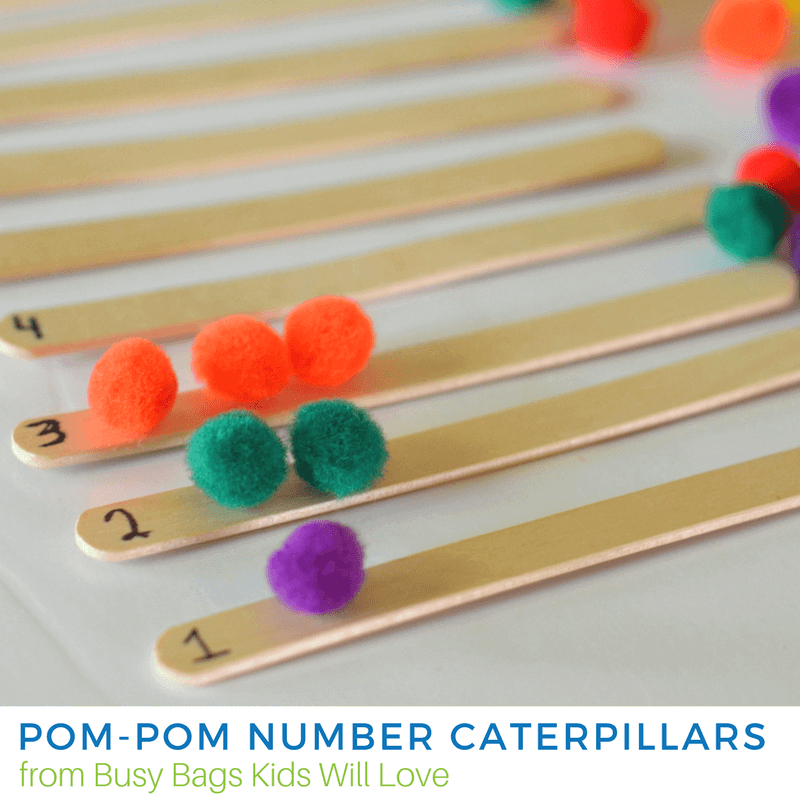 Pom-Pom Number Caterpillars Busy Bag
I'm always looking for easy prep activities to put together. We've done a few busy bags before and I've wanted to get more of them set up in our home. I was so excited when my good friend Sara McClure wrote Busy Bags Kids Will Love and I was happy to review the book for her and share one of the activities we made.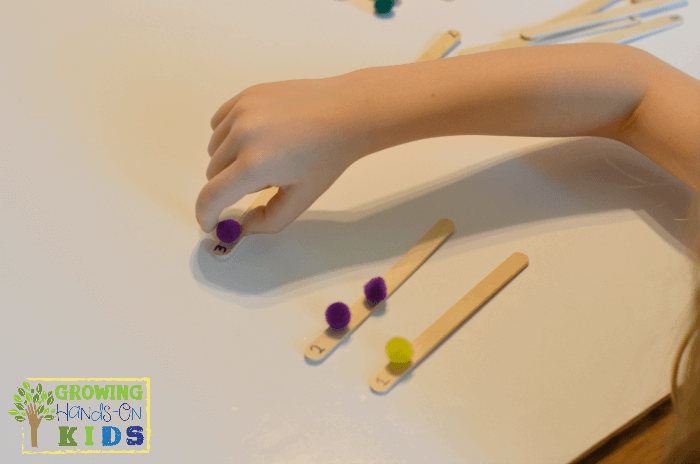 This Pom-Pom Number Caterpillar was perfect for my daughter since she has been into counting, especially up to 20. Right now I have just created it for up to 10, but I plan to add up to 20 later. I think we need more pom-poms for that.
I had to use some smaller craft sticks than Sara suggested since that was all I could find. I think it would definitely work better with the larger craft sticks as suggested so the pom-poms don't fall off. My daughter still enjoyed lining the pom-poms up on the sticks and she used her other hand to stabilize the craft sticks when needed.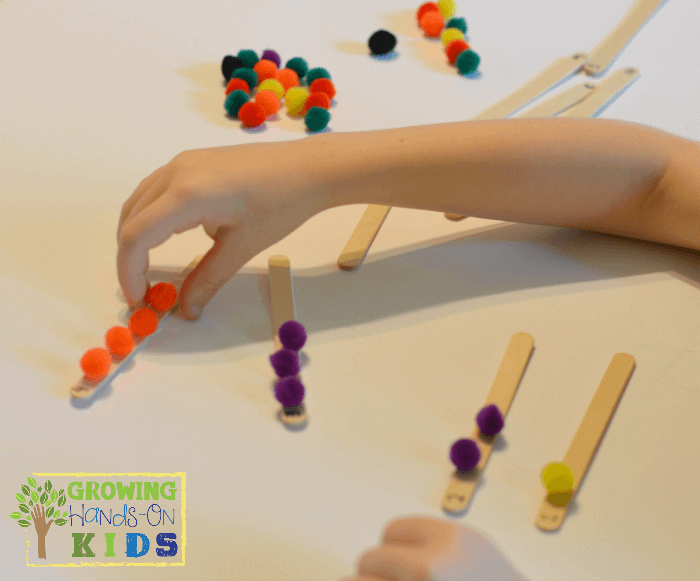 Busy Bags Kids Will Love
If you'd like to get a copy of Busy Bags Kids Will Love, here are all the details you need!
Busy bags are self-contained, screen-free activities designed to keep your kids busy! If you need a few minutes to finish the dishes, help with homework, or finish a homeschool lesson, busy bags can be a lifesaver for younger siblings. They are easy and inexpensive to create and equal hours of fun for your kids!
Busy bags promote some great learning concepts too such as:
Promoting early math and reading concepts.
Encouraging creative play.
Developing fine motor skills and hand-eye coordination.
Helping little ones prepare for kindergarten.
In Busy Bags Kids Will Love you'll get ideas for 52 fun-filled quiet boxes, bags, and bins. That means if you create every single busy bag, you'll have enough for one new busy bag a week for a year!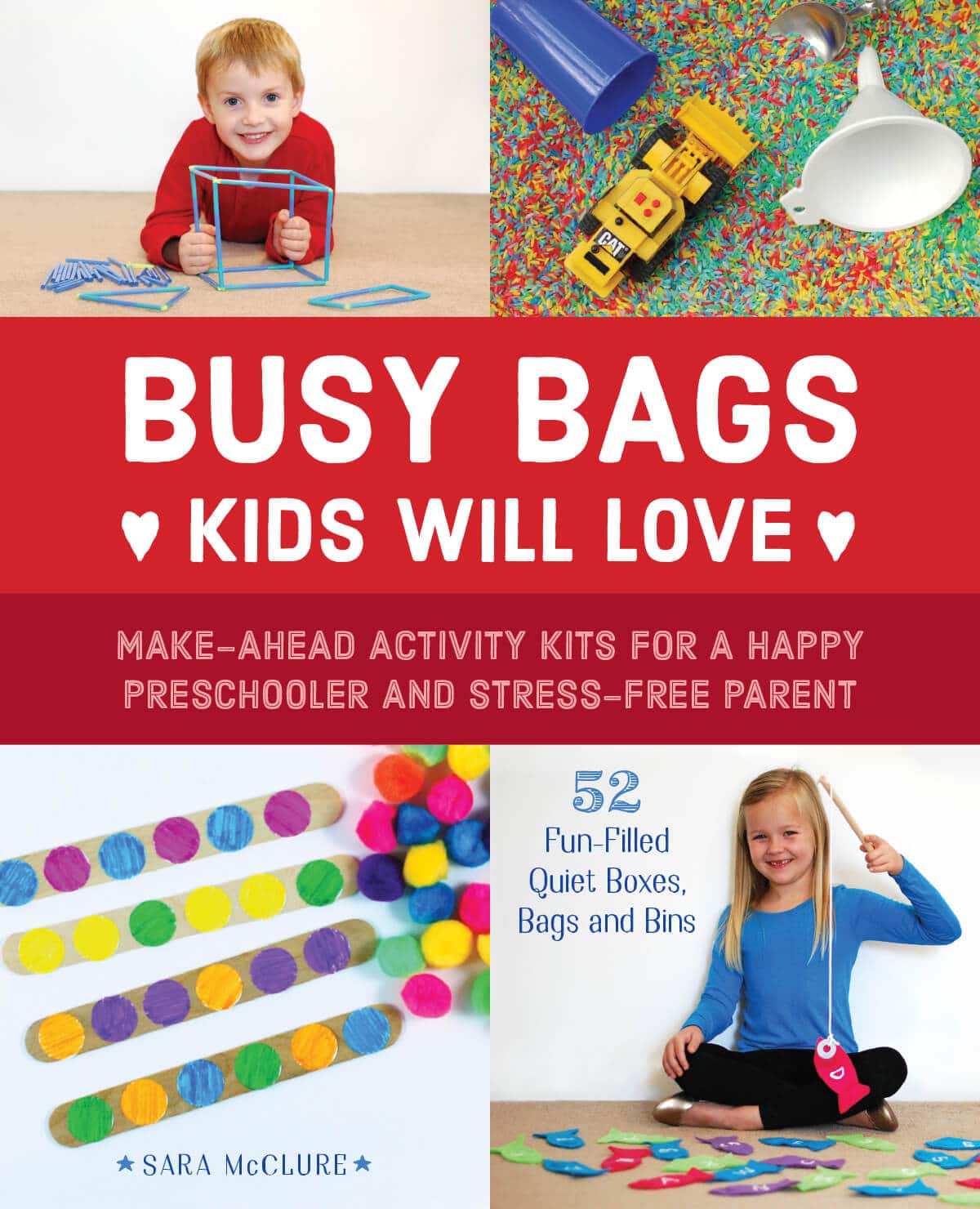 You can purchase Busy Bags Kids Will Love wherever books are sold including Amazon, Barnes & Noble, Books-A-Million, and Indiebound. If you purchase, be sure to send a copy of your receipt to sara@happybrownhouse.com, she will send you a free printable that goes with the activity on page 17 of the book!
Giveaway of Busy Bags Kids Will Love
I'm excited to be giving away a copy of Busy Bags Kids Will Love to one lucky Growing Hands-On Kids reader! You must be a US resident 18 years and older in order to be eligible to win. Void where prohibited. Please read all the rules and terms below in the Rafflecopter form. The giveaway will end at 11:59 pm eastern standard time on Monday, July 2, 2017. 
a Rafflecopter giveaway

For easy kids activities like this one, follow my resources below:
Follow Heather | Growing Hands-On Kids' board Busy Bags and Quiet Bags on Pinterest.
You May Also Like: