Our Montessori Inspired Tot-School Space
Affiliate and Referral links are used below to promote products I love and recommend. I receive a commission on any purchases made through these links. Please see my disclosure policy for more details.
Today I am sharing our Montessori-inspired tot-school space, which is still a work in progress in our home.
We live in an old farmhouse and space is not necessarily something we have a lot of. With two kiddos now, we are literally utilizing every square inch as possible. Our tot-school area is set up in a corner of our living room and I also have other areas throughout the house for storage and other activities. So come take a tour.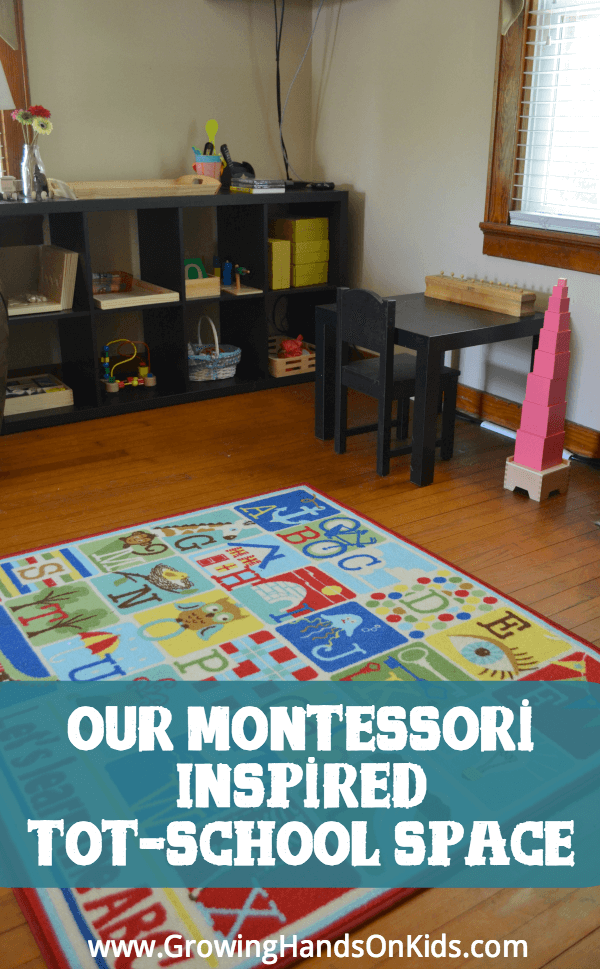 I am very excited about this new little space in our house. This space is for baby Ben as he gets older. I also plan on using the mirror for Ellie to use as a vertical writing surface or any other ideas we can come up with using the mirror.
This area is right when you first walk into our home and is between the living room and kitchen so I can keep an eye on him from the kitchen area if I need to.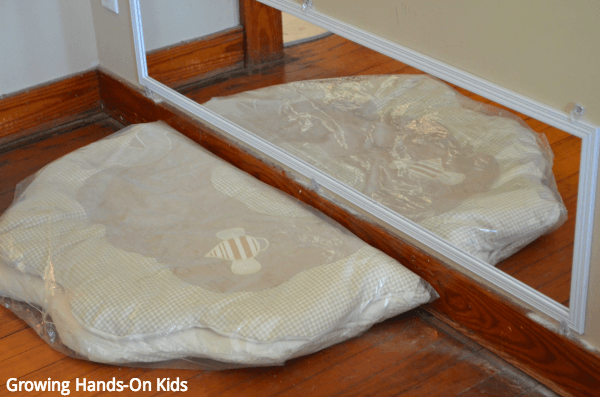 Our tot-school area is in the corner of our living room, directly underneath our TV space, which we mounted to the wall to make more floor room.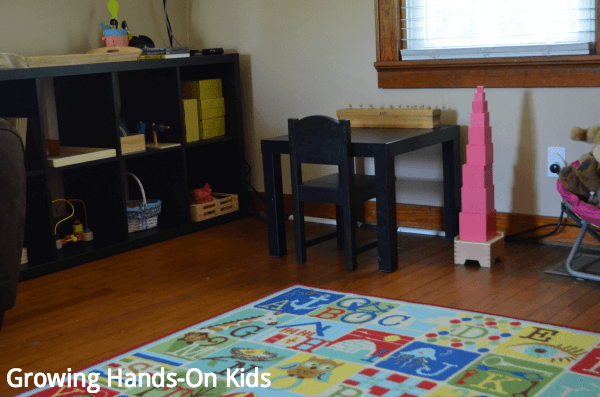 The bookshelf and child-size chairs and tables we purchased last year from IKEA. David also picked up the ABC rug recently on a trip to Costco. The pink tower I ordered from Amazon. The top shelves on the bookcase I plan on using for Ellie's tot-school activities and the bottom shelves are going to be a mix of items that both she and baby Ben can use together. The large white tray on top is what we use a lot of the time for her activities at the table.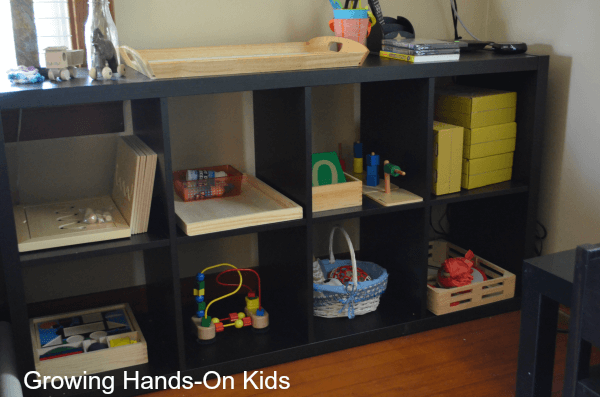 We also have quite a few book areas in the house. One space is where we keep a basket of books that Ellie has access to whenever she wants. I also have two shelves on our bookcase in the dining room with space for the books and items I will be using for our tot-school activities this year. There is also a shelf for overflow books for Ellie. She also has more on her Montessori-inspired shelves in her bedroom upstairs.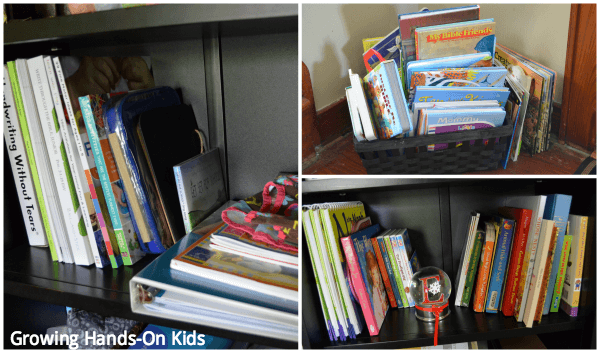 Also in the dining room, I have a 4-basket shelf that holds craft supplies, baby-safe toys, and other odd and end items. We also have another storage shelf from IKEA with our laminator on top as well as a bin for play dough items, Duplo blocks, construction paper, writing utensils, and also printables.
Even though all the items aren't in the same room, our floor plan is pretty open and each room is a pretty small space so everything is still within reach of where I need it. I also have my new desk area set up in the living room which is where I will be keeping a file folder with all the printables and paper supplies we need for each week of tot-school activities I have planned for the year.
We also have a basement with a bookcase that is in desperate need of organization and I plan on using that as overflow storage for our sensory play items, fine motor supplies, craft supplies, etc.
You can also follow my Homeschool Room Ideas Pinterest board.
Follow Heather | Growing Hands-On Kids's board Homeschool Room Ideas on Pinterest.