5 Quick and Easy Advent Calendar Activities!
Affiliate and Referral links are used below to promote products I love and recommend. I receive a commission on any purchases made through these links. Please see my disclosure policy for more details.
I love the idea of doing an Advent Calendar as a simple and easy way to keep the focus on the important things during this Christmas season. Today I am sharing 5 quick and easy Advent Calendar ideas with you.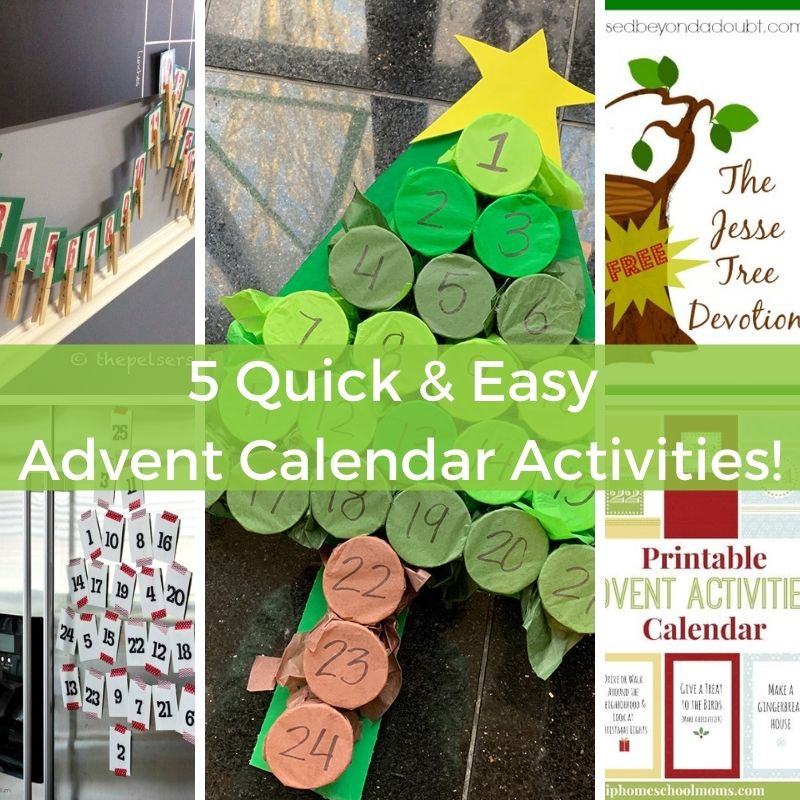 I don't know about you, but I have never actually made an Advent calendar before. Now that my daughter is getting older, it is definitely something I want to start during Christmas with her.
As moms, we are so busy I think many of us would prefer something quick and easy, but fun and memorable.
5 Easy Advent Calendar Activities for Kids
1. How to make a simply Advent Calendar from The Pelsers
I love anything that incorporates good fine motor skills in an activity. This would be a great one to have the kids help you out with, using the clothespins to pin the numbers on the string.
2. Simple Advent Calendar from His Sugar Plum
This is super easy to make with washi tape, some craft numbers, and envelopes. Check out the directions at the link above.
3. The Jesse Tree Devotional & Advent Calendar Ideas from Blessed Beyond a Doubt
I had never heard of a Jesse tree until this year. This is a great little ebook devotional for your kids and she gives some ideas for activities at the end too.
4. Printable Advent Activities Calendar from Hip Homeschool Moms.
This is a super simply Advent Calendar printable for you. All the work is done, you just have to print and cut it out. She also gives some ideas on how to compile and use it.
5. Easy DIY Christmas Tree Advent Calendar from Happy Toddler Playtime
This is a great idea using recycled items and things you probably already have in your craft drawer.
I hope these 5 Advent Calendar ideas give you some simple and creative ways to make your Advent calendars with your kids this year.
Now I just have to figure out which one I am going to make. 🙂
For more Christmas ideas check out my Holly Jolly Christmas Pinterest board or Winter Fine Motor Activities board.
You May Also Like: