St. Patrick's Day Roll-A-Dice Brain Break
Affiliate and Referral links are used below to promote products I love and recommend. I receive a commission on any purchases made through these links. Please see my disclosure policy for more details.
Holidays are the perfect time to switch up your brain break activities and do some fun, themed brain breaks. Today I have a fun St. Patrick's Day Roll a Dice Brain Break activity, plus some extra ideas.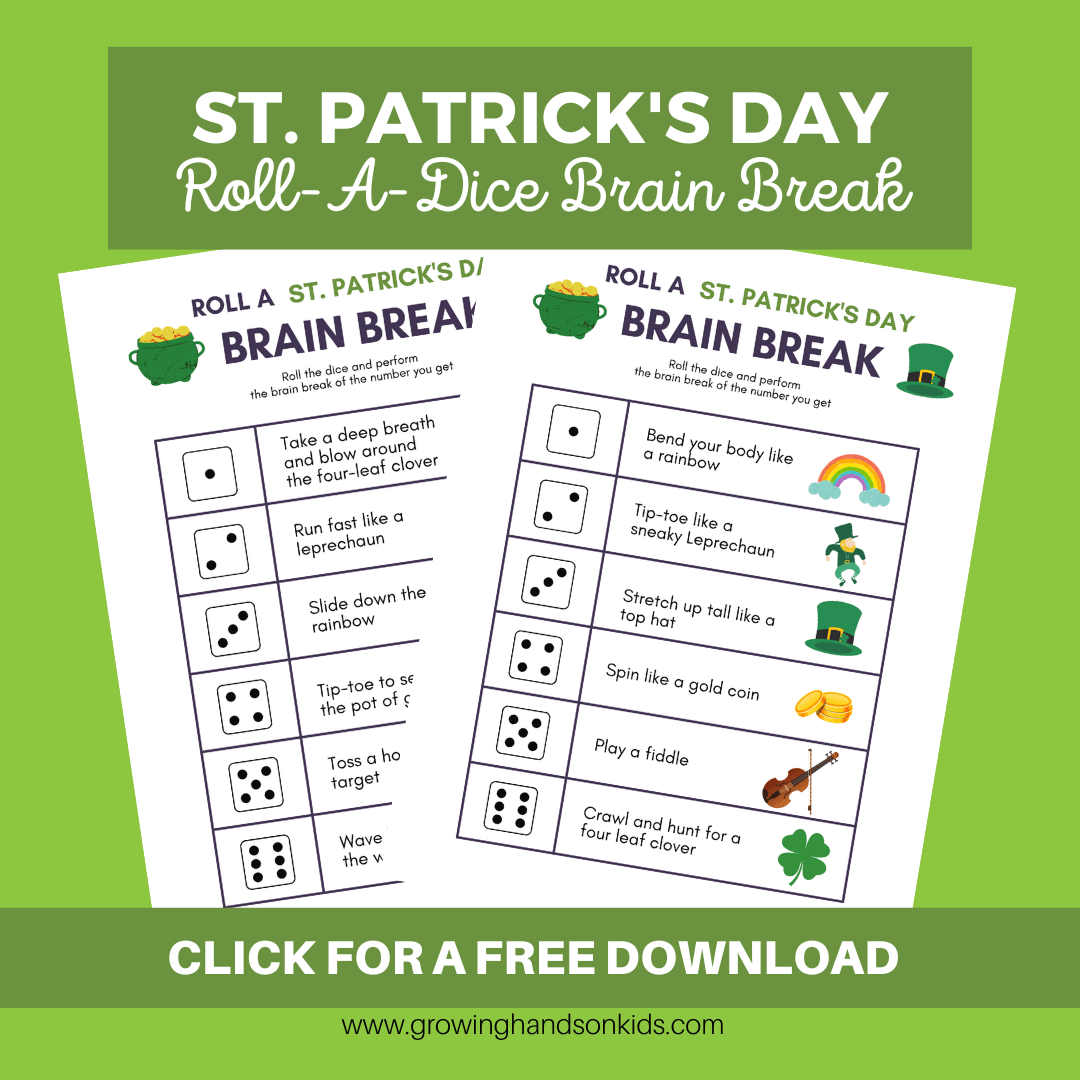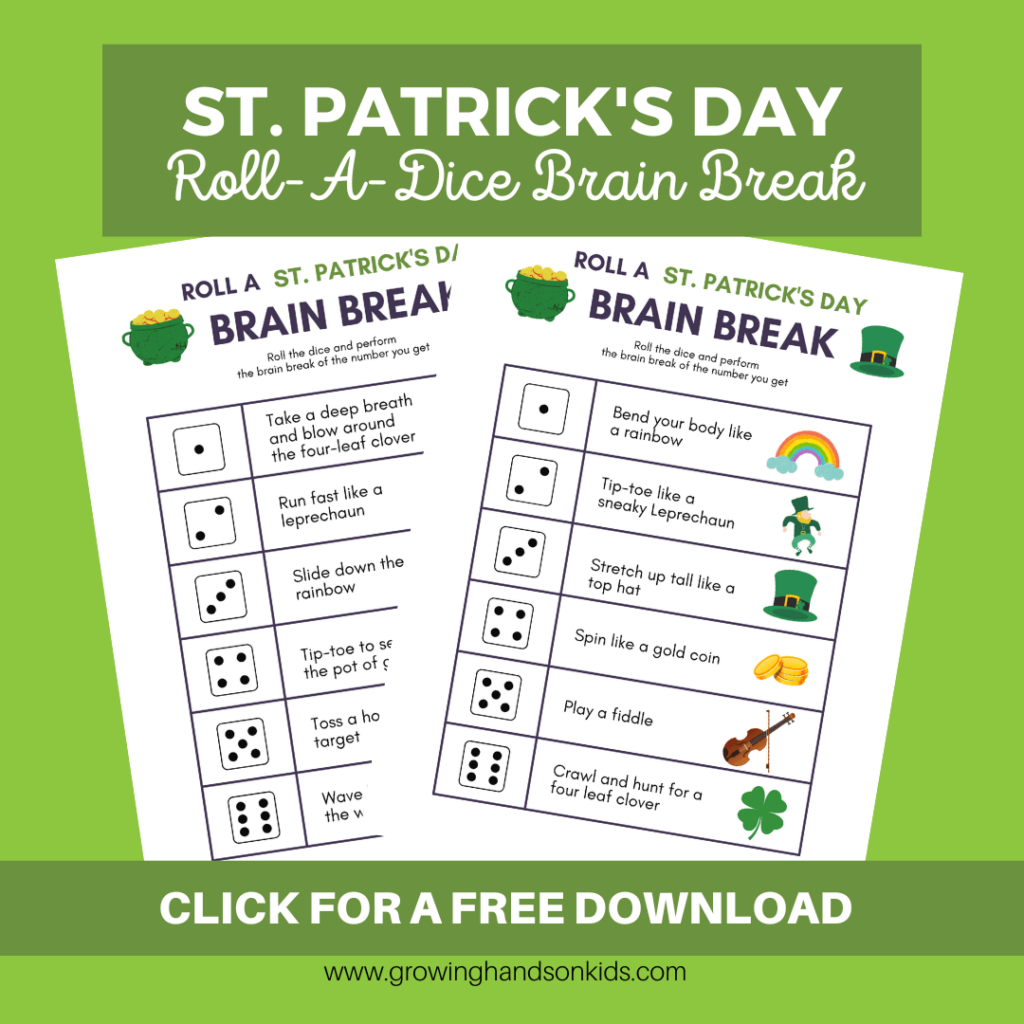 Benefits of Brain Breaks
There are many benefits of using brain breaks throughout your child or student's day. Some of these include:
Help reduce anxiety, stress, and frustration and improve mental health
Help children focus and attend to tasks
Give children tools to self-regulate their emotions
Encourage movement and physical activity
How to Use Brain Breaks in the Classroom
You can set up brain breaks in a number of ways in the classroom:
Use them as a transition activity between changing tasks or environments – think after recess to get everyone on the same page, before going to lunch, coming into class first thing in. the morning, etc.
Have them in a movement station in your classroom or gym.
Give scheduled brain break times throughout the classroom day.
Use them scattered throughout the day when you notice students are struggling to focus and need movement to regroup.
As a self-regulation activity that students can use and self-advocate for as they need.
St. Patrick's Day Roll-A-Dice Brain Break Activities
Here are the activities that I've included in the printable handout. You will need a 6 numbered dice in order to play these brain breaks. Students will roll the dice and do the brain break that corresponds with the number they rolled.
I created two separate pages so there are a total of 12 brain breaks to complete.
1 || Bend your body like a rainbow
2 || Tip-toe like a sneaky Leprechaun
3 || Stretch up tall like a top hat
4 || Spin like a gold coin
5 || Pretend to play a fiddle
6 || Crawl and hunt for a four-leaf clover
Page 2
1 || Take a deep breath and blow around the four-leaf clover (I've included a separate page with a four-leaf clover to breathe in and out with)
2 || Run fast like a leprechaun
3 || Slide down a rainbow (they can either slide on their bottoms or slide across the floor on paper plates or their feet with socks)
4 || Hop to search for the pot of gold
5 || Toss a horseshoe at a target (use the horseshoe and target included in the printable and cut it out, cardstock paper would work best)
6 || Wave like a flag in the wind
Additional St. Patrick's Day Brain Break Activities
These are some of our favorite St. Patrick's Day Brain Break videos or additional activity ideas:
Free St. Patrick's Day Roll a Dice Brain Break Printable
To get your free St. Patrick's Day Roll A Dice Brain Break printable download, enter your email address in the form below. You'll be redirected to a success/thank you page with an additional offer.
Then head to your email inbox to download the free printable.
If you are new to GHOK, you'll also start receiving my weekly child development tip emails. You can unsubscribe at any time.
If you are a returning subscriber, you won't be subscribed twice. Entering your email address below lets my email provider know which printable to send you. Also, thanks for coming back!
You May Also Like: