Fun Developmental Activities with Blocks
Affiliate and Referral links are used below to promote products I love and recommend. I receive a commission on any purchases made through these links. Please see my disclosure policy for more details.
I love simple play items that pack a powerful punch when it comes to developmental skills and play. Developmental activities with blocks are a very simple way to work on a ton of skills with your young toddler or preschooler at home.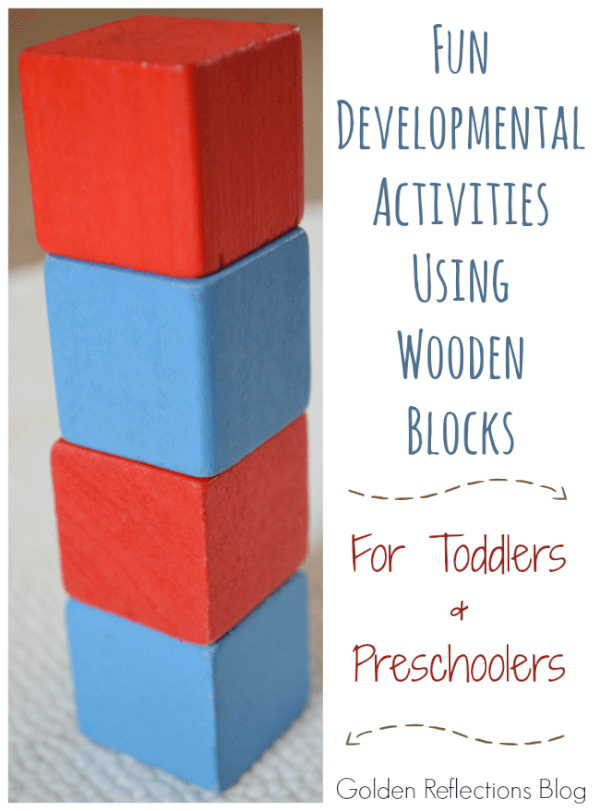 Who doesn't have wooden blocks in their home? And if you don't, definitely get some right away. They are so easy to find in the store or online and there are so many ways you can play with them.
Here are some great options from Amazon:

While the plastic building and stacking blocks are great too, you definitely want some good wooden ones as well. Wood offers so much more sensory input for your child; the texture, smell, and grains in the wood are awesome added input.
So what kinds of developmental activities can you do with blocks? Keep reading to find out!
Developmental Activities with Wooden Blocks
Before we get into the actual activities you can do, here is what I am basing these activities on. In the Peabody Motor Assessment that Occupational Therapists use to see where your child is developmentally, there is a specific area just for block building under each age.
Here are the age-appropriate activities that your child can do:
Build a 4-block train at 29 to 30 mos. (2 1/2 years)
10 cube tower is 29 to 30 mos.
A 3 cube bridge is 31 to 32 mos.
A 4 cube wall is 35 to 36 mos (3 years)
6 cube steps are 51 to 52 mos. (4 years old)
6 cube pyramid is 53 to 54 mos.
In case you are not familiar with these specific block designs, here are some pictures for you.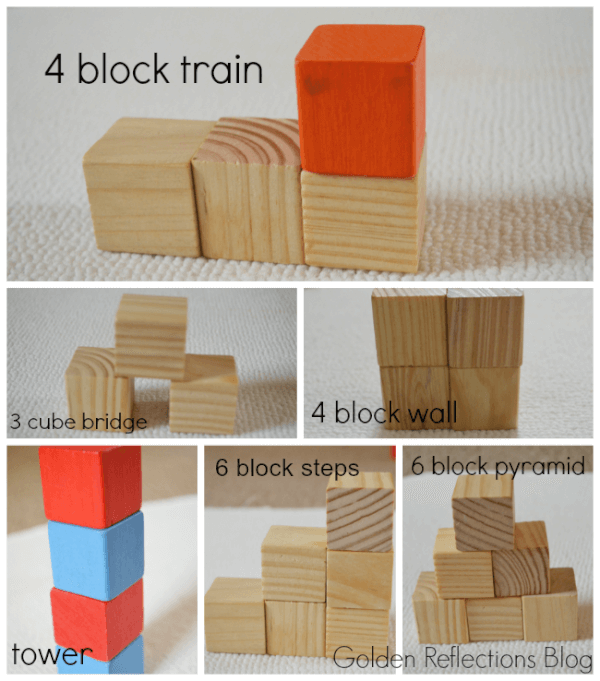 During the actual test, the objective is to have the child model each of these designs after one model is given by the therapist. There are different testing criteria for each age and based on what the child does, the therapist gives them a score.
For parents and families, however, these designs are an excellent way to encourage some great developmental skills with your toddler and preschooler.
For my daughter (who is right in the 2 1/2 age range) we got out her large set of wooden blocks and had a work mat on the floor. I modeled each one for her and then let her try to copy it while looking at the design. She also had fun knocking my designs over and it became quite the game.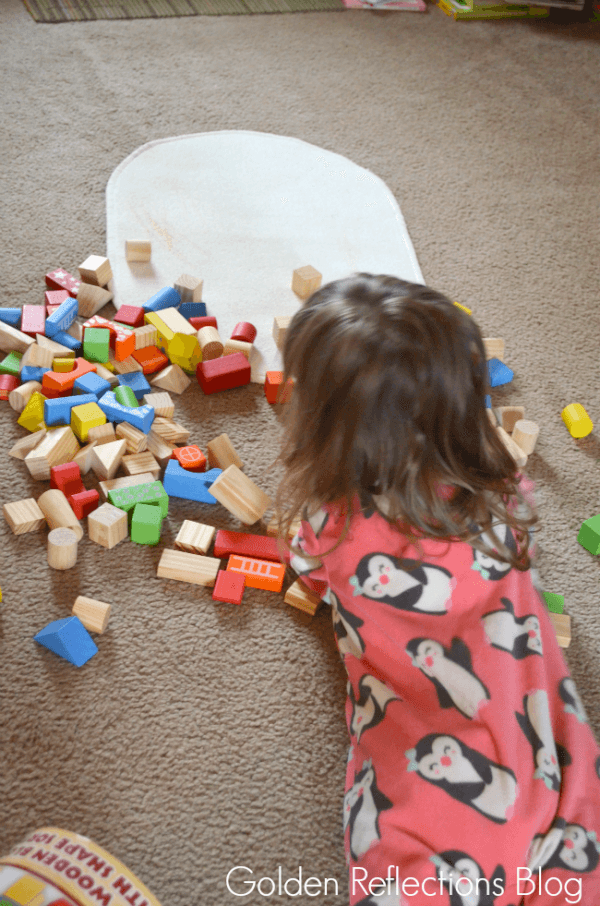 Of course, she also dumped the entire set on the floor, which is what the picture above is. If you have a child who distracts easily, you will want to make sure to only have a few out at a time, maybe enough for you to model and for them to copy.
Ellie was able to do the train model and also a tower up to 6 high I believe. I think she probably could have gone higher, but of course, knocking them down is more fun. 😉
The important thing is NOT TO STRESS if your child doesn't follow along perfectly. Just play along with them and encourage them to copy the designs as they want to or can. It should be a fun and playful time for both of you. As they get used to playing with the blocks and manipulating them, they will get better and better at each design.
Other Developmental Activities and Skills with Wooden Blocks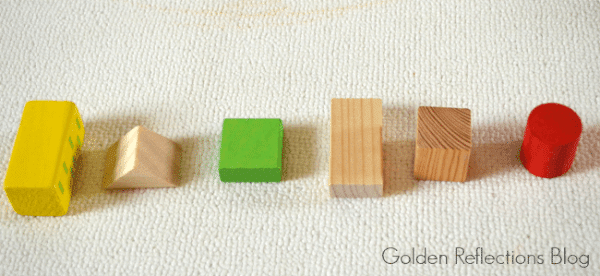 If you have some wooden blocks that are different colors or shapes, this is an excellent way to add in some extra developmental activities and skills.
Can they do a pattern with the blocks based on colors and/or shapes?
Can they build towers with other shapes than a cube/square?
What types of designs can they come up with on their own? Then you get to copy their design.
What is each of the shapes in the blocks? What colors are they?
The container of blocks my daughter has also had a lid with the different shapes cut out in it. If you have something like this, it's a great way to pick up when you are done and work on matching and problem-solving skills.