25 Heavy Work Activities for Home
Affiliate and Referral links are used below to promote products I love and recommend. I receive a commission on any purchases made through these links. Please see my disclosure policy for more details.
Does your child struggle with focus and attention? Are you looking for some ways to help them self-regulate? Heavy work activities can be the answer! Today I am sharing 25 heavy work activities for home that don't take a lot of set-up or equipment.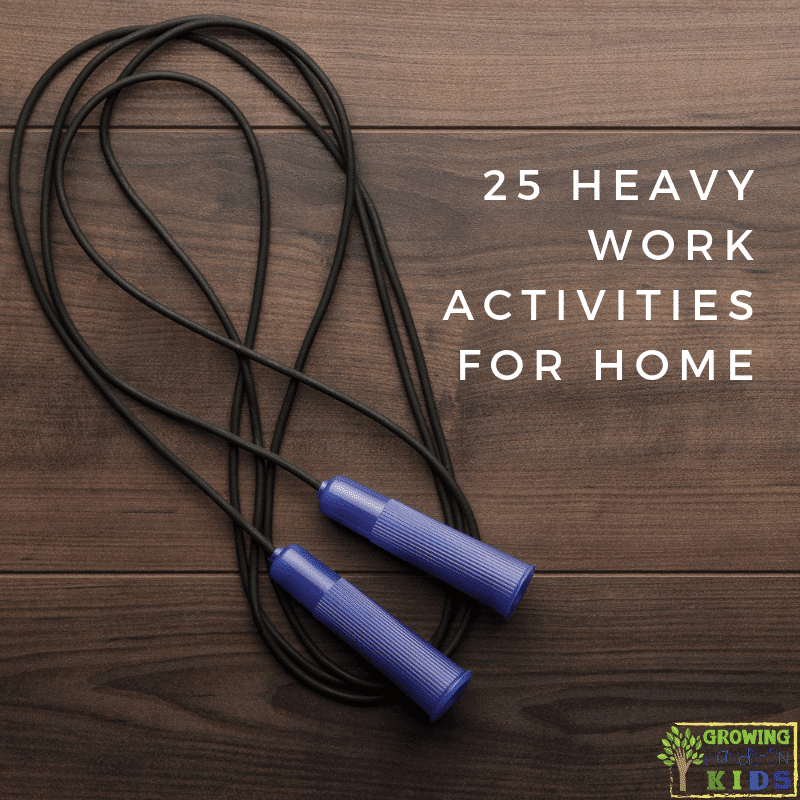 What is Heavy Work?
In short, Heavy Work is a term used to describe proprioceptive input which comes from your muscles, joints, and ligaments. This input can have a calming and focusing effect on your child, especially if they are craving this type of input.
How can you tell if your child is a proprioceptive seeker? They may be constantly moving, jumping, climbing, or crashing into things. They may have a hard time staying seated and focusing during homework.
You can read more about sensory seeking vs. sensory avoiding here.
Often times children will hold it together for school and then come home and seemingly "fall apart." Homework is a struggle because their bodies are telling them they just need to MOVE.
It's important to give your child ample time to move and get their energy out, especially after they get home from school.
Heavy work activities are a great way to do that!
25 Heavy Work Activities for Home
1 || PUSH A FILLED LAUNDRY BASKET
Make sure the laundry basket is heavy enough that actually requires some work for your child to push it, but not too heavy that they struggle to push it. You can make it into a race or obstacle course. Some items you could fill it with are books, stuffed animals (this works great for younger kids), or any other random items from around your house.
2 || CRASHING
Children who crave proprioceptive input can often be found "crashing" into things. Whether rubbing on the walls down the hallway or literally jumping off furniture or beds.
Providing some controlled crashing experiences will help give them the input they are craving in a safe way. Bean bags, piling up blankets and pillows, or making a huge ball pit out of a small swimming pool can work.
Check out this DIY No Sew Crash Mat from And Next Comes L
3 || JUMPING 
Something as simple as jumping can be great proprioceptive input. Small trampolines (or large) are great for this. Jump rope or jumping on a pogo stick are also great options.
4 || WHEELBARROW WALKING
This is a good old-fashioned activity that is amazing for heavy work. The child balances on their hands while you hold their ankles up off the ground. Then have them walk on their hands while you keep holding their ankles. You may need to hold at the knees or waist if your child needs more support with this. As they get better, add races, obstacle courses or sprints while wheelbarrow walking.
5 || CLEAN THE HOUSE
And all the parents said "YES!". 🙂 Pushing a vacuum, broom, or mop are great heavy work activities that require no additional tools or set-up. Simply helping out around the house is a perfect solution for heavy work at home.
6 || PUSH A GROCERY CART 
Does your grocery store have those little child-sized grocery carts? I know Whole Food does sometimes and our Kroger here also has some. It is one of my daughter's favorite things to do at the grocery store. Of course, you do need to pay close attention and teach them to be aware of their surroundings. But this is a great heavy work activity that they won't even realize is beneficial for them. Older children can push a regularly sized cart.
7 || CARRY GROCERIES
After pushing the grocery cart, come home and have them help you carry groceries inside.
8 || WASHING WINDOWS 
Use a spray bottle to spray down the window (awesome heavy work for the hands!) and then use a washcloth to wipe the window clean.
9 || KNEAD DOUGH OR PLAYDOUGH
This is a great heavy work for the fingers and hands. You can use homemade playdough or have your child help you knead bread if you make it by hand.
10 || CHEW GUM OR CRUNCHY FOODS
Chewing gum or crunchy foods is like a mini workout for the mouth! Your mouth is full of proprioceptive receptors. So chewing gum or having crunchy foods as a snack or break time is a great option that all the kids can enjoy together.
11 || SIP WATER FROM A STRAW
Seriously, again, so simple! The act of sucking through a straw is again another great proprioceptive activity with the mouth. If you have a child who has some oral sensitivities for gravitates towards putting things in their mouth all the time, this is a great one.
12 || PULL A CHILD OR FRIEND IN A SHEET
Use a large bed sheet, or even a fitted sheet and pull away. Have races or see how far they can pull in 10 seconds.
13 || TAKE OUT THE TRASH
Are you loving all the working around the house options? Housework and chores can be amazing heavy work opportunities. Don't pass up the opportunity for taking out the trash. Emptying smaller trash cans into large trash bags, carrying the bags to the trash can or dumpster or pulling the cans out to the street for pickup are all great options.
14 || SCRUB SURFACES WITH A BRUSH OR SPONGE
Cleaning on the chalkboard or whiteboard, wiping down a table, or scrubbing off a dirty surface all give great proprioceptive input through the upper body.
15 || HELP WITH YARD WORK
Moving dirt with a shovel, filling up a wheelbarrow and moving dirt or rocks, or digging in the soil are all great options.
16 || PUSH A FRIEND IN A WHEELBARROW
And you can't forget pushing an actual wheelbarrow or pushing a friend in one. I have fond memories doing this during the summer months with my brother with our gardening growing up.
17 || PULL A WAGON
Put your little red wagon to work with this activity. Pull a friend or some of their favorite stuffed animals, baby dolls, or toys for a walk.
18 || PILLOW FIGHTS
I feel like some will want a disclaimer on this one, so yes, please make sure your child is supervised and don't let it get out of hand. But a good fun pillow fight is a great way to get quick bursts on input.
19 || PLAYING IN A SANDBOX WITH DAMP SAND
If you live near a beach, go dig in the wet sand with a shovel or your hands.
20 || SWIMMING
Swimming is great for heavy work since you have to work against the water in order to move.
21 || BATHE THE DOG OR PET
If you have a pet, make sure to include washing that pet, especially dogs as part of your child's routine. This is great tactile and proprioceptive input with the fingers and arms.
22 || WASH THE CAR
Get the water hose, buckets, and don't forget actually pushing against the car to wash it! This is such a great heavy work activity, plus it's FUN!
23 || SHOVELING SNOW 
We got 7-8 inches of snow this weekend, I had to include this. If you live in an area that gets decent snow accumulations, shoveling the sidewalk or driveway is amazing some heavy work.
24 || WATER PLANTS WITH A WATERING CAN 
Filling up a watering can and carrying it to water plants is another awesome heavy work activity. Plus it will get your child outside if they are watering plants in the garden or flower boxes.
25 || RIDING A BIKE 
The simple act of riding a bike is a great heavy work activity. For older children, you can take them to a mountain bike trail or on longer bike rides to provide a little more input.
Heavy Work Activities for Home PDF Download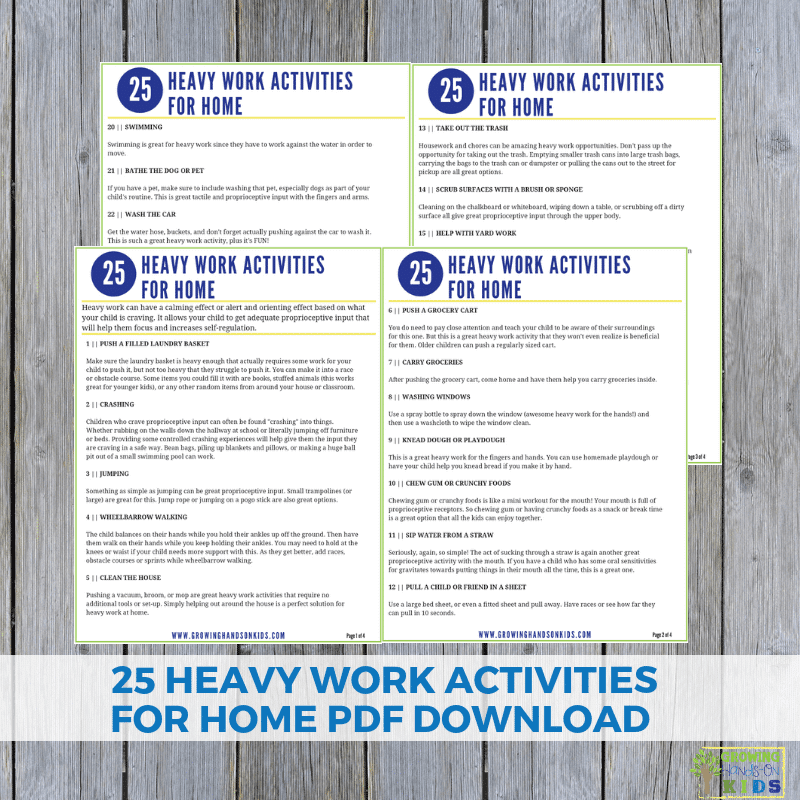 I created a 4-page heavy work activity PDF printable download for you. You'll get all 25 of these activity suggestions with the descriptions below each.
It's completely free, just enter your email address in the form below.
You will also receive some follow up emails on each of the 8 sensory systems that give you detailed red-flags and activity suggestions for each. And you'll also get weekly child development tips, tools, and strategies in my weekly newsletter.
If you have already subscribed to Growing Hands-On Kids, don't worry, you aren't actually subscribing again. By entering your email address below, you are just letting my email provider know which download to send you. You won't receive duplicate emails from me.
By downloading this printable you are agreeing to the terms and conditions and policies of this site, listed here.
Need more resources for heavy work? Check out the resources below.

Follow Heather | Growing Hands-On Kids's board Sensory Processing Explained.
You May Also Like: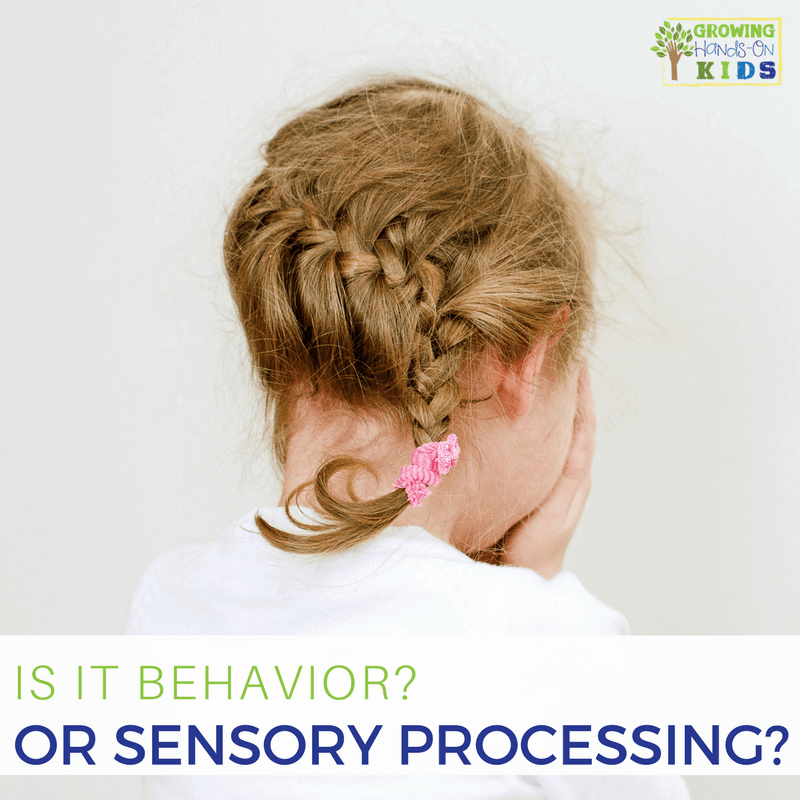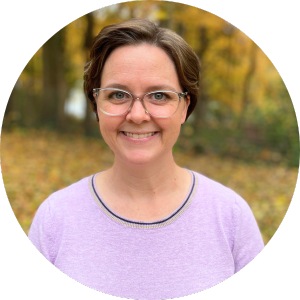 Heather Greutman, COTA
Heather Greutman is a Certified Occupational Therapy Assistant with experience in school-based OT services for preschool through high school. She uses her background to share child development tips, tools, and strategies for parents, educators, and therapists. She is the author of many ebooks including The Basics of Fine Motor Skills, and Basics of Pre-Writing Skills, and co-author of Sensory Processing Explained: A Handbook for Parents and Educators.