Affiliate and Referral links are used below to promote products I love and recommend. I receive a commission on any purchases made through these links. Please see my disclosure policy for more details.
If you haven't subscribe to my Kid Tips newsletter or followed me on Facebook or Instagram yet, then you may not have seen the news that our little family grew to 4 a couple of weeks ago! Little baby Ben joined our family on July 15 and weighed 7 lbs 10. oz and 20.5 inches long. I thought I would share a few pictures today and also his birth story.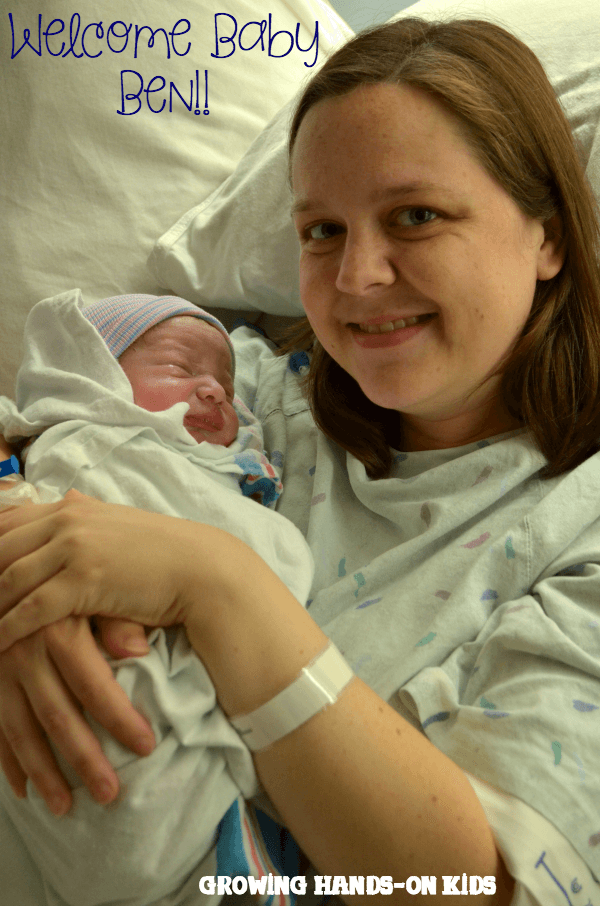 Tuesday evening, July 14 I figured nothing was going to happen. After all, Ellie had been born at exactly 39 weeks; there was NO WAY I could be that lucky two births in a row. So I settled in for the night, not expecting much sleep anyways because honestly, who gets a lot of sleep at 39 weeks with a toddler too.
Ellie had picked the worse time to have a sleep regression too. So I was spending many evenings in her bed fighting to get her to sleep. This night was no different and I crawled into bed around midnight.
I had just drifted into sleep when I jerked back away to something definitely happening: my water had broke. This was new territory for me because my water never broke with Ellie, I just went into labor with her and the midwife ended up breaking my water 14 hours later.
I ran to the bathroom as fast as I could, thankfully remembering to grab my phone as I went. I texted my husband, who was at work and told him he'd better come home, it was happening. And I didn't get a reply. I started to freak out a little bit. So I texted my mother in-law to come and watch Ellie. The entire time I was trying to telepathically tell David to look at his phone! About half an hour later I finally got a reply. He was on his way and my mother in-law was on her way. (I later found out she never heard my text either, but at the exact same moment her dogs woke her up barking and she decided to look at her phone to see what time it was a saw my text – Thank you God!!).
At this point contractions were starting to happen so I called my doctor to let them know. She took my info and told me to come right in. As soon as David pulled up I started making my way out to the car and we were off. Contractions were coming very quickly at this point, about every 2-3 minutes and lasting 30 seconds or so. This was freaking David out slightly and we both prayed the entire way to not get stuck by any trains or red lights. It was a 30 minute drive to the hospital.
By 2:30am we had arrived and David wheeled me up to the birthing center. They immediately got me into a room and I skipped triage since my water had already broken. Once I got settled into bed the contractions slowed some, but were still about every 4-5 minutes. I was 4-5 cm. dilated at this point. They asked if I wanted an epidural and I said I wanted to wait until at least 7 cm. With my daughter that had been 14 hours later. So I expected it to be a little bit and didn't want to slow things down by getting an epidural too quickly.
Two hours later I was having pretty intense contractions and they were close together. The nurse said I was 7-8 cm dilated and if I wanted my epidural I had better get it NOW. I was honestly shocked, I couldn't believe only 4 hours into labor and I was already this far along. So in came the staff to place the epidural. Only, it didn't work this time like it had with my daughter. I could feel it coming up both legs and then it just stopped right before my stomach. I was having shooting pain down my right side and nothing was helping or working.
Two hours later, I finally asked to be moved to my side, which I was to my right. This only intensified the pain on my right side and I could feel him just sitting there. After about half an hour of that I asked to be moved to my left. This was MUCH better and I could feel the epidural moving up and finally starting to work. I still had pressure but it was tolerable and I was able to take a small nap. I was 9cm at this point and just waiting for little guy to drop.
About 2 hours later, I had a sudden sharp pain and noticed the contractions and baby heart rate on the monitor doing weird things. About 1 minute later the nurse came in: "Did you feels something?" she asked. "YES! I definitely did." I said. "Okay, I think it's almost time then." she said, "let me call the doctor and let her know."
It was about 9:15am when the doctor came in and started getting suiting up. And literally 15 minutes later my little guy was here. I was seriously shocked about this too. With my daughter it was 2 whole hours of pushing before she came. Just goes to show that no two labors are alike.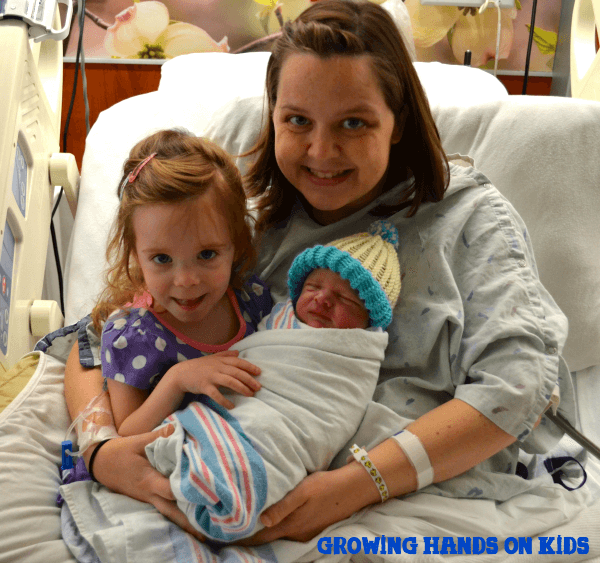 We are definitely enjoying little Ben. He is a much better sleeper than Ellie ever was so I am enjoying that part for sure.
I am going to be posting a little less frequently as we continue to adjust around here. But I still hope to be posting at least once a week, we shall see.
But with a new baby that means you will also be seeing some baby related posts coming in the future too! I am excited about that because I never really posted any baby activities when Ellie was little. Hoping to do more of that this time for sure.