Affiliate links are used below to promote products I love and recommend. I receive a commission if any purchases are made through these links. Please see my disclosure policy for more details.
This sticky note pom-pom maze activity is simply brilliant! It's one of those activities that you wonder why you hadn't come up with yourself! It is literally SO simple to do and there are so many amazing skills your kids are working on.
This activity comes from a really fun, new book by Holly Homer & Rachel Miller of Kids Activities Blog called 101 Kids Activities – That are the Bestest and Funnest Ever! This book is full of SO many amazing activities, I know you will want to pick one up!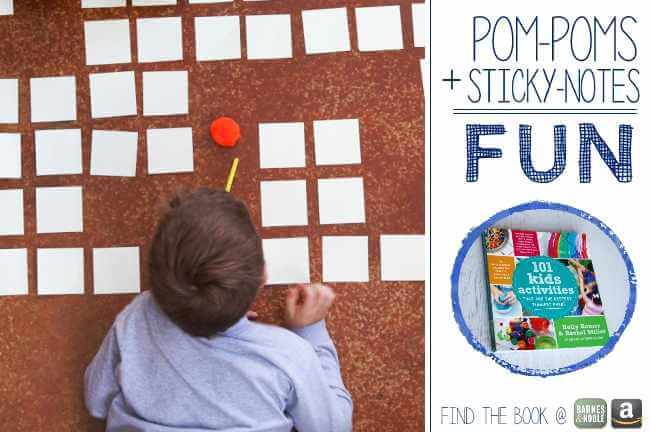 From 101 Kids Activities by Holly Homer and Rachel Miller, printed with permission of Page Street Publishing June 2014
Sticky Note Pom Pom Maze
This project transforms sticky notes into a maze that can be designed and constructed by a kid. The fun thing is that even though they designed the maze, it will still be a challenge to maneuver a pom-pom through it with a straw and some air power.
Materials Needed: 
+2+ stacks of sticky notes
+Tabletop surface (or the floor)
+Straws—one per child playing
+A variety of different pom-poms
Directions: 
Create a maze track with the thin post-it notes (or masking tape). Line up the notes close together on a smooth surface, creating corners, turns and twists across the table.
Have your children pick out a straw and a pom-pom and start at the beginning of the maze. They need to blow their pom-pom to go through the maze without falling off the track. If they go outside of the lines of the "track" they need to take their pom- pom back to start and begin again.
Modifications for Younger Kids
Have your children work on blowing the straw evenly to get their pom-pom to move. This is a great way to work on breathing control. Our youngest tykes just liked blowing their pom-poms anywhere. They can have a simple start/finish line or a set of bases to get their pom-poms to.
Modifications for Older Kids
Cut the notes in half to make a narrower trail. Add some twists and turns in the maze, making it more difficult for kids to navigate their pom-pom around the barriers.
For a science twist, have your kids experiment. Is the pom-pom easier to control if they have a thinner straw? What happens when the size of the pom-pom changes?
TIPS
Wondering how to create a maze? Try filling in an entire 2 x 3-foot (61 x 91.5 cm) area with the sticky notes. When the entire "box" is filled, remove the notes to reveal the maze route.
Regulating breathing by blowing pom-poms is a great way to learn breath control. This is also a good "calm down."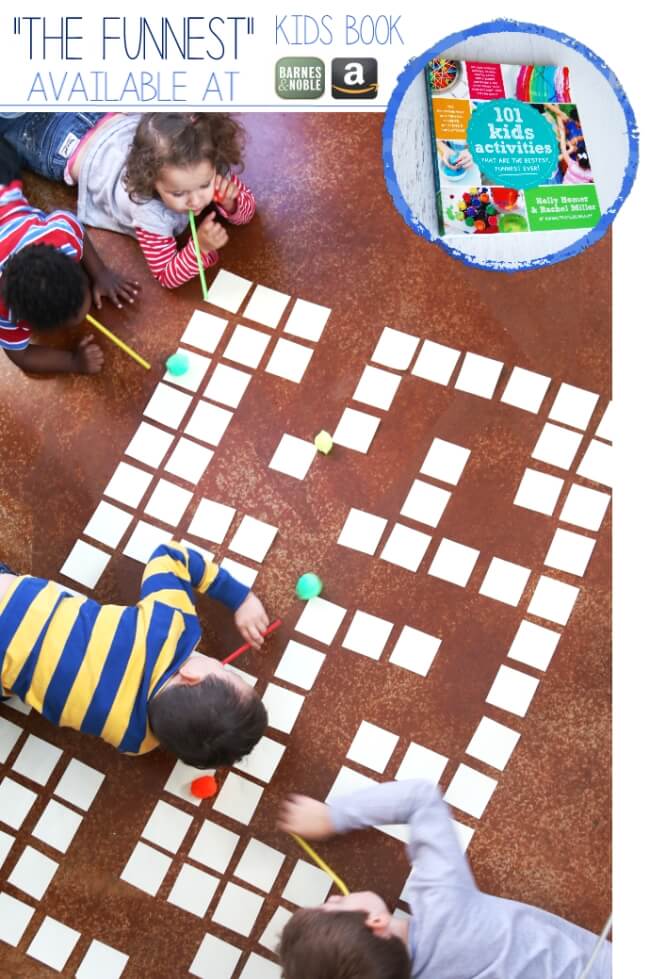 Blowing through straws is such an excellent sensory activity and calming activity for many children, as the tips up above mentioned! If you have a sensory child who needs a lot of breaks, calming activities, or visual-motor skill practice, than this activity from the 101 Kids Activities book is perfect for them!
You can find Holly Homer & Rachel Miller on their Kids Activities Blog and Facebook Page!
101 Kids Activities – The Bestest And Funnest ever can be found on Amazon and major book stores nation wide for $15.25! You are going to LOVE all the activities in this book!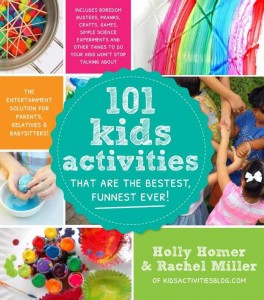 Disclosure of Material Connection: I received this book free from Page Street Publishing for the purpose of this review. I was not required to write a positive review. The opinions I have expressed are my own. I am disclosing this in accordance with the Federal Trade Commission's 16 CFR, Part 255: "Guides Concerning the Use of Endorsements and Testimonials in Advertising."