Affiliate and Referral links are used below to promote products I love and recommend. I receive a commission on any purchases made through these links. Please see my disclosure policy for more details.
A few weeks ago I shared in my weekly email newsletter that we were starting our homeschool year. Some of you asked me to share what we are using for our homeschool curriculum and what our routine looks like.  This is what we are doing so far for our preschool and kindergarten homeschool routine and curriculum.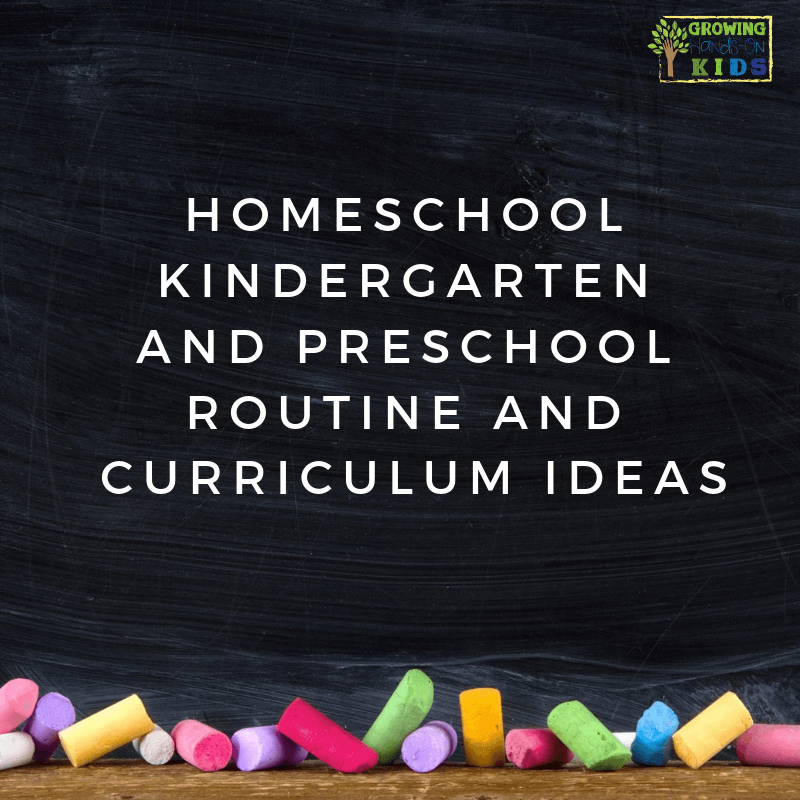 Our Preschool & Kindergarten Homeschool Routine
I call it a routine because we don't have a set schedule in our home at specific times. But I do like to try to keep to a consistent routine so the kids know what to expect each day.
WAKE UP AND BREAKFAST
My 3-year-old usually wakes up first and will wake me up. I am a night owl, so I typically stay up late past when the kids go to bed. I have tried waking up early, but then my son wakes up early too. So, for now, this is what works for us.
He eats breakfast right away while I get my coffee. My daughter wakes up and then eats breakfast. After breakfast, they usually play while I either do my exercise/workout or I clean up from breakfast.
MORNING WORSHIP AND PLEDGE OF ALLEGIANCE 
We don't rush mornings, so we take our time and make sure everyone is ready to go and awake (i.e. mom is ready, haha). We start with our Pledge of Allegiance, sing our National Anthem and then pray. We also have a weekly church Sabbath school lesson and memory verse that we practice. My son who is 3 has the same lesson and memory verse for 1 month. My daughter's changes each week.
We also practice her Adventurer club Pledge, Song, and Law. She is part of the Eager Beaver program with Adventurers, a co-ed club which is part of our denomination (Seventh-Day Adventist). This year she is learning about Beavers and different activities and lessons relating to "My World", "My Family", "My Community", "My God" etc.
CIRCLE TIME 
After we finish worship, I pull in a circle time activity specifically for my son, who is preschool age. We have been going over pre-writing lines, or we will do a hands-on science activity from KiwiCrate or Koala Crate, Mat Man from Handwriting Without Tears, or a pre-reading or letter of week activity. We also pull in some of the handwriting products from Fundanoodle like the Muscle Mover Cards or I Can Build Letters. But more on those specifically under the curriculum section of this post.
I try to share a lot of our circle time and preschool activities over on Instagram. So you can follow me over there to see what we are doing each week.
Ellie still participates in all of these activities since it is a good review for her. Plus, it's usually very hands-on and sensory related which she loves!
MORNING READING TIME 
One thing I started that I need to add back in is a morning read-a-loud with the kids. We started the Little House on the Prairie Series. I set them up with play dough or slime so they can play while I read.
BREAK/LUNCHTIME 
Depending on what time we finish circle time, we usually take a break so I can fix lunch. We eat lunch with daddy most days, so it is our larger meal of the day. They can either go outside and play, or they ask to play with play dough and their miniature animals.
AFTERNOON QUIET TIME AND SITDOWN WORK
After lunch, Ben goes to his room for quiet time so Ellie and I can work on subjects she needs a quieter environment for. Reading if first, then we go to Math and handwriting. When daddy is home, he also works on history and geography with her (which is 2-3 times a week). I'm sharing more about what curriculum we use for all these subjects below.
We add in movement breaks as needed between subjects such as jumping jacks, cross-crawls, core strength activities etc.
After Ben is done with quiet time (usually an hour or so), they are both done with "school" for the day and have free time.
This usually includes outside time or they may watch an education program on TV. Some of their favorites are Wild Kratts and Signing Time. And they have other favorites such as Doc MacStuffins, Thomas, Puffin Rock (Netflix only), Curious George, or Clifford. I try to limit the tv time, however, to close to supper time. We also try to keep the TV off at least 2 hours prior to bedtime. There is no TV time in the morning or afternoon, with the exception of Signing Time if I plan to use that as part of our school time.
I am very thankful that both kids play well together and can usually entertain themselves quite well if I set them up with something like a sensory bin or other toys from their shelves. Of course, there are still sibling squabbles, but for the most part, they play very independently together.
Our Preschool and Kindergarten Homeschool Curriculum
I don't really consider myself to be a certain homeschool educational philosophy. I tend to pick and choose what I think will work and try to keep it as hands-on as possible. I was homeschooled myself with a very traditional education model. We do have some book work for Ellie, but I pull in as many hands-on projects or activities as I can with those subjects.
First, let's take a look at what I use with preschool.
PRESCHOOL CURRICULUM
I honestly would not even call what I use for preschool a curriculum. But we do use a few things that I think help give me a direction. Most of these are done during the morning Circle Time I mentioned above. Not everything at once, of course, but I try to pick a few things from this list each week. I also browse Pinterest from time to time for fill-in ideas.
Get Set for School Sing Along from Handwriting Without Tears
Mat Man (also from Handwriting Without Tears, but we use our Fundanoodle I Can Build magnets)
Signing Time DVDs
Koala Crate Activity Boxes
Reading time with mommy
Ben attends a once a week preschool homeschool co-op class for 2 hours. They are working through each letter of the alphabet this year in a letter of the week theme. We also plan to start swimming lessons and he has Sabbath School class once a week at church.
KINDERGARTEN CURRICULUM
Ellie's subjects have a bit more to them now since she is school age and in Ohio, there are certain subjects we have to cover.
Here is what we are using so far:
Math-U-See Primer (I am really loving this one and Ellie loves Math!)
The Reading Lesson Book (I ordered this through Timberdoodle. Jury is still out on this one. I am considering looking into All About Reading)
Biblioplan (This is a Christian curriculum with history and geography from a Biblical perspective. We also purchased the coloring book and hands-on additions to make it more interesting for Ellie).
I Can Write Uppercase from Fundanoodle
I Can Write Lowercase from Fundanoodle
I Can Write Numbers from Fundanoodle
I Can Write Cursive from Fundanoodle (Ellie has been asking to learn cursive, so we will add this in halfway through the year I think).
Ellie also attends a homeschool co-op class once a week at the same homeschool co-op that Ben attends. It is for grades K-1. Our first semester she did Science and this semester they are doing beginning English Literature. It also includes Chapel. She attends our church Adventurer club classes twice a month, Sabbath School at church once a week, and she will be starting swim lessons too.
This also doesn't include random outings with friends that we try to fit in at least once a week and she also does things with grandparents who live close by.
I hope this gives you an idea of how to combine Kindergarten and preschool classes together at home.
For more homeschool resources, check out these links below.
Follow Heather | Growing Hands-On Kids's board Homeschool Preschool Ideas on Pinterest.
Follow Heather | Growing Hands-On Kids's board Homeschool Kindergarten Ideas on Pinterest.